Industries
Education
University of Michigan Law School, J.D., 2005
Cornell University, B.S., 2002
Bar Admissions
Court Admissions
U.S. Supreme Court
U.S. Court of Appeals
Sixth Circuit
Seventh Circuit
Ninth Circuit
U.S. District Courts
Eastern District of Michigan
Western District of Michigan
Northern District of Illinois (general bar)
Northern District of Ohio
Eastern District of Wisconsin
Brian Schwartz represents management in various aspects of labor and employment counseling and litigation.
His practice focuses on defending single-plaintiff and class-action lawsuits involving retiree health benefit disputes, employment discrimination (race, gender, and disability discrimination), harassment, and retaliation claims, as well as wage and hour claims, FMLA claims, ERISA disputes, Title IX claims, Freedom of Information Act and due process lawsuits. He also counsels employers on drafting enforceable non-competition, non-solicitation and confidentiality agreements and litigating related claims.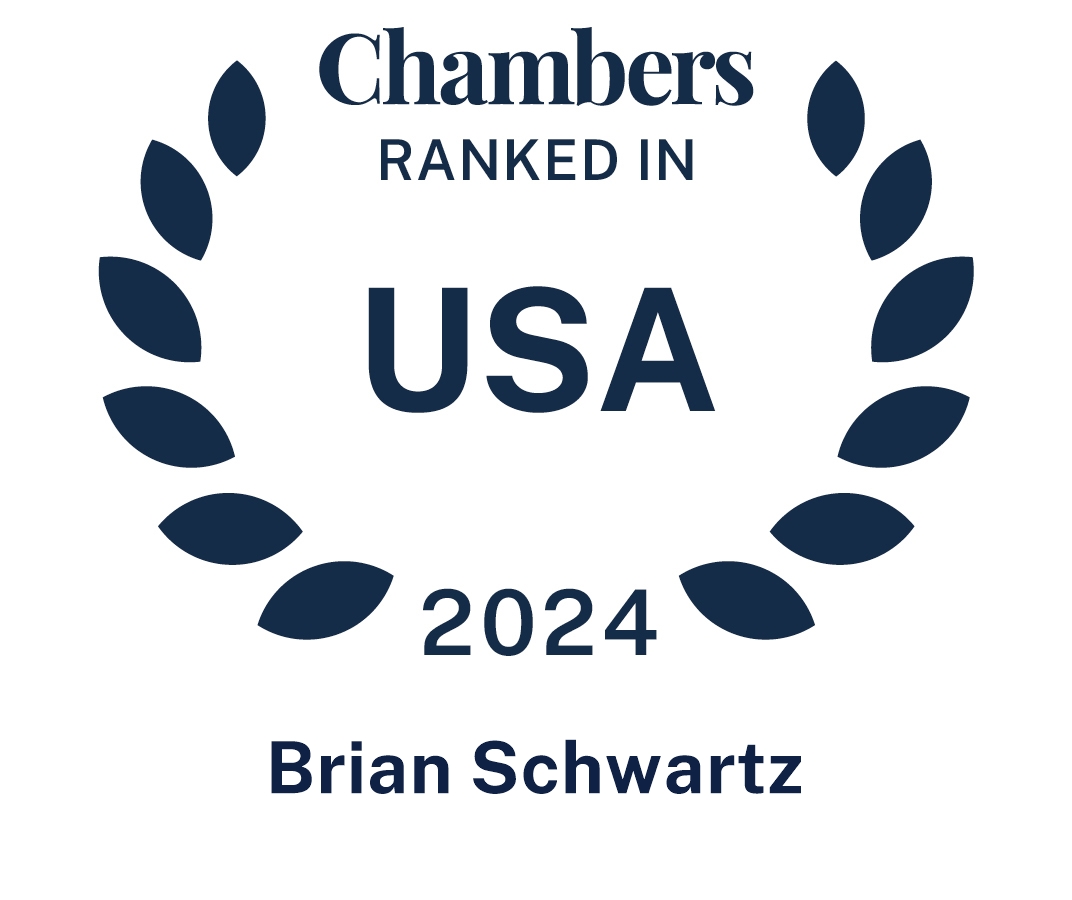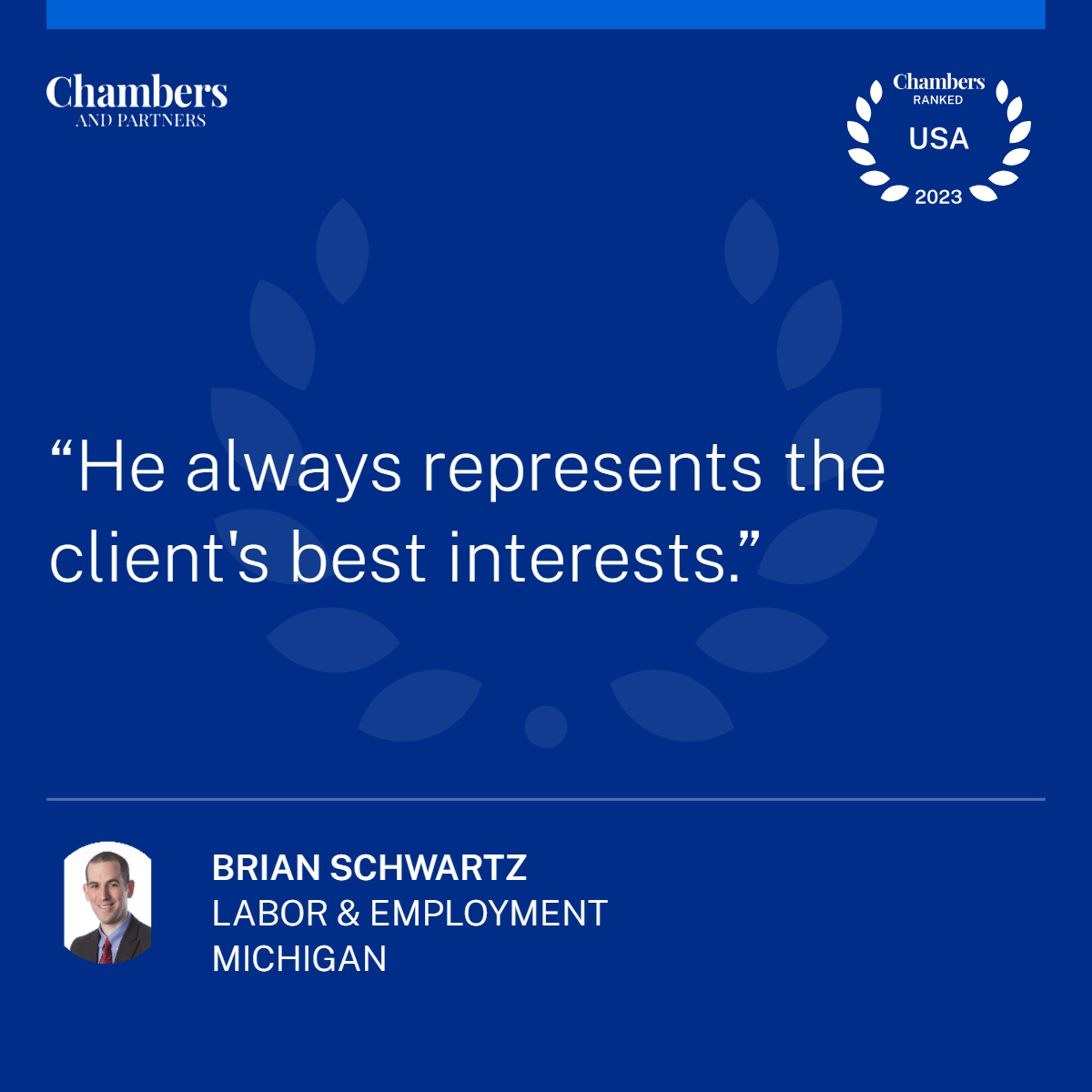 Representative Matters
Prevailed on summary judgment and in the 6th Circuit Court of Appeals in Dobrowski v. Jay Dee Contractors, Inc.

Represented public employer in putative class action lawsuit alleging that female nurse practitioners were paid less than male physicians assistants.

Defended Fortune 500 companies in lawsuits arising out of denials of claims for ERISA-covered disability, severance and pension benefits.

Successfully overturned several decisions holding that a collectively bargained termination incentive plan which resulted in reductions in pay ($250 per pay period per employee) violated the Michigan Payment of Wages and Fringe Benefits Act. Detroit Public Schools v. Conn, 308, Mich. App. 234 (2014).

Successfully defended multiple retiree health benefit class actions brought by former union employees alleging that modifications to their health benefits violated the terms of collective bargaining agreements.

Successfully defended employer in lawsuit brought by employee who was terminated shortly upon his return from medical leave.

Defended a major retailer in a class action involving sales associates alleging age discrimination arising out of a nationwide reorganization. The Eastern District of Michigan Judge dismissed the lawsuit, avoiding potential damages claims exceeding $16 million.
Reported and Published Decisions
Wallace v. Wayne County, _ Fed.Appx. _, 2015 WL 480224 (6th Cir. Feb. 6, 2015) (First Amendment retaliation and retaliation in violation of the Michigan Whistleblower's Protection Act)
Detroit Public Schools v. Stephen Conn, 308 Mich.App. 234, 863 N.W.2d 373 (2014), appeal denied, _ N.W.2d _, 2015 WL 5616302 (challenge to a collectively bargained wage reduction under the Michigan Payment of Wages and Fringe Benefits Act)
Griffor v. DTE Energy, 2013 WL 3450032 (Mich. App. Ct. July 9, 2013) (discrimination, harassment and retaliation)
Madry v. Gibraltar National Corp., 2012 WL 2097357 (6th Cir. May 16, 2013) (Family and Medical Leave Act)
Greer v. Detroit Public Schools, 507 Fed.Appx 567 (6th Cir. Dec. 6, 2012) (deprivation of property and liberty claims in violation of rights protected the U.S. Constitution)
Billings v Michigan Ability Partners, 795 N.W.2d 10 (Mich. 2011) (disability discrimination)
Allen v Sears Roebuck and Co., 803 F.Supp.2d 690, 2011 WL 1044484 (E.D. Mich. Mar. 10, 2011) (age discrimination)
Dobrowski v Jay Dee Contractors, 571 F.3d 551, (6th Cir. 2009) (Family and Medical Leave Act)
Boeing Co. v March, 656 F.Supp.2d 837 (N.D. Ill. 2009) (retiree health benefit claims under the Labor Management Relations Act and the Employee Retirement Income Security Act)
Leannah v Alliant Energy Corp. and Wisconsin Power & Light Co., 607 F.Supp.2d 946 (E.D. Wis. 2009) (retiree health benefit claims under the Labor Management Relations Act and the Employee Retirement Income Security Act)
Williams v Detroit Bd. of Educ., 523 F.Supp.2d 602 (E.D. Mich. 2007), aff'd, 306 Fed.Appx. 943 (6th Cir. 2009) (defamation)
Honors
The Fellows of the Michigan State Bar Foundation
Chambers USA: America's Leading Business Lawyers, Employment and Labor (Band 4), 2023
State Bar of Michigan Pro Bono Honor Roll, 2021
Best Lawyers in America, Labor and Employment Litigation & Employment Law - Management, 2021-present
DBusiness Magazine, Top Lawyer, Labor and Employment, 2020-present; Top Young Lawyer, 2015
Michigan Super Lawyers, Employment Litigation Defense, 2014-present; Rising Star 2010-2013
Michigan Lawyers Weekly, Up and Coming Lawyer, 2012
University of Michigan Law School, cum laude; honors in Legal Practice Program; Michigan Journal of International Law Articles Editor, 2004-2005; Published Author, Robert S. Feldman Labor Law Award, 2005; Eric Stein Award, 2005 University of Michigan Law School Hockey Team, Captain
Cornell University, Dean's List; Lambda Chi Alpha Fraternity
Denmark International Studies Program
Professional Activities
American Bar Association, Employee Benefits Committee; Co-Chair, Subcommittee on Collective Bargaining and Employee Benefits
State Bar of Michigan
Oakland County Bar Association
B'nai Brith Barristers
Civic, Cultural & Social Activities
Yeshivat Akiva (Southfield, Mich.), Board of Directors
Orchard Lake United Hockey Association, Board of Directors & Coach
Speeches
"Title IX Athletics Equity: Pragmatic Approaches to Participation and Scholarship Equity," Panelist, NACUA 2023 Annual Conference
"Reopening Business: Employer Issues and Risks," Michigan Manufacturers Association webinar, May 14, 2020 (audio recording)
"Billing that Works for You and Your Clients," Institute of Continuing Legal Education, Breakfast Basics: Alternative Fee Arrangements, October 28, 2016, Ann Arbor, Michigan (Co-Presenter)
"Independent Contractor vs. Employee," American Payroll Association, Detroit Chapter, March 11, 2011, Novi, Michigan
"How Independent Are Your Contractors?," Michigan Manufacturers Association, November 11, 2010, Lansing, Michigan
Publications
"Michigan Courtroom Evidence Annotated," ICLE, Sixth Edition, Co-Author, 2023
"Colleges cut sports to save money amid the pandemic. Then came the Title IX lawsuits." (Quoted), The Washington Post, March 26, 2021
"Employment at Will: A State-by-State Survey," (Chapter Author), American Bar Association, Section of Labor and Employment Law, 2011, 2014 and 2018 Supplement
"Employee Benefits Law," Contributing Author, Fourth Edition; and Chapter Editor, 2018 Cumulative Supplement, Bloomberg BNA
"The Family Medical and Leave Act," (Contributing Author), 2013 Cumulative Supplement, Bloomberg BNA
"Collectively Bargained Retiree Health and the Demise of Yard-Man – Employer Perspectives," ABA Section of Labor and Employment Law Employee Benefits Committee Newsletter, Spring 2015

"Legal Eagles," dbusiness Magazine, Top Young Lawyer profile, July/August 2015

"Asked and Answered: Brian Schwartz on Lane v. Franks," Detroit Legal News, July 17, 2014
"NLRB Rulings Clarify Supervisory Exemptions," Labor and Employment Lawnotes (Winter 2007)
"WTO and GMOs: Analyzing the European Community's Recent Regulations Covering the Labeling of Genetically Modified Organisms," 25 Mich. J. Int'l L. 771 (2004)