Lawyers
Principal
Of Counsel
Senior Counsel
Senior Attorney
Associate
Attorney
Other Professionals
Intellectual property protection and enforcement are increasingly vital in today's high-tech economy and global marketplace. To develop and maintain a competitive edge, companies need to maximize the value of their intellectual property assets. They need experienced, creative lawyers to help them develop comprehensive, integrated intellectual property programs tailored to their strategies for competition and growth.
Miller Canfield's intellectual property attorneys serve companies of all sizes—from startups to Fortune 500 and established multinational companies—with intellectual property issues and needs. We also assist individuals in these matters.
We partner with our clients, learn their business and then develop and implement a plan for the protection and enforcement of their intellectual property. We not only help our clients identify and protect their most important IP assets, but we help them create and implement strategies for using their IP effectively—whether by protecting income streams through patent enforcement, helping negotiate deals that generate license revenue, or protecting reputation and market share by policing branding rights. We work with our colleagues and affiliates across the globe to ensure that your technology, brands, and other intellectual assets are protected in all of your markets—from North America to Latin America, to the European Union and Asia. Our international reach is wide—we have offices in Canada, Mexico, Poland and China, where we have a robust intellectual property practice. And, as a member of The Legal Alliance of the Americas, we have a strong presence in South America.
We strive to keep our clients out of litigation. But when problems arise, our IP litigation attorneys identify creative strategies for addressing those problems in the most efficient and effective manner possible. We have extensive trial experience in every forum where patents and other IP cases are litigated. Our success stems in part from our ability to present complex technology in simple, clear terms. Most importantly, we always strive—where possible—to short-circuit cases with creative strategies that achieve quick and efficient victories.
Chambers USA recognizes Miller Canfield as having one of the leading intellectual property practices in the country, saying the firm is "respected," advises on "a wide range of trademark, patent and copyright issues," and is "well placed to assist clients with US-China cross-border work in conjunction with the firm's Shanghai office."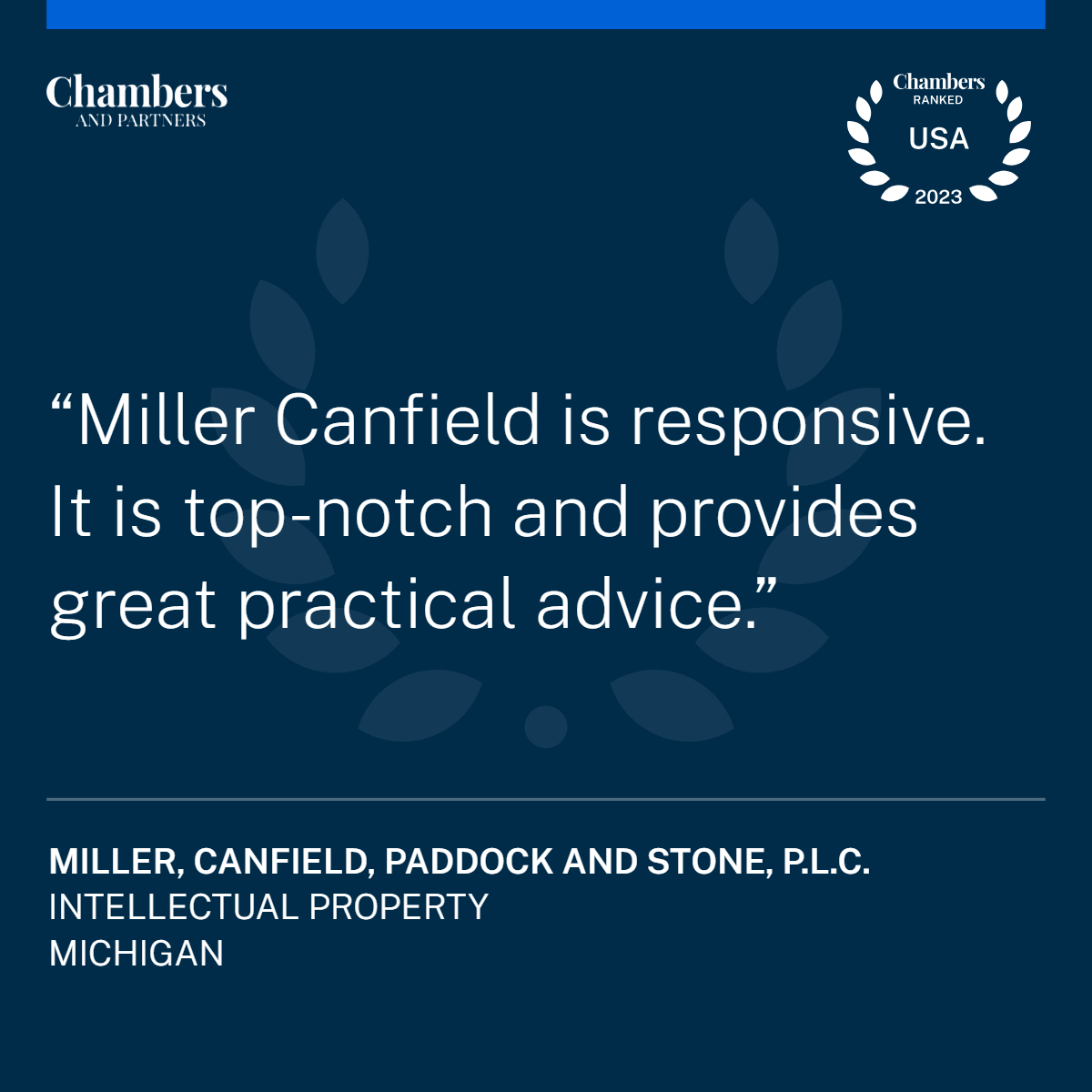 Successfully defended an international distribution company accused of supplying counterfeit medical products in a complicated $100 million lawsuit brought in U.S. District Court in Detroit, Michigan
Successfully defended a federal trademark infringement lawsuit in the U.S. District Court in Minnesota brought by My Pillow, Inc., which sells pillows heavily marketed through infomercials by its founder Mike Lindell. We filed a counter-complaint for false advertising and unfair competition based on false-reference pricing, advertising that presents Mr. Lindell as a sleep expert, and My Pillow's pervasive advertising statements about the medical benefits of its products.
Conducted IP due diligence to confirm and coordinate filing of security interests in extensive worldwide trademark and patent portfolio of golf club grip manufacturer on behalf of bank client
Represented defendant in patent litigation involving electronic locks for cargo security. Secured a dismissal with prejudice.
Secured expeditious settlement for a large multi-national corporation in a patent litigation involving abrasive articles used to repair, polish and finish coatings and surfaces
Represented restaurant chain in trademark dispute involving claims of analogous use. Served as lead counsel and successfully settled the matter on favorable terms.
Represented and advised internet retailer in copyright litigation involving allegations photographs were impermissibly used to sell merchandise. Served as lead counsel and settled the case on favorable terms.
Represented a high-tech corporation against a nine-figure patent infringement claim, obtaining a no-cause verdict at trial
Represented an automobile supplier in connection with a patent infringement claim, successfully securing an eight-figure damages settlement
November 3, 2023

June 21, 2023

May 19, 2023

April 11, 2023

January 20, 2023