Lawyers
Principal
Senior Counsel
Associate
Other Professionals
Miller Canfield has a broad-based Bankruptcy, Restructuring and Insolvency practice that consistently ranks as one of the top restructuring practices in Michigan and received the highest possible ranking (Band 1) from Chambers and Partners in 2022 and 2023. Chambers notes that the firm has "a highly regarded Detroit-based practice able to leverage a global network of offices to handle both domestic and cross-border work."
We represent troubled companies, customers, suppliers, owners, creditors, lenders and acquirers in the full spectrum of litigation and in- and out-of-court restructuring transactions. Our loan enforcement team helps lenders maximize their recovery on troubled loans. Our supplier workout team has been extensively involved in virtually every auto industry-related bankruptcy case in the U.S. and Canada in the last decade, representing the interests of a large American automobile manufacturer and several Tier 1 auto parts suppliers. We have represented numerous creditor committees and individual creditors from a variety of industries, including automotive, retail, packaging, telecommunications, building supply and paper products in bankruptcy cases and out-of-court restructurings. Our knowledge and expertise in all aspects of bankruptcy cases – from financing motions to asset sales – allow us to advocate effectively the positions of secured and unsecured creditors. And our expertise extends beyond borders. Miller Canfield's offices throughout North America, Europe and Asia allow us to provide clients with seamless and consistent service throughout the world.
Clients rely on us to provide clear, straightforward advice and to arm them with information about their options, enabling them to make the best possible decisions with the least amount of time, money and effort.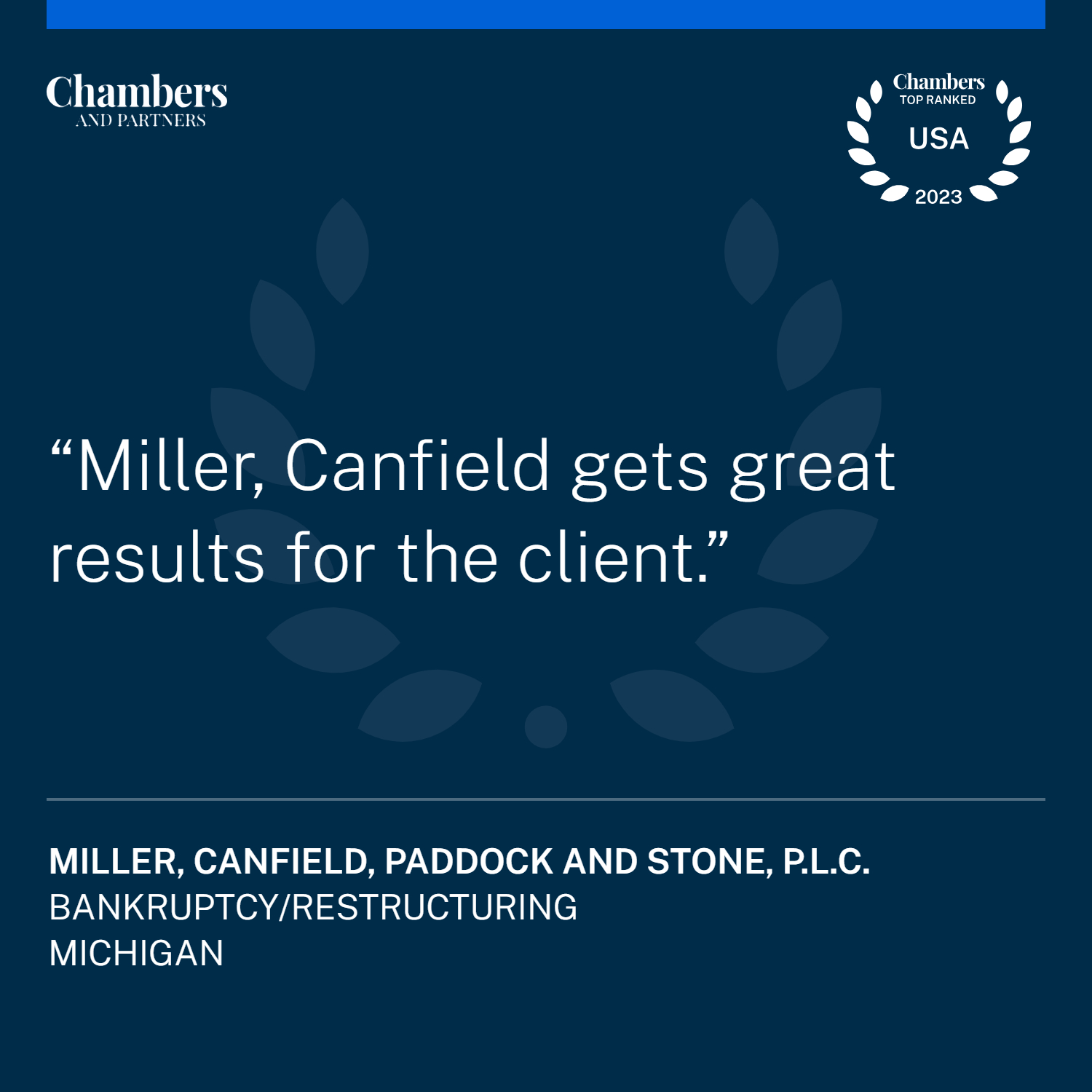 Miller Canfield serves as counsel to the City of Detroit in connection with its Chapter 9 bankruptcy case filed in July 2013 and its ongoing restructuring efforts. Since the City confirmed its bankruptcy plan in 2014, Miller Canfield has continued to represent the City in connection with the implementation of its bankruptcy plan, appeals of plan confirmation, and the resolution of the remaining claims in the bankruptcy case.
Miller Canfield represented a Tier 1 automotive supplier in the successful sale of its distressed business and an orderly out-of-court winddown of its operations. Although the supplier's owner (a company located in Europe) had financed previous losses, it could no longer afford to do so and requested that Miller Canfield represent the supplier in its negotiations with the OEM. The negotiations culminated in an agreement from the OEM to fund continued production, sell the business, pay bonuses to employees and management, and provide sufficient funds for an orderly out-of-court wind-down process.
Miller Canfield served as counsel to a secured lender in a liquidating chapter 11 bankruptcy case filed in Delaware. Miller Canfield took quick action to enforce its client's remedies, resulting in a full recovery for the secured lender on a $50 million loan.
Miller Canfield served as bankruptcy counsel to two telecommunication debtors in mid-Michigan, Great Lakes Comnet and Comlink, settling major litigation with AT&T, Sprint and CenturyLink; closing a sale of the debtors' assets for $32 million in a going-concern sale under Bankruptcy Code section 363 while providing uninterrupted service, and confirming a plan with the unsecured creditors committee to wind up the estates after the sale.
Miller Canfield represented the creditors' committee in the bankruptcy case of Bison Building, a regional home supply chain. The case culminated in confirmation of a plan of liquidation. Through the plan, Miller Canfield received authorization to resolve the debtors' preference case litigation. Miller Canfield reviewed and resolved hundreds of potential preference cases in a business-respectful manner that raised estimates of unsecured creditor recoveries from an initial 45-55% of prepetition claim amounts to an estimated 72%.
Miller Canfield represented a creditor in an involuntary bankruptcy filing against a high-tech pallet manufacturer. The case resolved many long-simmering disputes between secured lenders, the debtor, and creditors, and resulted in the creditor successfully acquiring the assets of the Debtor manufacturer. Notably, the landlords had obtained orders evicting the Debtor and the secured lender was at the doorstep of a sweetheart foreclosure sale of the assets. Miller Canfield successfully maneuvered our client through the bankruptcy process, allowing our client the opportunity to be the successful bidder at a public auction of the assets.
May 31, 2023

April 26, 2023

February 23, 2023

February 7, 2023

January 11, 2023

December 5, 2022

November 15, 2022