Lawyers
Principal
Of Counsel
Senior Attorney
Associate
Staff Attorney
Clients look to Miller Canfield to provide efficient, business-oriented approaches to handling disputes with vendors, customers and partners in matters involving mergers and acquisitions, corporate control, contracts for goods and services, product warranty, misappropriation of trade secrets, and other commercial matters. We represent manufacturers, suppliers, distributors, dealers and other businesses in a variety of commercial disputes, including:
Shareholder lawsuits
Employment contracts, including non-compete agreements
Corporate control and other management disputes
Corporate governance litigation
Dissolution of a business
Insurance coverage disputes
Product warranty
Failure to deliver
Pricing disputes
Time-critical stop-ship cases
Trade secret misappropriation
Noncompete agreements
Unfair trade practices
Tortious interference with contract
Our success is the result of decades of building familiarity with the courts and procedures and developing the fact and expert testimony necessary to present highly technical issues to judges and juries, and creativity at negotiating solutions to difficult problems.
Chambers USA recognizes Miller Canfield as having one of the leading commercial litigation practices in the country, saying the firm has "a highly esteemed group of litigators noted for its experience in major trials and alternative dispute resolution."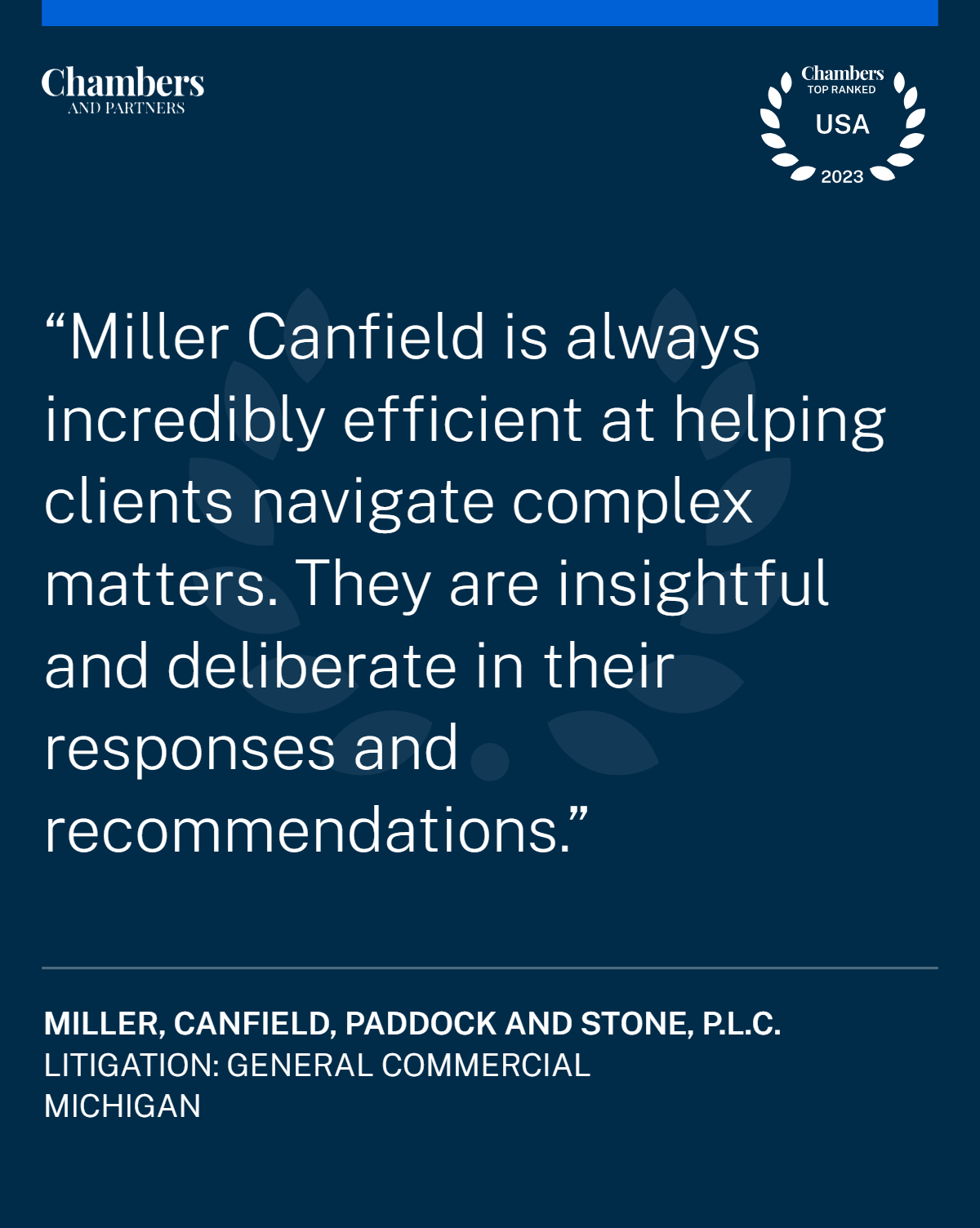 COVID-19 LITIGATION
Served as Michigan counsel in litigation involving our client's termination of a $3.6 billion stock purchase agreement and plan of merger between our client, the largest owner and operator of shopping malls in the U.S., and a Michigan-based company that owned and operated 27 high-end shopping malls in the U.S. and Asia, when Covid-19 forced shopping mall closures. The case was successfully settled.
CORPORATE CONTROL, INVESTOR AND SHAREHOLDER DISPUTES
Represented an international optical equipment manufacturer in defense of claims of breach of fiduciary duty and conspiracy brought in Delaware state court by minority investors in a high technology startup acquisition target
Obtained summary judgment for a biotechnology company dismissing claims of breach of contract and breach of shareholder agreements
Successfully defended a closely held corporation against claims of minority shareholder oppression, breach of fiduciary duty and breach of contract
Obtained summary judgment for manufacturing company rejecting request for corporate dissolution and dismissing claims of breach of contract and shareholder agreements, breach of fiduciary duties and bad faith
Successfully defended a biotechnology company in shareholder derivative action, involving allegations of Securities Act violations, breaches of fiduciary duty and loyalty, and unjust enrichment
Represented many small and mid-sized corporations in minority shareholder oppression, share dilution and derivative actions
Successfully defended a closely held corporation against claims of minority shareholder oppression, breach of fiduciary duty and breach of contract
Represented a Fortune 500 electronics manufacturer in the successful defense of a shareholder derivative claim
Represented a major financial institution in connection with a shareholder derivative claim and putative class action matter
Successfully represented a group of major shareholders of a publicly held corporation that controlled real estate companies, orange groves, and an insurance company, pursuing claims of mismanagement against the president and CEO and obtaining control of the board of directors, restructuring of the public company, and sale of some of its operations
Obtained summary judgment for a manufacturing company in a case concerning corporate dissolution and allegations of breaches of various contracts and shareholder agreements, fiduciary duties and bad faith
Represented many small and mid-sized corporations in minority shareholder oppression, share dilution and derivative actions
SUPPLIER AND CUSTOMER DISPUTES
Assisted in the representation of a consumer banking institution defending class action claims for breach of customer contract
Participated in the prosecution of actions for inadequate out-of-network insurance claims reimbursement on behalf of emergency physician groups
Helped obtain favorable resolution of contract disputes on behalf of construction industry clients
Successfully represented the trustees of a union pension fund who were accused of breach of fiduciary duty with an eight-figure damage claim resulting in a no-cause verdict at trial
Secured dismissal of litigation challenging to revised terms in franchisor's renewal agreements brought by franchisees in federal court
Represented a large oil pipeline in prosecuting claims of breach of contract and violations of the Uniform Commercial Code in relation to faulty additives manufactured by defendant
Successfully prosecuted multi-million dollar claims of large petroleum company for breach of contract, warehouseman's liability and account stated arising from asphalt storage tank failure
Enforced deed and use restrictions for various commercial properties, including gas stations, retail outlets and franchises, concerning brand, product and site limitations in courts in Michigan, Ohio, Indiana, Illinois and Wisconsin
Secured multiple preliminary injunctions and/or favorable settlements for a large automotive manufacturer against suppliers arising out of disputes on pricing, purchase order terms and conditions, disruption costs and sub-supplier delays
Assisted in defense of a closely-held corporation in a breach of contract claims by a broker-dealer
Successfully represented a large European non-profit corporation sued in U.S. federal court for fraud, breach of contract and related claims
Obtained a verdict against a municipality that had refused to permit the mining of silica sand valued at approximately $500 million
Obtained denial of plaintiff's request for a temporary restraining order in a stop-shipment lawsuit seeking injunction for continued shipment of goods
Successfully defended a Canadian manufacturer in a dispute with a steel supplier in U.S. federal court
Reached a favorable resolution on behalf of a medical services provider in a breach of contract dispute with former medical billing company
Successfully defended a Canadian waste management company in a breach of contract dispute in U.S. court
Successfully represented a Canadian clothing designer in a contract dispute in an Ontario court with a former consultant, obtaining judgment against the consultant
DISPUTES WITH COMPETITORS
Successfully represented clients in multiple industries in prosecuting or defending against claims of trade secret misappropriation by former employees
Successfully represented clients in diverse industries in cases involving claims of breach of covenants not to compete contained in supply or joint venture agreements
Represented a closely held corporation in unfair trade practices, pricing and covenants not to compete disputes in courts in New York and Michigan
Successfully defended a software manufacturer against breach of contract claims while prosecuting, to a favorable resolution, counterclaims for misappropriation of trade secrets, unfair competition, and tortious interference with business relationships