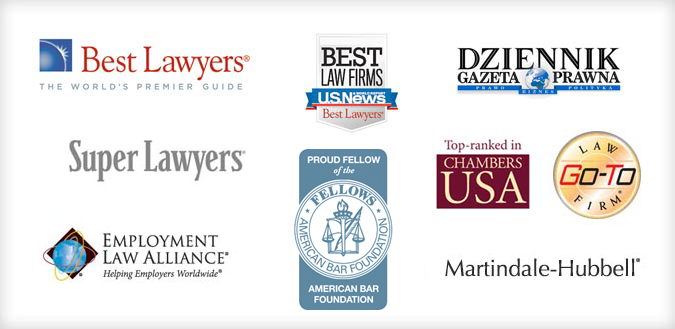 Miller Canfield Wins Prestigious Detroit Community Development Award

Miller Canfield is pleased to announce that it has been selected to receive the Distinguished Pro Bono Service Provider Award in recognition of the firm's significant pro bono work that positively impacted community economic development in Detroit.

Best Lawyers

125 lawyers in the United States, Canada and Poland were selected by their peers for inclusion in Best Lawyers 2016. Miller Canfield leads Michigan in the number of lawyers named. In addition, 13 lawyers have been named "Lawyers of the Year" in their legal specialties and communities.

Super Lawyers

110 Miller Canfield lawyers have been named in Super Lawyers. Seventy-one lawyers were named as "Super Lawyers" in Michigan; six in Illinois; and one in Ohio. 27 lawyers in Michigan were named as "Rising Stars;" four in Illinois; one in Ohio; and one in New York. Saul Green was profiled extensively in the 2016 Super Lawyers' issue. Thomas Cranmer has been recognized by the publication as the top ranked lawyer in Michigan.

U.S. News-Best Lawyers "Best Law Firms"

U.S. News & World Report and Best Lawyers again ranked the firm among the nation's best law firms in the 2017 edition of "Best Law Firms."

Miller Canfield was recognized as a nationally tiered firm in 16 practice areas. The firm was also ranked among the highest in the metropolitan areas of Chicago, and the Michigan cities of Ann Arbor, Detroit, Grand Rapids, Kalamazoo, Lansing and Troy. In all, Miller Canfield was recognized in 130 areas.

Chambers USA

Chambers USA most recently recognized 16 of our attorneys as leading lawyers. The firm is ranked for its work in Banking & Finance; Corporate/M&A; Employee Benefits & Executive Compensation; Labor & Employment; Real Estate; and Litigation: General Commercial.

2014 Restructuring of the Year Award (Over $5 Billion)

We were recognized on the winning team for the "Restructuring of the Year Award (over $5 billion)" by The M&A Advisor for our role as co-bankruptcy and bond counsel for the City of Detroit bankruptcy.

BTI Litigation Outlook

Miller Canfield has been identified for the second consecutive year as one BTI Consulting Group's Most Recommend Law Firms in the country.

Miller Canfield was named by corporate counsel as a "Standout in Complex Labor Litigation" in the BTI Litigation Outlook 2014 and 2015 reports, the second consecutive year we have earned the honor.

In 2014, we were also named an "Most Feared Law Firm Honor Roll" for all litigation in the same survey. BTI Litigation Outlook surveys more than 300 general counsel and in-house litigation heads at top-spending organizations in more than 20 industries were to identify the best litigation firms in the U.S.

BTI Client Service A-Team

We were recognized for superior client service in the 2015 BTI Client Service A-Team rankings, a survey of legal decision makers at large organizations with $1 billion or more in revenue.

BTI Client Service All-Stars

In 2017, BTI recognized 319 attorneys nationwide and just three attorneys from Michigan-headquartered law firms in its in-depth report released earlier this month. The recognition is the end result of more than 310 in-depth interviews with legal decision-makers at the world's leading companies and organizations. According to BTI, the "only way to become a BTI Client Service All-Star is for corporate counsel to single out an attorney for client service exceeding all others." The group of attorneys recognized with this high distinction included two Miller Canfield attorneys, Douglas Crim and Jennifer Sabourin.

Crim is a principal in the firm's Litigation and Dispute Resolution and Energy and Environmental groups. Sabourin is a principal and deputy group leader in the firm's Employment and Labor Group.

Municipal Markets Review

Miller Canfield is first in the Mideast region and Michigan and 16th in the U.S. among bond counsel law firms in the 2012 Municipal Markets Review by Thomson Reuters. The annual report recognizes us for 128 long term new bond issues totaling $5.7623 billion, making the firm #1 in the Mideast region and #16 overall nationally.

Benchmark Litigation

Go-To Law Firm

Miller Canfield has been named a 2013 Go-To Law Firm® for Labor and Employment Law and Litigation, chosen by Fortune 500 companies.

Employment Law Alliance

We are the designated firm in Michigan and Poland in the Employment Law Alliance, a network of the top labor and employment attorneys in the world – a powerful resource for clients facing local or global employment issues.

American Colleges

Many of the firm's attorneys belong to prestigious American Colleges, including the College of Labor and Employment Lawyers, and the American Colleges of Bond Counsel, Employee Benefits, Mortgage Attorneys, Real Estate, Trial Lawyers, Trust and Estate Counsel, and Litigation Counsel of America.

Top Law Firm in Poland

Miller Canfield is ranked as the #1 law firm in Poland in the 21 to 50 lawyers category by Dziennik Gazeta Prawna, the leading legal and business publication in Warsaw, Poland.

2014 Pro Bono Law Firm of the Year

Michigan Community Resources (MCR) recognized the firm for its leadership and commitment to pro bono work across Michigan and most notably, for its dedication to MCR's pro bono legal referral program.

2015 Pro Bono Circle of Excellence

Miller Canfield was named in the 2015 Pro Bono Circle of Excellence by the State Bar of Michigan.

2013 Pro Bono Law Firm of the Year

American Bar Foundation

The American Bar Foundation is an organization dedicated to advancing justice through rigorous research on the law, legal processes, and the law's impact on our society.