Lawyers
Principal
Of Counsel
Senior Counsel
Senior Attorney
Associate
Other Professionals
Miller Canfield has one of the leading real estate practices located in the United States. We use an interdisciplinary approach to provide clients seamless representation from the initial planning of a project to its completion, creatively solving any problems that might arise along the way. And with offices worldwide, we are capable of handling any matter, anywhere.
Our broad experience allows us to provide great service to corporations, lenders, borrowers, special loan servicers, government entities, developers, landlords, tenants, buyers and sellers in transactions of all sizes. From high-rise office buildings, hotels and complex mixed use projects to major professional sports stadiums to single family residential subdivisions, our attorneys are capable of tackling the toughest projects.
We provide clients what few other firms can: the best legal service seamlessly integrated across the broadest range of needs, both nationwide and abroad. We are able to do so by bringing you highly qualified attorneys in other areas, such as litigation, public law, corporate, labor, tax and intellectual property.
Miller Canfield's Real Estate Group has been listed among Midwest Real Estate Journal's Best of the Best. Chambers USA recognizes Miller Canfield as having one of the leading real estate practices in the country, saying the firm has "a distinguished real estate practice with solid transactional experience, particularly in relation to financing and REIT matters." Chambers also notes that Miller Canfield is "adept at handling economic development work" and "well known for its deep bench and experienced practitioners."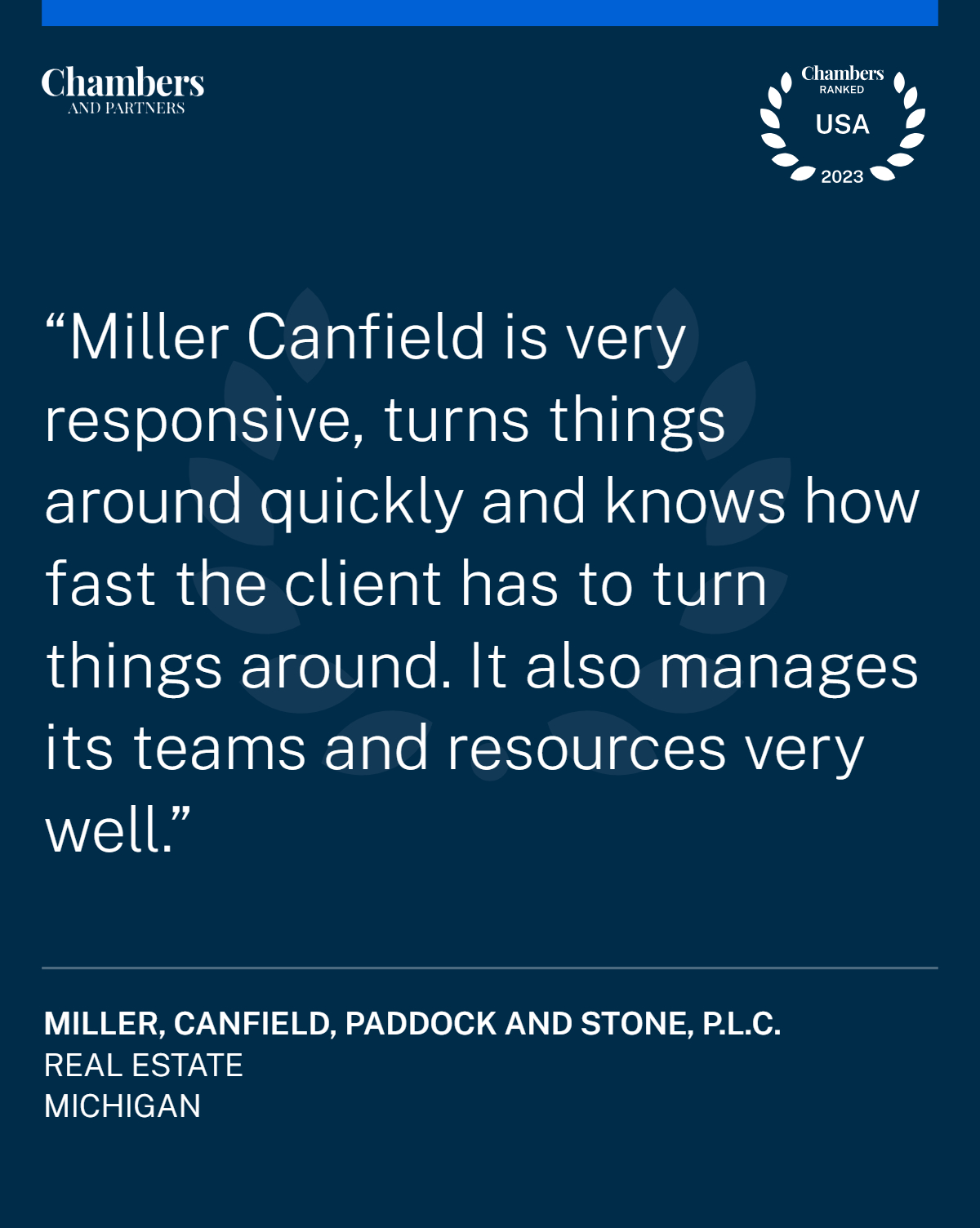 Corporate Real Estate
Miller Canfield represented a major health care company in connection with its development of a sprawling new hospital campus. This development project involved multiple municipalities and included a hospital campus, cancer institute, and ambulatory care center on a 52-acre campus.
Represented the world's leading provider of medical diagnostic information services in connection with all facets of its office, warehouse, and laboratory facility leasing needs in the United States.
Represented North American unit of an international automotive supplier with respect to all facets of its office, warehouse, and manufacturing facility leasing needs in the United States.
Represented Fortune 100 company with respect to the real estate portion of its merger and acquisition transactions, including the resolution of title, survey, and lease assignment issues.
Represented a national financial institution in the disposition of multiple closed branches, and in the purchase or lease of multiple sites for new branches.
Advised multinational software and 3D printing company on the acquisition of its U.S. headquarters in metropolitan Detroit.
Economic Development Incentives
Handled a multi-state search for a national headquarters project for a national industry leading company involving site selection, real estate and construction of a new $250 million corporate headquarters facility. We handled the procurement, negotiation and documentation for multiple levels of state and local incentives.
We have structured, negotiated and closed various Federal New Markets Tax Credit transactions, (NMTC), Low Income Housing Tax Credit (LITC), Historic Rehabilitation Tax Credit (HTC), state-sponsored Brownfield redevelopment programs, 501(c)(3) and other tax-exempt bond financings, including several leveraged financing transactions involving multiple Community Development Entities.
Handled the development and construction of a new state-of-the-art manufacturing plant in South Carolina involving over $500 million in capital investment, including federal, state and local incentives.
Represented corporate real estate group in obtaining over $68 million in grants, tax abatements, tax credits, and recovery zone economic development bonds for manufacturing plant located in North Carolina.
Represented manufacturing company in obtaining over $58 million in tax abatements, job training grants, and other incentives for new alternative energy related facility. Also handled lease acquisition and construction contracts for project in Kansas.
Negotiated a $10 million incentive package for a company that manufactures equipment for the alternative energy field.
Currently represent international company on U.S. real estate portfolio including over $1 billion in leases, construction, and economic incentive projects.
Governmental Entities
Miller Canfield represented the City of Detroit in Mayor Mike Duggan's aggressive plan to assemble 200 acres of land from multiple property owners to make way for a major expansion of the FCA (Fiat Chrysler) Mack Assembly plant located within the City. The project is expected to create up to 5,000 new manufacturing jobs in Detroit. Miller Canfield and the City team had just 60 days to complete and counsel every phase of the project, including due diligence and feasibility, funding for acquisition, initial site preparation (including environmental clean-up and remediation), public approvals across multiple public entities, and negotiating cash acquisitions and complex property exchanges with multiple property owners (without the backstop of acquisition by eminent domain). We completed the property exchanges and subsequent transfers to FCA, and we also helped the City navigate through issues that have arisen during the construction of the expanded Mack Assembly plant.

Business Facilities magazine recognized the project with its Deal of the Year Award.
Miller Canfield was engaged by the City of Southfield to advise, consult and represent the City in connection with the redevelopment of the Northland Mall site. The City acquired the site, which includes approximately 114 acres, and has demolished many but not all of the improvements previously constructed on the site. The City acquired the site with the hope that it would be able to control the development and fulfill its vision for a major retail and residential area. Our role is to assist the City in negotiations with prospective developers and to document the sale and development agreements in a manner which enables to City to achieve this vision.
We counseled the Lansing Board of Water and Light in all aspects of real estate development for its project to build a $500 million natural gas-fired power plant.
Leasing
Facilitated time-sensitive $22 million sale-lease back transaction for a 360,000-square-foot facility, efficiently expediting negotiations and due diligence, while limiting the client's liabilities and providing the protections it required.
Negotiated new headquarters lease of 130,000 rsf of Class A office space for Fortune 500 Company.
Negotiated lease of 180,000 rsf of downtown Class A office space on behalf of landlord, where the lease acted as the critical component of a larger sales transaction.
Advised national retailer with respect to the leasing, subleasing, and tenant management of its owned shopping centers.
Represented North American unit of an international automotive supplier with respect to all facets of its office, warehouse, and manufacturing facility leasing needs in the United States.
Acquisition and Disposition
Represented Fortune 100 company with respect to the real estate portion of its merger and acquisition transactions, including the resolution of title, survey, and lease assignment issues.
Lead counsel for several private equity funds in the acquisition and disposition of office and multi-housing developments across the U.S. with pricing between $30 million and $100 million.
Represented a hedge fund in $126 million sale of a single-family rental portfolio in seven states. The homes were located in Georgia, Arizona, Texas, North Carolina, Colorado, Mississippi and Tennessee.
Negotiated and closed over $78 million in REO sales in Michigan, Illinois and across the Midwest for a national banking client. Also advised the bank with respect to property management and leasing issues.
Represented Fortune 100 company in all areas of its corporate real estate portfolio, including leasing, acquisitions, dispositions, design and construction projects, and all other real estate-related transactions.
Miller Canfield's internal team, along various other lobbyists and communication professionals, facilitated the expansion of a mineral mining operation in northeastern lower Michigan for a large national mining and material processing/manufacturer of native gypsum. The project was the largest sale of land and mineral interests by the Michigan Department of Natural Resources in several years and involved one of the largest wetland mitigation projects in the state's recent history.
Development
Represented Michigan State University in Phase II of the development of MSU's Medical Mile campus in downtown Grand Rapids.
Led a true public/private partnership effort on behalf of our client to acquire and redevelop the historic Willow Run brownfield site in Ypsilanti Township, Michigan, into the American Center for Mobility (ACM), a nonprofit research facility focused on autonomous vehicle operations testing and validation.
Led legal team on $650 million Little Caesars Arena sports facility and related development located in Detroit, Michigan.
Represented a national medical clinical diagnostic company with the design and construction of a state-of-the-art, 250,000 sq. ft. clinical laboratory.
Counseled a major tire manufacturer through all real estate development aspects of its first new truck and bus tire plant construction in more than 10 years.
Represented the construction manager in connection with construction of Ford Field football stadium located in Detroit, Michigan.
August 10, 2023

August 2, 2023

May 31, 2023

May 26, 2023

April 26, 2023

March 29, 2023