Lawyers
Chief Executive Officer
Pro Bono Counsel
Principal
Of Counsel
Senior Counsel
Senior Attorney
Associate
Attorney
Staff Attorney
Miller Canfield litigators represent clients of all sizes and types, including Fortune 500 companies, automotive manufacturers and suppliers, educational institutions, governmental units, high-tech start-ups and entrepreneurs.
Our deep bench includes attorneys who are experienced in resolving a wide range of commercial disputes, including domestic and international business-to-business litigation, arbitration and mediation, ranging from supplier disputes to bet-the-company M&A cases, as well as defense of government investigations and white-collar criminal matters. Clients count on Miller Canfield to provide practical, business-oriented legal services and aggressive representation. And we do so ethically, collaboratively and efficiently.
We count among our litigators the former United States Attorney for the Eastern District of Michigan and several former prosecutors with hundreds of collective jury trials under their belts. Many of our appellate lawyers have served as clerks for leading judges on federal and state courts.
Miller Canfield litigators are consistently ranked among the nation's best, with more Miller Canfield trial lawyers elected as Fellows of the American College of Trial Lawyers than any other Michigan-based firm. Dozens of our trial lawyers are recognized by Best Lawyers in America and Super Lawyers, and Chambers USA calls Miller Canfield "a highly esteemed group of litigators noted for its experience in major trials and alternative dispute resolution."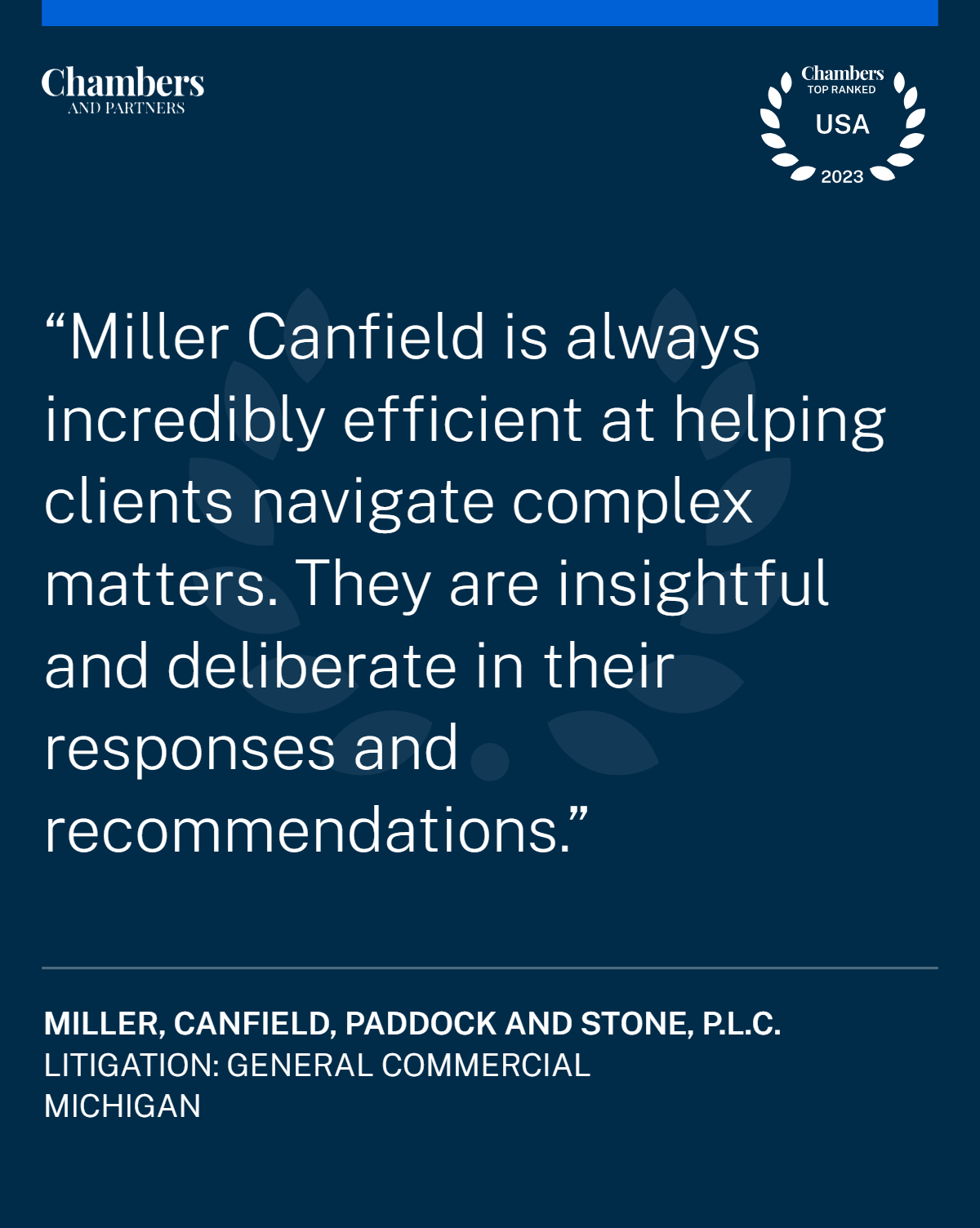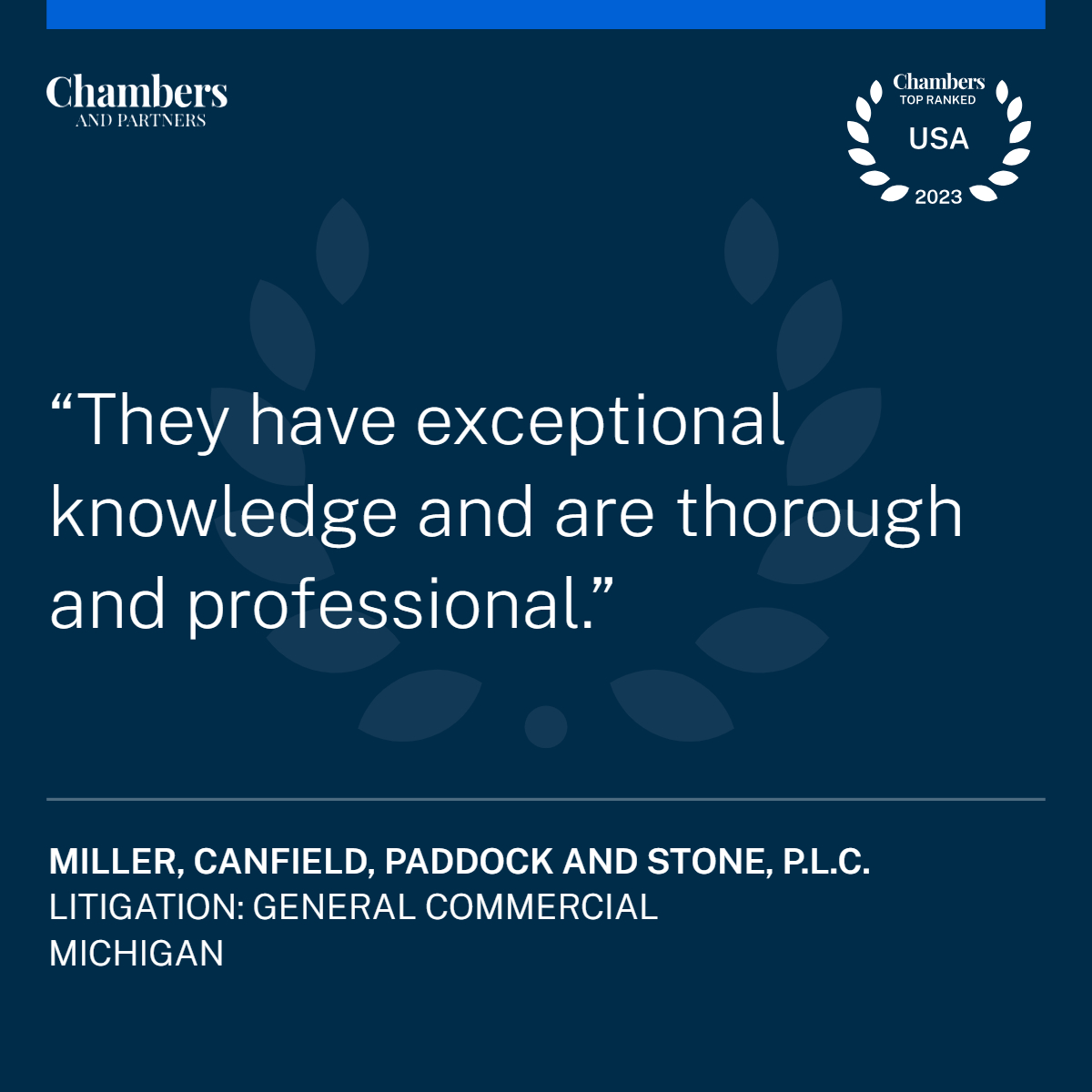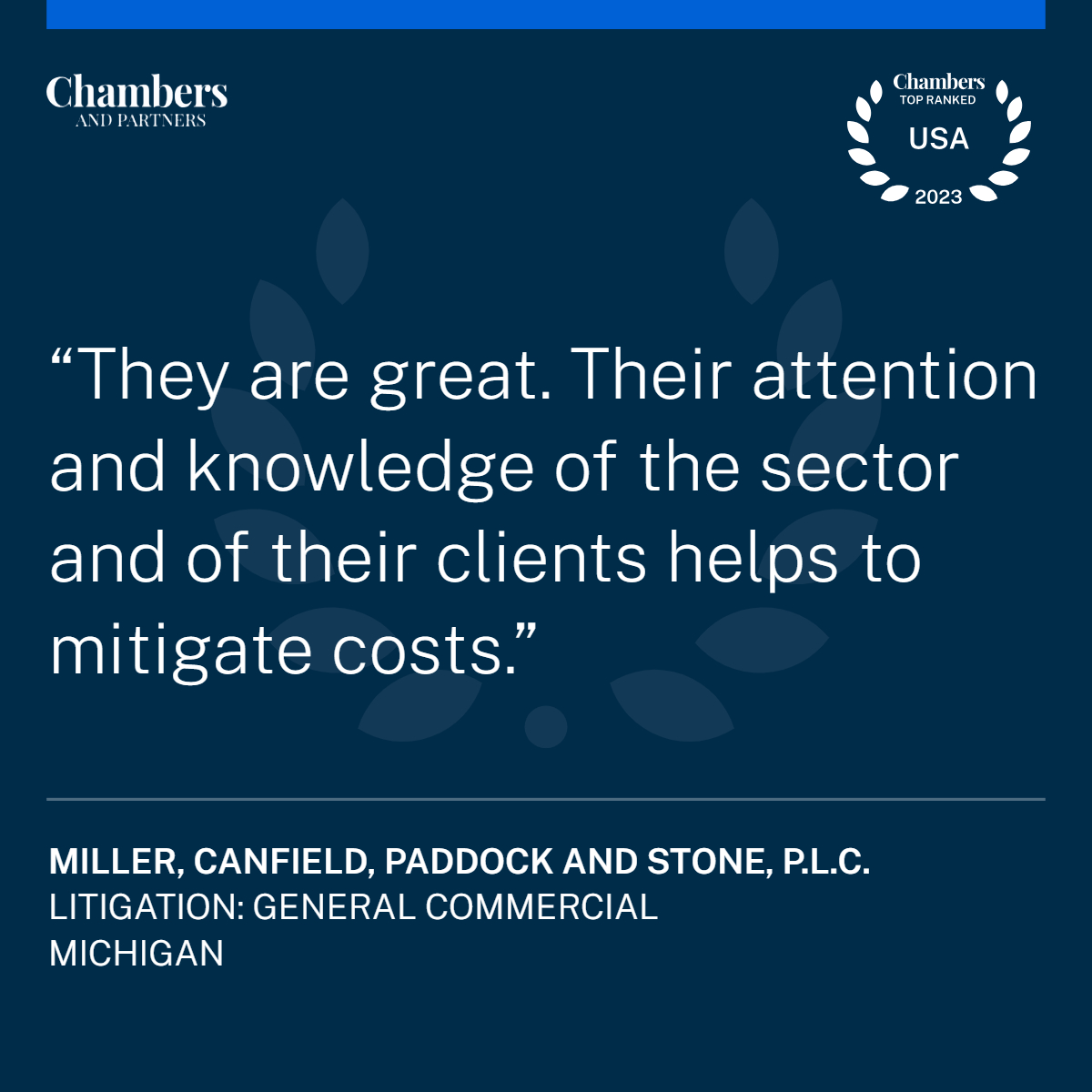 AUTOMOTIVE
Served as co-lead counsel for Tier 1 supplier defendant in multi-district antitrust litigation alleging broad price-fixing conspiracy in the automotive industry. The case was successfully settled after pre-trial proceedings.
Successfully represented numerous Tier 1 and Tier 2 automotive suppliers in dozens of commercial supply disputes in various courts and arbitration forums around the country. Claims have included breach of warranty, defective design, pricing disputes, misappropriation of trade secrets, intellectual property disputes, and "stop ship" situations.
BREACH OF CONTRACT/BREACH OF DUTY
Successfully defended financial marketing company against claims brought by a hedge fund that it failed to attract new union pension fund investors and against the owner of the company for breach of fiduciary obligations
Secured a complete recovery after a lengthy commercial arbitration hearing for the seller of a tool and die company who had been advised that the purchase price was being cut by nearly $1 million
Served as lead counsel for tier automotive supplier in a federal case alleging breach of contract and fraud in connection with a prior settlement agreement. Obtained summary dismissal of all claims before discovery. Currently handling appeal pending in the U.S. Court of Appeals for the Sixth Circuit.
Obtained dismissal for Michigan's largest public energy company in overriding royalty dispute concerning allegations of breach of fiduciary duty, alter ego, fraudulent drainage and lack of unitization of a gas field
CONSTRUCTION CONTRACT
Successfully tried claims against financing bank for the cost to complete a multifaceted construction project after the owner defaulted allowing the client general contractor to be made whole
CONTAMINATION LIABILITY
Obtained complete dismissal of all claims after a four-week trial for a municipal authority in response to claims of PCB contamination liability, avoiding bankruptcy or dissolution of three municipal entities
FRAUD
Successfully defended a regional bank from claims of fraudulent activity on the purchase and application of title insurance, resulting in a complete exculpation of the client bank and an award of all attorney fees incurred in defending the bank
Tried to the court a complicated UFTA claim against individuals, an insurance agency and law firm, obtaining an award of more than $3 million cumulatively which included awards for contempt of court
GDPR IMPLEMENTATION
Led a distributor of new vehicles and members of its dealership and service network in Poland through General Data Protection Regulation implementation, including local Polish provision specifics
ILLINOIS BIOMETRIC INFORMATION PRIVACY ACT
Defended class action lawsuits against national employers who allegedly required their Illinois-based workforce to use biometric timekeeping systems without providing BIPA-mandated disclosures and obtaining lawful consent.
Advised clients on obtaining defense and indemnity for BIPA claims from vendors of non-compliant biometric monitoring systems and from insurers, including representing insureds in coverage litigation with their insurers. Monitored defense counsel appointed by insurer to defend client in litigation related to remote monitoring/surveillance systems.
Audited company policies and practices to ensure compliance with BIPA including adopting, maintaining and posting biometric information privacy policies and obtaining BIPA-compliant informed consent to the use and dissemination of biometric information.
INSURANCE LITIGATION
Obtained favorable trial verdict in favor of title insurance company against a perpetrator of mortgage fraud and equity stripping scheme, including finding that debt was non-dischargeable
INTERNAL INVESTIGATION
Represented a major university in connection with an internal investigation into its athletic department
LEASE DEFENSE
Established, after a lengthy trial, the validity of a supermarket chain's allegedly late notice of intent to exercise an option renewal. This allowed the client to retain a valuable location with projected sales of more than $1 billion.
OIL AND PETROLEUM
Persuaded federal court to dismiss Petroleum Marketing Practices Act (PMPA) claims and obtained summary judgment in state court on breach of contract counterclaim
Successfully defended major oil companies in complex litigation matters concerning upstream oil and gas production involving application of foreign and state laws
PANDEMIC-RELATED LITIGATION
Served as Michigan counsel in litigation in the Oakland County Circuit Court involving our client's termination of a $3.6 billion stock purchase agreement and plan of merger between our client, the largest owner and operator of shopping malls in the U.S., and a Michigan-based company that owned and operated 27 high-end shopping malls in the U.S. and Asia, when COVID-19 forced shopping mall closures. The case was successfully settled.
Successfully defended two universities against class actions seeking tuition refunds after change from in-person to online instruction during COVID-19 pandemic
Defended constitutional challenges to state and local government COVID-19 mandates.
PERSONAL INJURY DEFENSE
Served as lead trial counsel in personal injury cases involving wrongful death, amputation, scalping and various other injuries brought on theories of negligence, strict liability, nuisance, contractor liability and related claims in cases throughout the United States
Represented convenience store chain in multiple personal injury actions, including numerous summary dismissals and successful post-judgment motions and appeals
PROPERTY RECOVERY
Represented a brewery in litigation resulting in the return of the brewery's property
RICO DEFENSE
Persuaded federal court to dismiss RICO/fraud action based upon allegations of improper billing, then convinced arbitrator to dismiss claims
Obtained dismissal of RICO claims and displacement of state court common law claims based on Michigan Uniform Trade Secrets Act
Represented the City of Detroit in investigation and civil litigation relating to alleged criminal enterprise, persuaded the court to permit the city to intervene and rule that municipality's tort claims against defendants belonged to the city, and obtained an eight-figure settlement
UTILITIES
Served as lead counsel in $270 million arbitration representing Michigan's largest public utility in power purchase agreement dispute centered on utility accounting and methodologies, including issues related to avoided costs, capitalization, discount rates, healthcare and post-employment benefits, FERC Form 1 and MPSC P-521 accounting, PURPA and other regulatory matters
Successfully represented large utility in multi-million-dollar transmission, metering agreement and electric line loss dispute involving interpretation of MISO tariffs and FERC regulations
August 17, 2023

August 10, 2023

August 3, 2023

August 2, 2023

July 14, 2023

June 30, 2023

June 29, 2023

June 29, 2023

June 26, 2023

June 23, 2023

June 21, 2023

June 12, 2023

June 5, 2023

May 31, 2023

May 19, 2023

May 3, 2023

April 26, 2023

April 17, 2023

March 21, 2023

February 23, 2023

February 17, 2023

January 11, 2023

January 5, 2023

November 4, 2022

November 1, 2022