Lawyers
Principal
Of Counsel
Senior Counsel
Senior Attorney
Associate
Attorney
Other Professionals
Miller Canfield's Corporate and Transactions Group serves U.S. and multinational corporations, publicly held companies, closely-held corporations, partnerships, joint ventures, strategic alliances and business enterprises of all kinds, as well as financial institutions and investors including private equity and venture capital funds.
Nationally recognized for our collection of corporate services, including banking and finance, litigation, employment, real estate and employee benefits and executive compensation, Miller Canfield is known for bringing a comprehensive approach to transactions. Leveraging extensive knowledge and practical experience, we provide clients with timely and pragmatic cross-disciplinary legal services and guidance on the legal and commercial aspects and implications of the full spectrum of commercial activities.
With locations in the U.S., Canada, Mexico, Europe, Qatar and China, our international presence ensures clients that we can handle any deal, whether cross-border or domestic.
Chambers USA recognizes Miller Canfield as having one of the leading practices in the country, saying the firm "is a widely acknowledged corporate outfit, utilizing resources across its international offices in Asia, Europe and Canada to advise on significant domestic and cross-border transactions."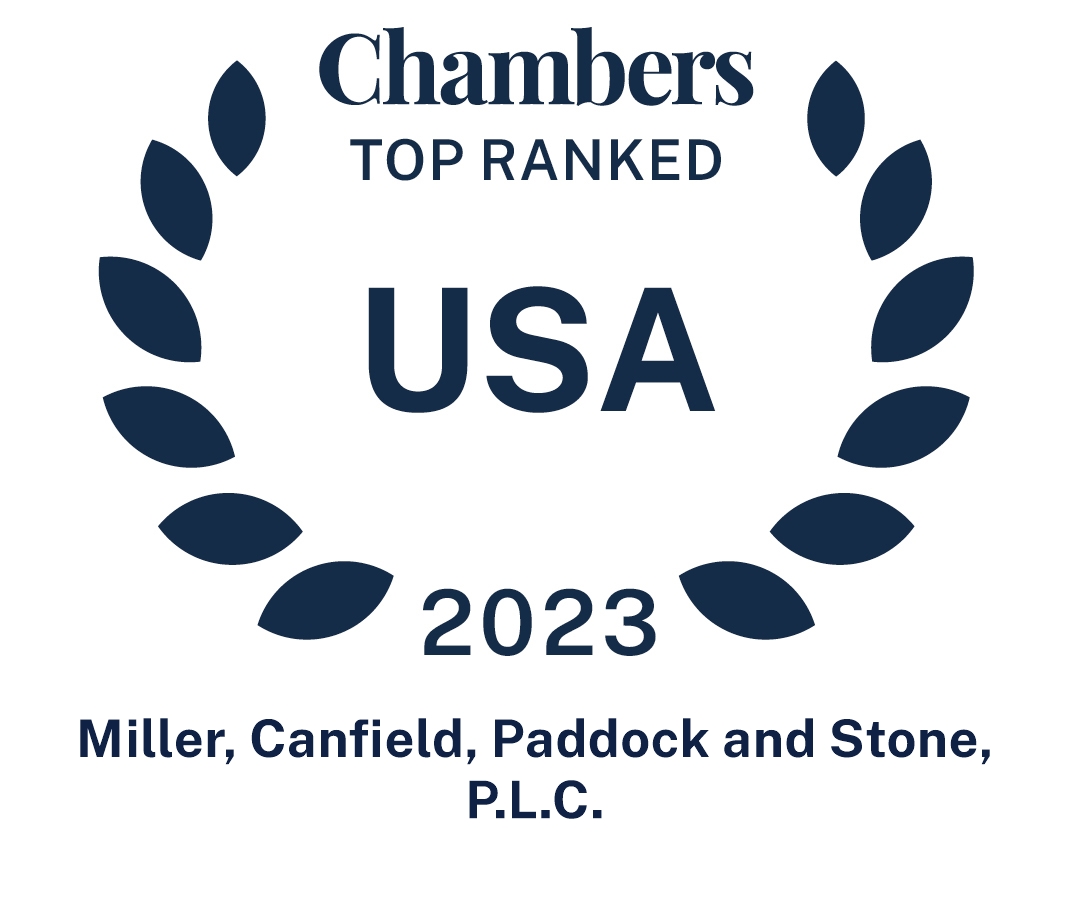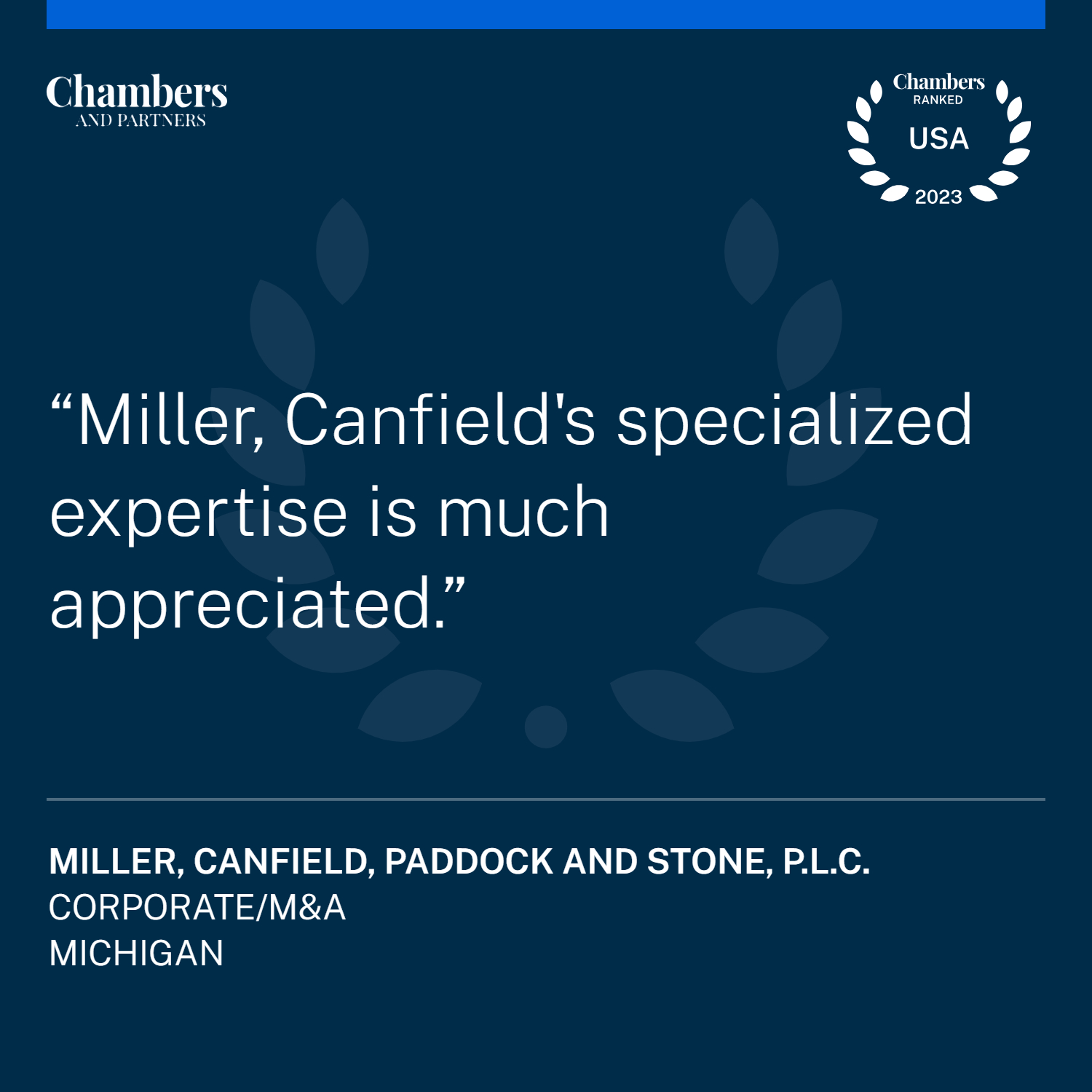 Miller Canfield's Corporate and Transactions practice offers integrated cross-disciplinary legal services to domestic and global clients at every stage of growth. Providing more than legal services, our attorneys provide business advice to help clients with the intricacies of their transactions and their business strategies.
Corporate, Securities and Commercial Transactions
Commercial Transactions
Assisted in the financing of $30 million issuance of common stock by a Michigan-based bank holding company in connection with its acquisition of an Ohio savings institution
Representation of Raytheon in connection with two major defense transactions totaling $2.2 billion
Assisted in the financing of $1.5 billion offerings of medium-term unsecured notes for a Detroit-based financial institution
Initial Public Offerings
Assisted with the financing of $25 million initial public offering of a local household and cosmetic distributor
Legal advisor to Second City Capital Partners II, LP, on the spin-out and "roll up" of more than 20 companies holding 16 office properties consisting of 1.85 million sq. ft. of rentable space in five states, and the initial public offering of City Office REIT, Inc.'s common stock
Assisted with the financing of $8.8 million initial public offering of a computer wholesaler located in Ohio
Assisted in the financing of $100 million secondary public offering of common stock of a major local bank holding company
Assisted with the financing of $28 million secondary public offering of a local Tier One supplier to the automotive industry
Proxy Contest/Related Litigation
Represented a group of significant shareholders of a $500 million-plus savings institution in the Upper Peninsula in a proxy contest and related litigation in which they successfully sought representation on the institution's board of directors
Represented a group of substantial shareholders in connection with a proxy contest and related litigation in connection with our efforts to obtain representation of the board of directors and sale of a savings institution located in Cleveland
Shareholder Disputes
Represented a group of major shareholders of a publicly held corporation that controlled real estate companies, orange groves, and an insurance company. Representation involved pursuing claims of mismanagement against the president and CEO, and were directed toward obtaining control of the board of directors, restructuring of the public company, and selling certain of its operations.
Represented a publicly held corporation located in Western Michigan and its Litigation Committee in a significant dispute with the corporation's major shareholder (which also had two representatives on the board of directors). The representation involved two proxy contests, two securities laws class action suits, a derivative action and a fraud suit by the major shareholder and others against the corporation, the entire board of directors, all the major officers, the outside auditors, and the former attorneys for the corporation.
Mergers and Acquisitions
Auto Parts Manufacturer Plant Real Estate Purchase
Assisted a foreign auto parts manufacturer in the purchase of a former General Motors light-duty truck plant in Moraine City, Ohio, a $200 million project that brought more than 800 jobs to the area
Financial Institution Merger
Represented the second largest bank holding company in Michigan in connection with its $2.2 billion merger with the third-largest bank holding company in Michigan
International Mergers and Acquisitions
Represented Zhongshan Broad Ocean Motor Co., Ltd., on its $130 million acquisition of Prestolite Electric (Beijng), Ltd., a Beijing-based Sino-foreign joint venture.
Represented Simon Property Group, Inc., in connection with its pending $9.5 billion acquisition of Taubman Centers, a real estate investment trust, and acquisition of an 80% stake in Taubman Realty Group
Miller Canfield acted as U.S. counsel to Alfred Kärcher, the world leader in cleaning technology such as high-pressure washers, in its acquisition of Max Holder GmbH, a market leader in the development of municipal vehicles, advising on all U.S. aspects of the transaction from structure, documentation, labor, tax, and environmental to closing. The Miller Canfield team worked closely with Alfred Kärcher's legal teams in Canada, Croatia, Germany, and Italy to ensure a seamless integration of the U.S. portion of the transaction.
Miller Canfield acted as lead counsel to Carl Zeiss in its acquisition of all outstanding equity of Iantech, Inc. by merger under Delaware law involving multiple earnouts spanning almost a decade. In such capacity the Miller Canfield team advised on all aspects of the transaction including FDA regulatory, CFIUS analysis, and Antitrust filings.
Miller Canfield acted as counsel for Zeiss in the development and negotiation of a joint venture with Idea Elan for the development, implementation and commercialization of specialized laboratory microscope and metrology equipment management software and systems. The Miller Canfield team advised on all aspects of the transaction including Export Controls and CFIUS.
Advised client on all aspects of acquisition of IBM Cognos Disclosure Management (CDM), IBM Cognos Disclosure Management on Cloud (CDM on Cloud), IBM Cognos Financial Statement Reporting (FSR), and IBM Clarity 7 products business and operations in United States, Canada and Romania from International Business Machines and concomitant share offering and restructuring and upsize of ABL credit facility.
Represented Mexican auto supplier Metalsa SA de CV on its $150 million acquisition of the structural products business from US-based Dana Holding Corp.
Sale of BlueHornet Networks, Inc. to Marlin Equity Partners
Served on a team of legal advisors to Digital River, Inc. (Digital River) on its sale of BlueHornet Networks, Inc. to Marlin Equity Partners. Digital River is a portfolio company of Siris Capital Group, LLC (Siris Capital). The transaction provided current realized value to Siris Capital while simultaneously positioning BlueHornet to accelerate execution on its business plan.
Software Company Sales and Acquisitions
Represented Equity Administration Solutions, Inc., the world's largest SaaS stock plan software provider to both public and private companies, in its acquisitions of (i) Rivet Software, Inc., the third-largest (by filings) public company financial filings and XBRL tagging service provider in the U.S. in stock acquisition and (ii) OptionAdmin, Inc. a recognized leader in the field of corporate equity management in an asset acquisition.
Represented Canada's largest insurance rating and broker services company in $110+ million (Canadian) stock and asset sale to U.S. private equity firm.
Negotiated a share transfer and shareholder agreement within a two-phase acquisition of a software provider in the travel industry which originated from a small startup. Particular focus on securing the founders' position for future decision-making processes in the company
Staffing and Personnel Management Firm Sale
Represented client in $42 million equity sale to U.S. private equity firm and concomitant creation of only the second certified Minority Controlled Business under NMSDC Growth Initiative.
Private Aviation
Representation of businesses and high net-worth individuals in connection with the negotiation of aircraft management and the acquisition, sale, financing, and registration of aircraft
Representation of businesses and private clients in connection with the purchase and sale of fractional interest in aircraft.
Representation of businesses in connection with the purchase, sale, and financing of executive aircraft and helicopters in Central Europe
Representation of lenders, lessors and operators in connection with the sale, lease and sale-and-leaseback of fixed-wing and rotary-wing aircraft, engines and aviation parts in the Middle East
Pro Bono
Assisted Low Income Tax Payer in completing income tax returns to ensure that they receive refunds and benefits they are entitled to
Assisted a Michigan Not for Profit in drafting loan documentation in connection with a structured financing program aimed at increasing access to good food for low-income populations and building farmer capacity in Michigan
Assisted a global non-profit headquartered in Michigan in revising draft loan documentation used to make small loans to entrepreneurs and agencies around the world
Syndicated Financing
Represented national bank in purchase of portfolio of convenience store industry credit facilities spanning 11 borrowing relationships with total commitments approximating $234 million
Represented national bank participating in asset-based secured facilities totaling approximately $2.1 billion including foreign and domestic facilities and exposure in multiple currencies
Represented national bank as lead bank on syndicated acquisition loan for a beer distributor
Represented national bank in two-bank revolving credit facility to foodservice distributor
Working Capital/Asset-Based Financing
Represented national bank in $11,375,000 financing for renovation and conversion of a 1906 steamship into an articulated tug barge
Represented national bank in closing a $100 million bilateral loan for an energy industry borrower
Represented national bank on $65,000,000 revolving loan to automotive supplier
Represented regional bank as lead bank on $97,000,000 U.S. and $20,000,000 CDN syndicated financing of American and Canadian automotive suppliers
Represented national bank in $34,200,000 financing to manufacturer of natural gas compressors
November 30, 2023

July 14, 2023

April 12, 2023

February 23, 2023

February 23, 2023