Michigan Governor Relaxes Stay-Home Order in Northern Michigan, Addresses Workplace Safeguards
May 19, 2020
On May 18, 2020, Michigan Governor Gretchen Whitmer signed executive orders 2020-91 and 2020-92, revising the state's Stay Home, Stay Safe Order and advancing the process to resume in-person work and activities that were temporarily suspended under the previous orders. EO 2020-91 requires a number of safeguards that employers must follow for all businesses and operations that are permitted to require their employees to leave their homes for work. These safeguards are in addition to any requirements imposed by local governments.
Many of these safeguards were previously addressed in the prior versions of the Stay Home, Stay Safe Orders, but some are new. For the first time, the EO (2020-91) also states that these standards will be applied to "all businesses across the state" and "any failure to abide by the rules will also constitute a failure to provide a workplace that is free from recognized hazards within the meaning of the Michigan Occupational Safety and Health Act, MCL 408.1011."
What's New in the Stay Home Order?
EO 2020-92 incorporates most of the prior version of the Stay Home, Stay Safe Order (EO 2020-77), but also groups Michigan's counties into eight regions for the purpose of gradually reopening additional in-person work and activities.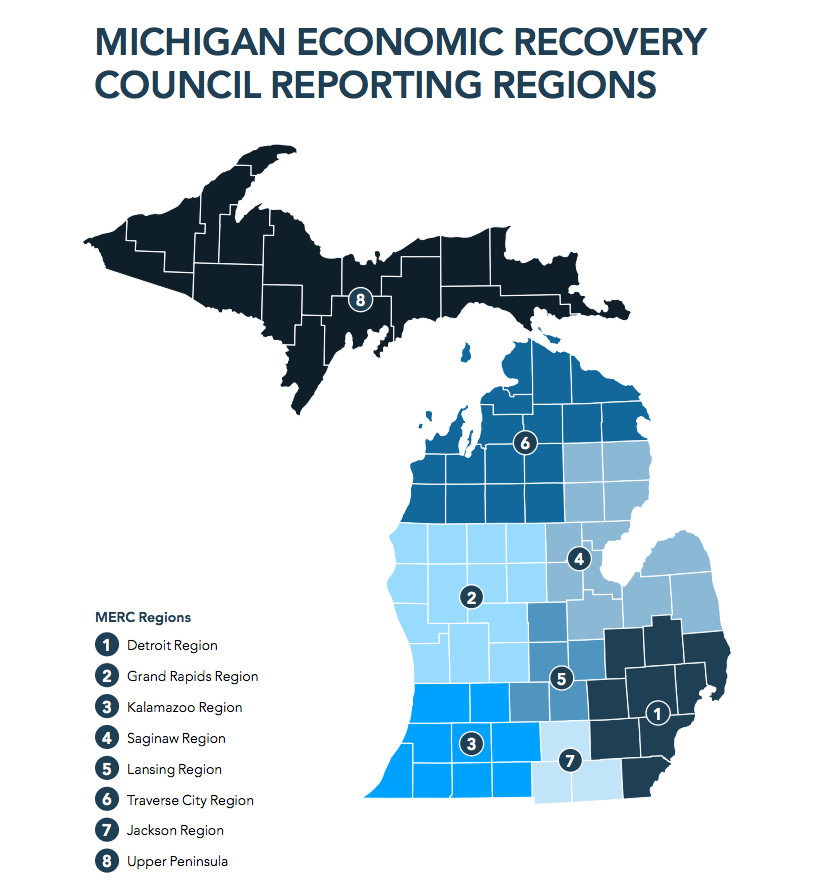 Starting on May 22, 2020, the order permits the reopening of retail stores, restaurants and bars (with limited seating only) in the following counties: Region 6 (Manistee, Wexford, Missaukee, Roscommon, Benzie, Grand Traverse, Kalkaska, Crawford, Leelanau, Antrim, Otsego, Montmorency, Alpena, Charlevoix, Cheboygan, Presque Isle, and Emmet), and Region 8 (Gogebic, Ontonagon, Houghton, Keweenaw, Iron, Baraga, Dickinson, Marquette, Menominee, Delta, Alger, Schoolcraft, Luce, Mackinac, and Chippewa). Individuals in the counties listed above are allowed to perform work in an office setting if that work is not capable of being performed remotely, and attend social gatherings of up to 10 people. EO 2020-92 also incorporates and replaces a previous EO 2020-90, which allowed workers necessary to conduct research activities in a laboratory setting to continue to perform in-person work.
Requirements For All Businesses That Are Permitted To Require In-Person Work
Under EO 2020-91, all employers that are permitted to require their employees to leave their homes for work under EO 2020-92 (including businesses that employ critical infrastructure workers) must, at a minimum:
Develop a COVID-19 preparedness and response plan ("plan"), consistent with recommendations in Guidance on Preparing Workplaces for COVID-19, developed by the Occupational Health and Safety Administration ("OSHA").
By June 1, 2020, or within two weeks of resuming in-person activities, whichever is later, the employer's plan must be readily available to employees, labor unions and customers.
Designate one or more supervisors (or another on-site employee designated to perform the supervisory role) to implement, monitor, and report on the COVID-19 control strategies developed under the plan. The supervisor must remain on-site at all times when employees are present.
Provide COVID-19 training to employees that covers, at a minimum: workplace infection-control practices; the proper use of personal protective equipment; steps the employee must take to notify the employer of any symptoms of COVID-19 or a suspected or confirmed diagnosis of COVID-19; and how to report unsafe working conditions.
Conduct daily self-screening protocol for all employees or contractors who enter the workplace, including, at a minimum, a questionnaire that covers symptoms and suspected or confirmed exposure to people with possible COVID-19.
Keep everyone at least six feet from one another on the worksite (to the maximum extent possible), including through the use of ground markings, signs and physical barriers, if appropriate.
Provide non-medical grade face coverings to all employees.
Require employees to wear face coverings any time they cannot consistently maintain six feet of separation from other individuals, and consider face shields if employees cannot consistently maintain three feet of separation.
Increase facility cleaning and disinfection and adopt cleaning protocols to clean and disinfect the workplace in the event of a positive COVID-19 case.
Make cleaning supplies available to employees upon entry in the workplace and provide time for employees to wash hands frequently or use hand sanitizer.
When a positive case is confirmed in the workplace, the employer must, within 24 hours, notify the local public health department and any co-workers, contractors or suppliers who may have come in contact with the employee. Employers should still be mindful of employee privacy rights.
Establish a response plan for dealing with a confirmed infection in the workplace, including adopting protocols that send employees home and for temporary closures of all or part of the worksite to allow deep cleaning of the worksite.
Restrict business-related travel to that which is essential only.
Promote remote work to the fullest extent possible.
Adopt other infection-control measures that are reasonable in light of the work performed by the business as well as the rate of infection in the surrounding community.
EO 2020-91 also contains industry-specific COVID-19 related rules, in addition to the requirements above, for businesses that primarily perform work outdoors; construction businesses; manufacturing facilities; research laboratories (excluding those that perform diagnostic testing); retail stores that are open for in-store sales; offices; and restaurants and bars. For restaurants and bars, EO 2020-91 expressly permits local governments to impose further restrictions.
If you have questions about EOs 2020-91 and 2020-92, including additional requirements for the categories of businesses permitted to perform in-person work mentioned above, please contact your Miller Canfield attorney or any of the authors of this alert.
This information is based on the facts and guidance available at the time of publication, and may be subject to change.