Industries
Education
Cornell University Law School, J.D., 1981
University of Michigan, B.A., 1977
Bar Admissions
Widely regarded as one of the leading bankruptcy lawyers in Michigan, Jonathan represents clients in debtor-in-possession financings, supply protection negotiations and Chapter 11 restructurings and asset acquisitions.
He has extensive experience in automotive and troubled-supplier restructurings inside and outside of bankruptcy, including the negotiation and documentation of supply protection and lender support agreements. He also has industry expertise in automotive and commercial lending.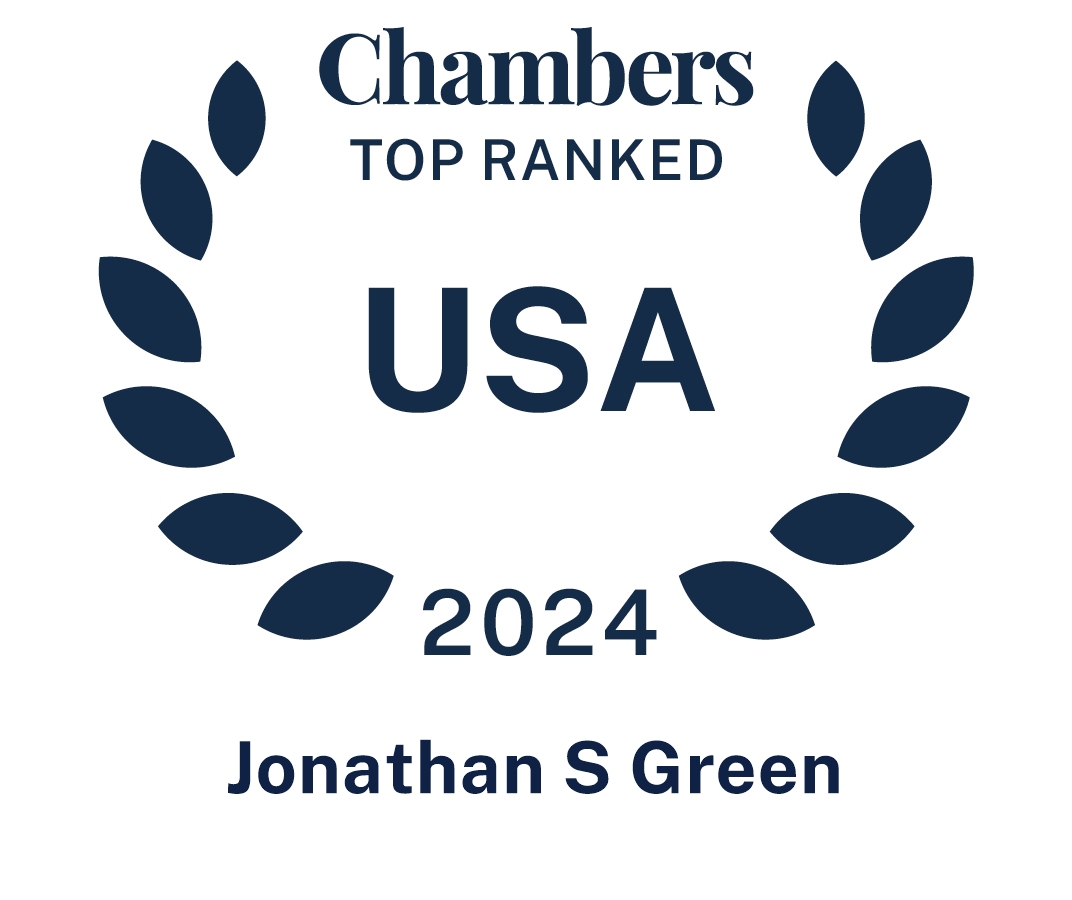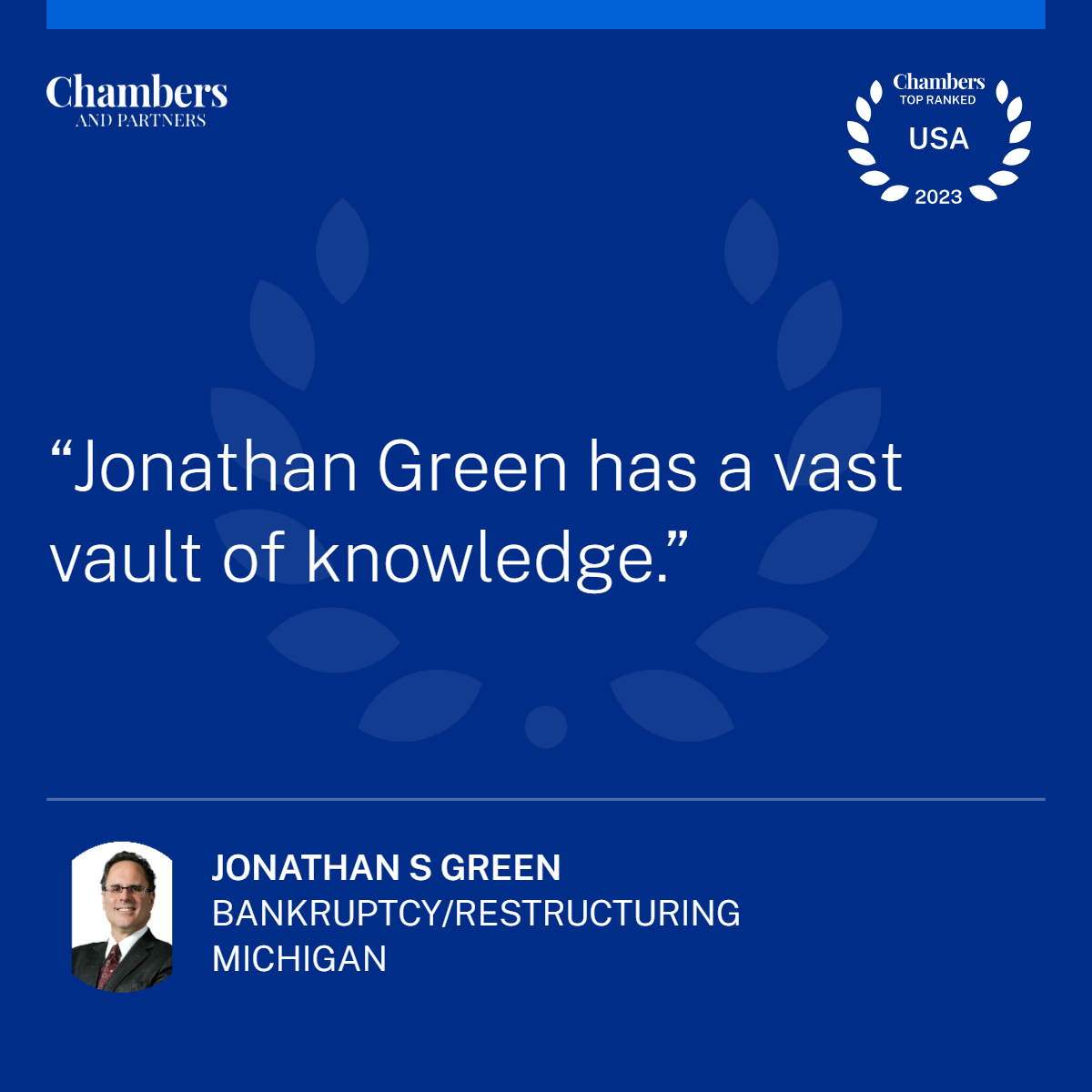 Representative Matters
Jon helped a client finance a large-automotive supplier's restructuring, while negotiating asset sales, support agreements and the transition of its business in a way that prevented any interruption of its business, plant closings, or a negative impact on its sales.
Miller Canfield served as local counsel to the City of Detroit in connection with its Chapter 9 bankruptcy case filed in July 2013 and its ongoing restructuring efforts. Since the City confirmed its Plan of Adjustment in December 2014, Miller Canfield has continued to represent the City in connection with many aspects of its Plan implementation, appeals of Plan confirmation, set up of the Great Lakes Water Authority, and a variety of financings.
Honors
Best Lawyers in America, Bankruptcy and Creditor-Debtor Rights Law, 1989-present; Insolvency and Reorganization Law, 2012-present; 2013 Detroit Bankruptcy and Creditor Debtor Rights/Insolvency and Reorganization Lawyer of the Year
Chambers USA: America's Leading Business Lawyers for Bankruptcy (Band 1), 2006-present
Michigan Super Lawyers, Bankruptcy and Creditor/Debtor Rights, 2006-present; Top 100 Michigan Super Lawyers, 2008
DBusiness Magazine, Top Lawyers, Bankruptcy and Creditor/Debtor Rights, 2011-present
Leading Lawyers, Bankruptcy & Workout Law
Professional Activities
American Bar Foundation, Fellow
American Bar Association, Business Bankruptcy Committee
State Bar of Michigan, Past Chairman, Debtor-Creditor Law Committee, Business Law Section
Federal Bar Association, Detroit Chapter
Detroit Metropolitan Bar Association, Debtor-Creditor Law Committee
Teaching
Wayne State University Law School, Adjunct Professor of Law, 1987-93
Speeches
"Complex Chapter 11 Issues," 33rd Annual Bankruptcy Section Seminar of the Federal Bar Association Western District of Michigan, September 24, 2021
"A Steady Dose of Ethics," 31st Annual Bankruptcy Section Seminar of the Federal Bar Association Western District of Michigan, July 28, 2019
"Forbearance Agreements: Negotiations and Enforcement," 12th Annual Central States Bankruptcy Workshop, June 16-19, 2005
"Advanced Chapter 11 Issues," 8th Annual Central States Bankruptcy Workshop, June 7-10, 2001
"Fraudulent Conveyance Analysis from an Accountant's Point of View," Business Valuations & Asset Recovery Conference, The Association of Insolvency Accountants, Southfield, Michigan, 9/18/98
"Lender Liability: Dispute Resolution for Financial Institutions," American Arbitration Association, December 1993
"Collective Bargaining and Bankruptcy," New York University's 46th Annual National Conference on Labor, June 1993
"Drafting Real Estate Documents II: The Real Property Law Forms Course," Institute of Continuing Legal Education, April 1993
"Commercial Eviction and Foreclosure Proceedings," Institute of Continuing Legal Education, December 1991
"The Basics of Business and Consumer Bankruptcies," Institute of Continuing Legal Education, December 1991
"Chapter 11 of the Bankruptcy Code: An Overview," The Canadian Institute, Insolvency and Bankruptcy, May 1991
"Current Developments in Bankruptcy Law-1987," American Bar Association, Section of Corporation, Banking and Business Law, August 1987
"Key Techniques in Commercial Transactions under the UCC," Commercial Litigation and In-house Counsel Committees of the State Bar of Michigan, 1986
"Foreclosure and Repossession: How to do it Right," National Business Institute, Inc., 1986
"Covering Your Assets: How to Survive a Malpractice Judgment," Congress of Neurological Surgeons' 35th Annual Meeting, September 1986
"Representing the Real Estate Client in Bankruptcy," Institute of Continuing Legal Education, 1985
"Creditor Rights and Protection of Security Interests in Bankruptcy," National Business Institute, Inc., 1985
"How to Turn Judgments and Liens into Dollars and Cents: Creditors' Rights and Remedies," Institute of Continuing Legal Education, 1986 (Commentator and Moderator)
"The Role of the Accountant in Assisting the Financially Distressed Client," The Michigan Association of Certified Public Accountants, "State Tax Forums", June 1984
"Secured Transactions under the Uniform Commercial Code 1984," Institute of Continuing Legal Education, 1984 (Moderator)
"Corporate Reorganizations under Chapter 11 of the Bankruptcy Code: The Role of the Accountant for a Chapter 11 Debtor," The Michigan Association of Certified Public Accountants, State Tax Forums, November 1984, May 1985, 1986, and 1987
"Officers' Liability in Bankruptcy," The Michigan Tax Workshop, 1983
Publications
"Bankruptcies Create Opportunity for Buyers," Hot Points, Spring 2008
"Special Considerations when Buying the Assets of Financially Distressed Businesses" (Co-Author), "Buying and Selling a Business in Michigan," (ICLE 2d 2006)
"Collective Bargaining and Bankruptcy" (Co-Author), Contemporary Issues in Labor and Employment Law, Proceedings of New York University 46th Annual National Conference on Labor (Little Brown, 1994)
"Treatment of Retirement Funds Clarified" (Co-Author), 15 "National Law Journal" 17 (September 17, 1992)
"The Bankruptcy Amendments and Federal Judgeship Act of 1984" (Co-Author), 62 Michigan Bar Journal 775 (1984), reprinted Westlaw and U.S. Bankruptcy Court (in-house education)
"Preference Law under the Bankruptcy Code," 62 Michigan Bar Journal 544 (1983)