Toolkit for Business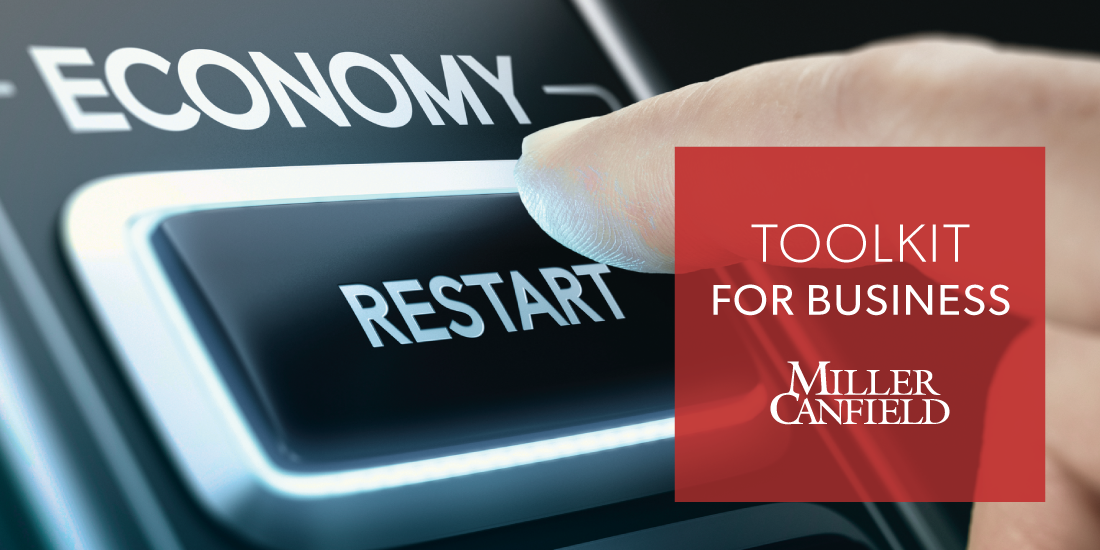 To discuss how the coronavirus is impacting your business, please reach out to your Miller Canfield attorney or one of our team members listed here: Coronavirus Response Team.
This information is based on the facts and guidance available at the time of publication, and may be subject to change.
FACT SHEET: COVID-19 Vaccine Passports & Policy in the Workplace
Checklist: Bringing Employees Back to the Workplace
Checklist: Resuming Business Operations/Contract and Finance Considerations
FAQ: Employee Health Screening
Webinar: Detroit Regional Chamber Tele-Town Hall, Reopening Business and Avoiding Supply Chain Liability
Reopening Operations
Public Sector Application of CMS' COVID-19 Health Care Vaccination Rule
Supreme Court Reinstates Stay on OSHA's COVID-19 Vaccination and Testing ETS, Permits CMS' COVID-19 Health Care Vaccination Rule
NLRB General Counsel Issues Guidance on Bargaining Obligations under OSHA ETS
Illinois Limits Religious Objections to COVID Prevention Measures
EEOC Updates Guidance Regarding Religious Accommodations to Workplace Vaccination Requirements
EEOC Updates Its Guidance Concerning COVID-19 Vaccine Policies in the Workplace
What Employers Need To Know About The Recently Enacted American Rescue Plan Act
Michigan Enacts COVID-19 Liability Shield and Employee Protection Bills
Legal Consequences to Consider Before Raising Prices
Financial Resources
SBA's Guidance on Requests to Honor SBA's Guaranty of PPP Loan
Congress Permits SBA to Make PPP Loans to Debtors in Bankruptcy, SBA Says "No"
Strategies to Reduce the Impact of the New SBA Procedural Notice on the Rights of a Secured Lender
IRS Updates Guidance on Deductibility of Expenses Paid With PPP Loan Proceeds
Federal Reserve's Main Street Lending Program: What Businesses Need to Know to Prepare
Loan Forgiveness Under Paycheck Protection Program: Issues to Consider
Federal, State and National Resources
U.S. Chamber of Commerce state-by-state guidance
Resources for Federal Government Guidance:
Resources for State Government Guidance: