Education
University of Michigan Law School, J.D. 1976
University of Michigan, A.B. 1973
Bar Admissions
When it comes to commercial real estate, Stephen Palms is a seasoned professional. He represents developers, lenders, borrowers, governmental entities, landlords, tenants, contractors, sellers and purchasers in such areas as development, financing, construction, leasing, and sales and purchases of both improved and unimproved property.
Stephen has participated in transactions involving all types of real property, including office buildings, shopping centers, industrial and research parks, hotels, hospitals, schools, stadiums, single-family residential subdivisions, multi-family apartment projects and affordable housing projects.
Stephen's case files are filled with many big-ticket successes, including a $530 million arena, a $300 million ballpark, an $80 million shopping center, a $35 million residential housing community, and two urban office buildings worth $66 million, to name just a few. He also has represented owners and underwriters in issuing tax exempt bonds for affordable housing projects valued at $200 million.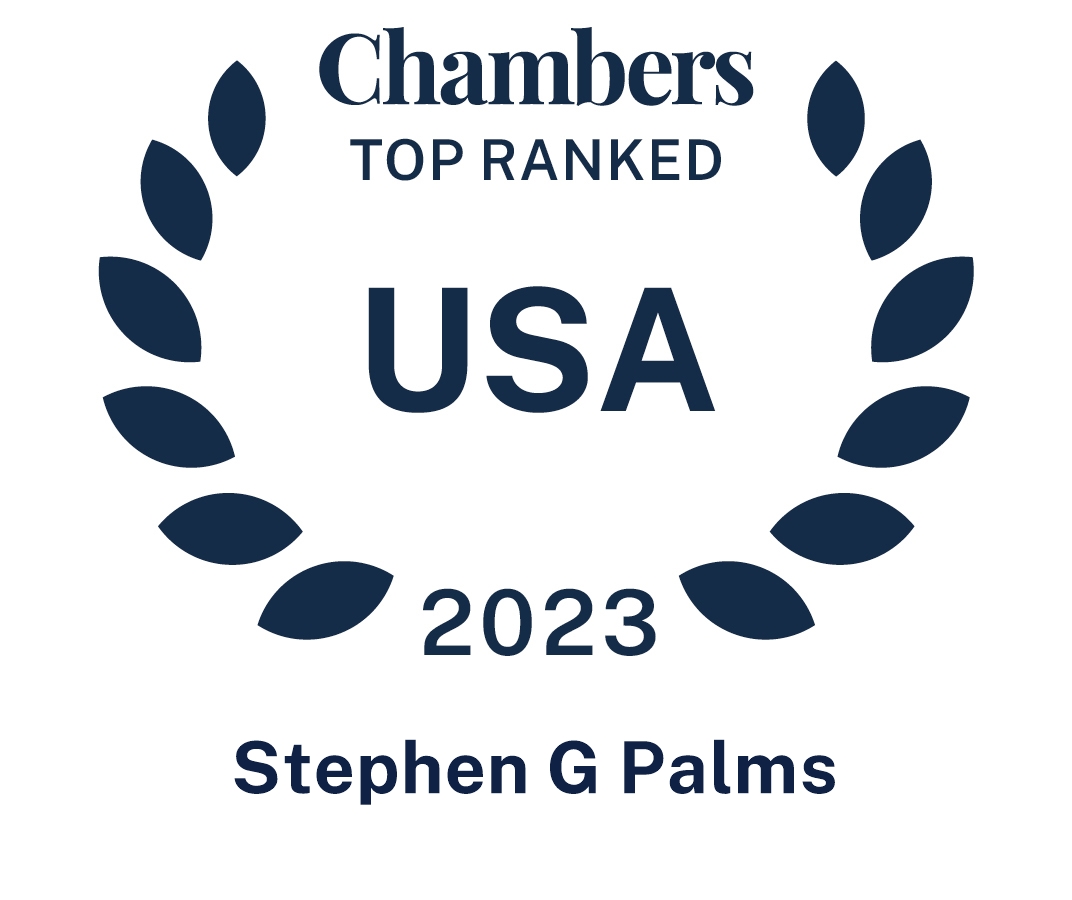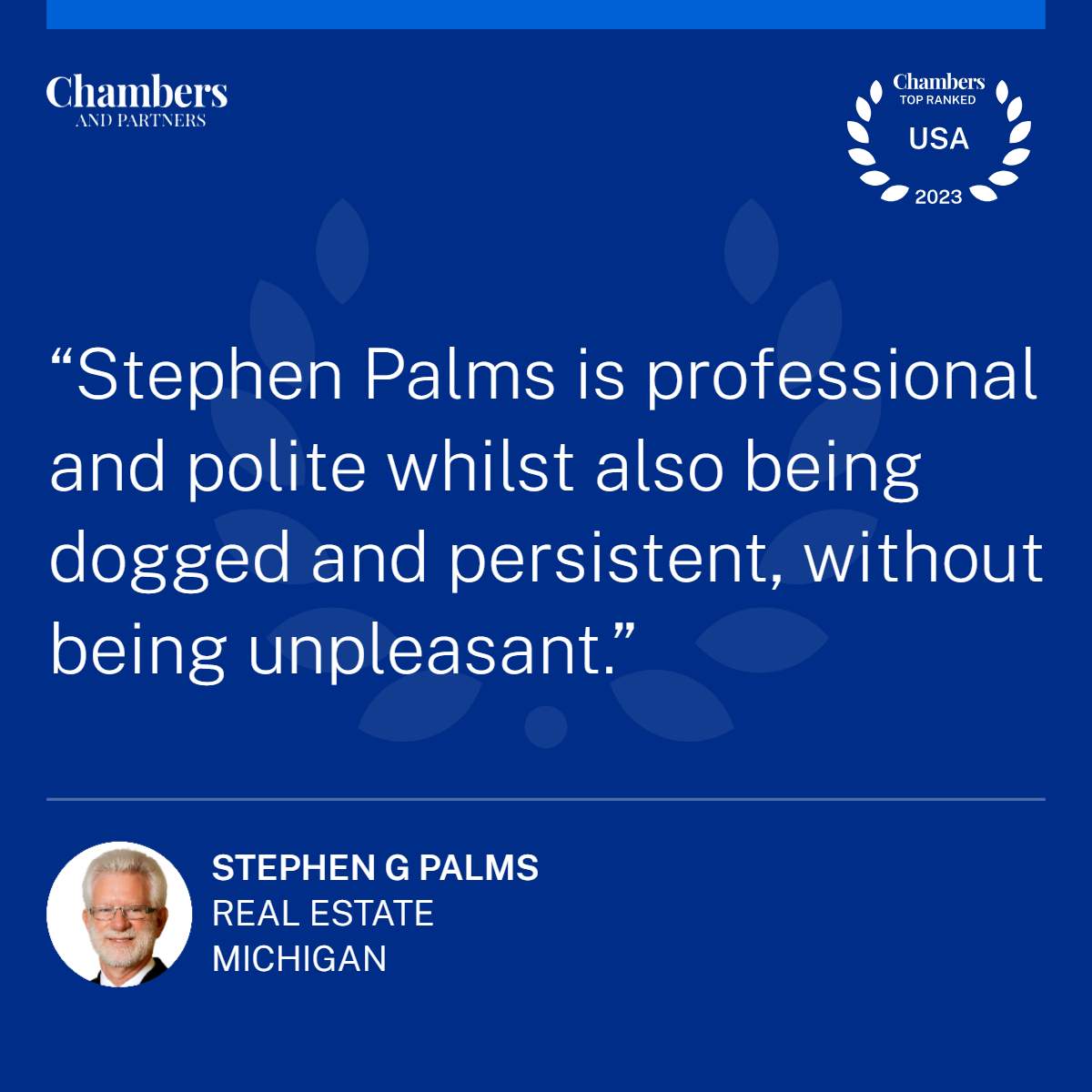 Representative Matters
Stephen was the lead attorney in the Miller Canfield team that represented the Ilitch organization in structuring a transaction with the City of Detroit and the State of Michigan for the development of a new sports and entertainment facility in Detroit that will serve as the new home for the Detroit Red Wings as well as a venue for other events. The project also encompasses the development of the area around the new arena, commonly referred to as District Detroit, which will include office, retail, hotel and residential developments. The overall investment in the project will exceed $650 million. Two series of bonds have been issued, one for $250 million which is a tax-exempt revenue bond supported by property tax revenues and the second for $200 million which is taxable, with private credit support.
Stephen also led the Miller Canfield team that represented the Detroit Tigers and the Ilitch organization in structuring an agreement with Detroit and Wayne County to make the land available for Comerica Park in a way that gave the Tigers the right to use the land for a long period of time but did not subject them to property taxes. They also negotiated the terms of the financing with Sumitomo Bank.
In another case, Stephen's team helped the city of Taylor, Michigan buy eight apartment properties that were not only in serious disrepair but also so crime-ridden that they accounted for 65 percent of the money the city spent on police, fire and emergency services. The Miller Canfield team helped the city obtain financing to acquire the apartments and reconfigure the neighborhoods by demolishing some of the buildings and rehabilitating others.
Honors
Best Lawyers in America, Real Estate Law, 1983-present
Chambers USA: America's Leading Business Lawyers, Real Estate Law (Band 1), 2007-present
Michigan Super Lawyers, Real Estate, 2007-present
State Bar of Michigan Pro Bono Honor Roll, 2020-present
DBusiness Magazine, Top Lawyers, Real Estate, 2011-present
Who's Who in American Law
University of Michigan Law School, magna cum laude; Associate Editor of the Michigan Law Review; Order of the Coif
Professional Activities
American Bar Association
State Bar of Michigan
Washtenaw County Bar Association
Civic, Cultural & Social Activities
University Musical Society, Board of Directors (current)
Artrain USA, Board of Directors; Secretary (past)
Boy Scouts of America, Washtenaw County Council (past)
Performance Network, Board of Directors, Executive Committee (past)
Teaching
Wayne State University Law School, Former Adjunct Professor
Speeches
"The Art of the Deal: Building and Financing Sports and Entertainment Venues," ABA Sections of State and Local Government and Public Contract Law Spring Meeting, Philadelphia, PA., April 24, 2015
Frequent lecturer on various real estate topics at seminars