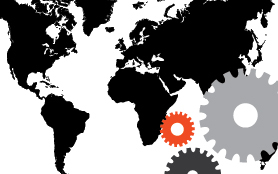 Successfully represented large utility in multi-million dollar transmission, metering agreement and electric line loss dispute involving interpretation of MISO tariffs and FERC regulations.

Lead counsel in $270 million arbitration representing Michigan's largest public utility in power purchase agreement dispute centered on utility accounting and methodologies, including avoided costs distinctions, capitalization, discount rates, health care and post-employment benefits, FERC Form 1 and MPSC P-521 accounting, PURPA and other regulatory implications.

Led a distributor of new vehicles and members of its dealership and service network in Poland through General Data Protection Regulation implementation, including local Polish provision specifics.

Negotiated a share transfer and shareholder agreement within a two-phase acquisition of a software provider in the travel industry which originated from a small startup. Particular focus on securing the founders' position for future decision-making processes in the company.

In the first appellate decision of its kind, a team of Miller Canfield attorneys, led by Marc Swanson, successfully represented a credit insurer at the Sixth Circuit Court of Appeals in recovering all of its expenses and attorneys' fees due to the substantial contribution it made in a large trucking firm's bankruptcy case.

Represented a multinational mobility company with respect to a 90,000-square-foot solar panel lease and power purchase agreement for its manufacturing facility.

Led real estate acquisition efforts on $650 million sports arena and related development located in Detroit, Michigan. Related work involved real estate, land acquisition, title clearance, environmental, legal structuring, planning, financing, leasing, architect agreements and construction matters.

Brian represented a regional developer who wanted to acquire a parcel of land that was held by more than 20 separate co-owners. The parcel had complex title issues stretching back over 40 years involving multiple generations of owners. Brian's client was concerned that the title issues were too great to overcome and that the transaction might have to be abandoned. Through extensive research, persuasive negotiation and meticulous attention to detail, Brian was able to devise and execute a plan to resolve the issues and guide the transaction to completion.

Complex commercial real estate and development transactions including construction of office, retail and industrial projects, acquisition of vacant and improved land; condominium development; entity formation; real estate financing including "securitized loans" and commercial leasing.

Successfully obtained a complete no cause arbitration award in an 8-count race, age, and disability discrimination, harassment, and retaliation matter.