Nike Strikes Back Against Kawhi Leonard Over Logo Lawsuit
July 19, 2019
What a month and a half it has been for the former King of the North. He led the Toronto Raptors on an improbable run to the 2019 NBA Championship and captured the heart of a nation. He led a Toronto news helicopter on a low-speed chase on the 401 while that frenzied nation clung to the hope he would return next year to defend the title. For a few weeks an entire league, its biggest superstars, and at least three fan bases waited with bated breath for his next move. And then, with the stroke of a chess grandmaster, he made it and stunned them all.
Kawhi Leonard's move-making was not confined to the basketball court and free agent market. As reported here previously, Leonard sued his former sponsor Nike, claiming that Nike defrauded the U.S. Copyright Office when it registered—without Leonard's consent—a stylized claw logo that Leonard claimed he conceptualized in college. Leonard's suit asks the U.S. District Court for the Southern District of California to declare that Leonard is the sole creator and owner of the logo, and that his use of the logo in merchandising and marketing efforts would not infringe any rights of Nike. Nike had demanded in a December letter that Leonard cease and desist from using the logo.
Leonard explained in his complaint that he developed the logo in college and refined it by December 2011. But a few months earlier, in October 2011, Leonard signed an endorsement contract with Nike. Leonard conceded that he discussed concepts for a personalized logo with Nike but claimed to have rejected Nike's proposals "for the most part." When Leonard and Nike eventually agreed on a concept in 2014, Leonard claimed that concept incorporated his logo design. Critically though, Leonard maintained that the logo was his property, and that he merely allowed Nike to use it on Nike's merchandise during the term of their contract. Leonard's contract with Nike expired in 2018, and he then signed a lucrative deal to become the face of New Balance.
But in May 2017, allegedly unbeknownst to Leonard, Nike registered the stylized claw logo with the Copyright Office, asserting that it had created and authored the logo in 2014. Nike's copyright registration would give it the exclusive right to make and sell products bearing the logo. So while Leonard and New Balance were looking to capitalize on Leonard's soaring popularity in 2019, Nike's registration prevented them from doing so with the logo. Leonard's suit seeks to invalidate Nike's copyright registration.
Leonard's complaint, however, left a few questions unanswered. While it offered some evidence that Leonard authored and owned a logo, it was unclear to what extent it was the actual logo at issue, and if so, how much Nike contributed to the final concept. It also remained unclear whether Leonard's contract with Nike addressed the issue of ownership of intellectual property that may have been developed during the course of the parties' relationship. Leonard's complaint was silent on that issue, but such provisions are common in endorsement contracts. For its part, Nike's copyright application suggests that the logo was a "work for hire," a legal concept that gives an employer ownership in a work prepared by an employee. But it was unclear who that employee was.
Yesterday, with the aplomb of a LeBron James series-altering rejection, Nike gave its answers to those questions. Nike responded to Leonard's complaint, filed a lawsuit of its own against Leonard, and moved to transfer the case to the U.S. District Court in Oregon.
Nike alleges that Leonard "seeks to re-write history" when he claims that he created the stylized claw logo at issue. Nike acknowledges that Leonard provided a "rough draft" of a logo, but maintains that Nike registered a different logo that was created by a team of Nike designers on a "work-for-hire" basis. Nike's lawyers attached both logos.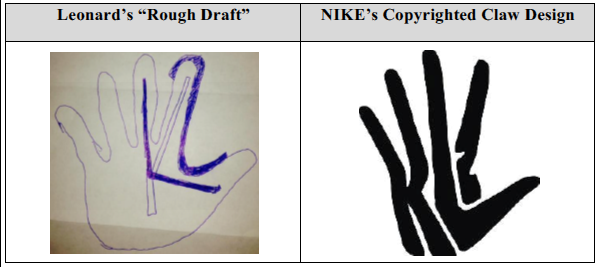 Nike referenced a contract provision through which Leonard purportedly agreed that Nike would "exclusively own all rights, title and interest in and to any logos" created by Nike or Leonard in connection with the contract, and another provision through which he agreed not to use or permit anyone else to use those logos without Nike's consent.

Nike also referenced an article, first published in October 2014, in which Leonard purportedly said:

I drew up the rough draft, sent it over, and they (Jordan Brand) made it perfect…I give the Jordan Brand team all credit because I'm no artist at all…They refined it and made it look better than I thought it would ever be and I'm extremely happy with the final version.

Nike alleges that these things evidence Leonard's agreement to and acknowledgment of Nike's interest in the logo. And Nike complains that, notwithstanding these facts, Leonard continues to use and reproduce non-Nike apparel bearing the stylized claw logo, even after Leonard received the cease and desist letter and during the highly publicized NBA Finals run.

Nike's counterclaim seeks an injunction preventing Leonard from using the logo, a declaration that Nike is the owner of the logo, and damages for Leonard's breach of contract and willful copyright infringement, including for the recovery of Nike's attorney fees. Nike also filed a motion to transfer the case out of Leonard's hometown and to the District Court in Oregon, citing a forum selection provision in the endorsement contract.

It will be interesting to see where this case goes from here. There was some thought that the parties would attempt to reach an early resolution and some indication—when initial deadlines were extended—that those efforts were underway. It appears however that those efforts have stalled, at least for the moment.

Talks will likely resume at some point because litigation is expensive, distracting, and risky. But Nike has little incentive to settle on unfavorable terms, especially considering the significant intellectual property and contractual interests it seeks to protect, and a not-so-judgment-proof counterpart on the other side.

Leonard and New Balance may simply decide that another marketing and branding approach makes more sense. But one thing is certain: there is no shortage of intrigue in the growing rivalry between Los Angeles' two NBA teams, the game's two biggest stars, and their competing apparel sponsors.

gtag('config', 'UA-33985093-2');