Video Presentation: "Vapor Intrusion: Practitioner and Legal Perspectives"
June 18, 2015
Environmental lawyer Lawrence W. Falbe's presentation for the Illinois Association of Environmental Professionals on June 17, 2015. Also presenting is Mark Castro of Natural Resource Technology, Inc.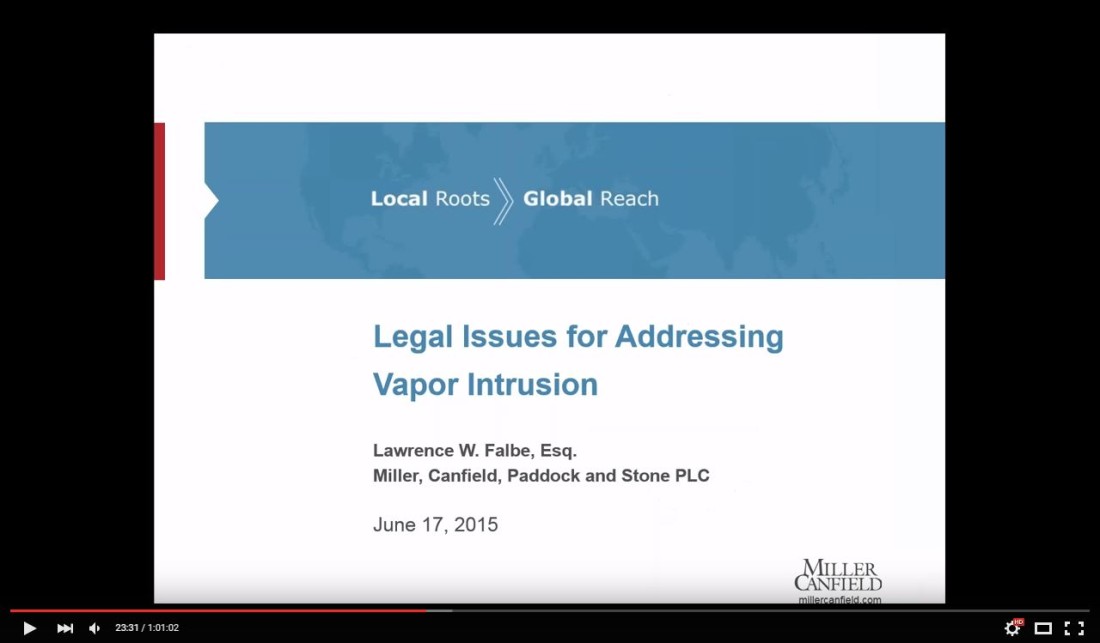 [Click image to view video of presentation. A PDF of the presentation slides can be downloaded here.]
From the IAEP:
As a follow-up to IAEP's recent March 2015 Vapor Intrusion (VI) webinar presented by IEPA representatives, this presentation by an experienced environmental consultant and a leading environmental attorney provides a practical guideline for addressing VI at sites compliant to recent IEPA and USEPA regulatory updates.
Development and execution of VI work plans will be discussed, followed by interpretation and presentation of site data, and closure strategies addressing the indoor inhalation exposure pathway, such as the use of Building Control Technology and institutional controls.
Legal and contractual issues dealing with VI in the context of the transfer of properties and their redevelopment, will also be discussed.
This video provides information of a general nature. None of the information contained herein is intended as legal advice or opinion relative to specific matters, facts, situations or issues. Additional facts and information or future developments may affect the subjects addressed in this video. You should consult with a lawyer about your particular circumstances before acting on any of this information because it may not be applicable to you or your situation.