Miller Canfield Lawyer Michael McGee Honored with Michigan Municipal League's Outstanding Service Award
April 13, 2011
Michael P. McGee, a principal and public finance lawyer in the Detroit office of the law firm of Miller Canfield, has received a 2011 Outstanding Service Award from the Michigan Municipal League (MML) for his longtime commitment to the League and Michigan's communities. He received the award at the MML's Capital Conference on April 6 in Lansing.
The MML said about McGee:
Attorney Mike McGee of Miller Canfield in Detroit is instrumental in providing the League's Lansing team feedback on various bills that address local government in Michigan. He is an expert at giving both legal and practical advice on legislation and its impact on our communities. He dedicates a significant amount of time to answer questions from League staff, participate in workgroups, or come up to Lansing to be our 'expert in the field.' His dedication to helping Michigan communities succeed is recognized by everyone and appreciated greatly.
Other recipients of the 2011 Outstanding Service Award included: Kentwood Mayor Rick Root, Hamtramck Mayor Karen Majewski, as well as the city of Howell and the Detroit Economic Growth Corporation.
At Miller Canfield, McGee has served as bond counsel and underwriters' counsel for hundreds of transactions in various areas including economic development, transit and transportation. In addition, he has negotiated complex intergovernmental agreements for a wide variety of clients, including a major economic development project for the Southeast Michigan region and related legislation. Over the past 25 years, he has had primary responsibility for general obligation and revenue bond issues amounting to more than $3.5 billion.
A three-time graduate of the University of Michigan, he earned a bachelor's degree in economics and political science cum laude in 1979, a law degree in 1982, and a master's degree in public policy studies in 1983.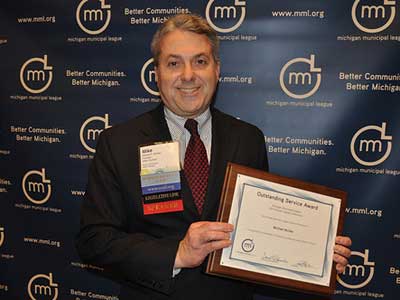 Photo credit: Michigan Municipal League (http://www.flickr.com/photos/michigancommunities/sets/72157626263761805/)