Miller Canfield Mourns the Loss of Friend and Colleague, Robert Lennon
May 7, 2010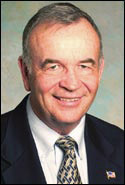 Miller Canfield mourns the tragic loss of our good friend and beloved colleague, Bob Lennon, on May 6, 2010, after a six-year fight against pancreatic cancer. He will be missed both professionally and personally. Our deepest condolences to his wife Kay, children, including our colleague Pat, grandchildren, and their families and friends.
"Bob told me that he had been greatly blessed to be born in a place and time where anything was possible--where hard work, energy and discipline could earn great rewards and where his humble roots would not hold him back," said Ron Baylor, a principal and resident director of Miller Canfield's Kalamazoo office. "This positive attitude was reflected in the way he lived his life and practiced law, even while he battled cancer. Bob was a fine real estate and business lawyer and had a remarkably productive career. The landscape of West Michigan (and elsewhere) is sprinkled with projects that include his fingerprints. He will be greatly missed."
Visitation will be on Wednesday, May 12, 2010 at 4:00-8:00 PM ET.
Life Story Funeral Home®
6080 Stadium Drive
Kalamazoo, MI 49009
Services will be held on Thursday, May 13, 2010 at 10:30 AM ET.
St. Monica Catholic Church
4408 S. Westnedge Ave.
Kalamazoo, MI 49008
At the family's request, memorial contributions can be made directly to the memorial of your choice.
Hospice Care of Southwest Michigan
222 N. Kalamazoo Mall, Ste. 100
Kalamazoo, MI 49007
UofM Comprehensive Cancer Center
1919 Green Road
Ann Arbor, MI 48109
Arow Hospice
1095 Whippoorwill Lane
Naples, FL 34105