Miller Canfield Receives "Turnaround of the Year Award" for its Role in City of Detroit Restructuring
June 25, 2015
The law firm of Miller Canfield has been recognized on the winning team for the "Turnaround of the Year Award (restructuring value over $10 billion, in or out of court)" by the Turnaround Atlas Awards for its role as co-bankruptcy and bond counsel for the City of Detroit bankruptcy.
"It's our privilege to have served as counsel to the City of Detroit – our home for more than 160 years," said Miller Canfield CEO Michael McGee. "We're grateful for this award recognizing some of the best collaborative legal work ever. Our team consisted of lawyers in municipal finance, bankruptcy, labor law, pensions, benefits and local government working together for a better, stronger city for all."
The award nominations, representing 410 transactions, were collected and 48 were selected as winners. Miller Canfield CEO Michael McGee accepted the firm's award at the 7th Annual Turnaround Atlas Awards Gala on June 23 at the Field Museum in Chicago. The Global M&A Network's annual Turnaround Atlas Awards honor excellence in the categories of best value-creating turnaround deals, sought-after professionals and outstanding firms from the international restructuring, special situations M&A, judicial and out-of-court reorganizations industries.
Earlier this year, Miller Canfield was recognized on the winning team for the "Restructuring of the Year Award (over $5 billion)" by The M&A Advisor.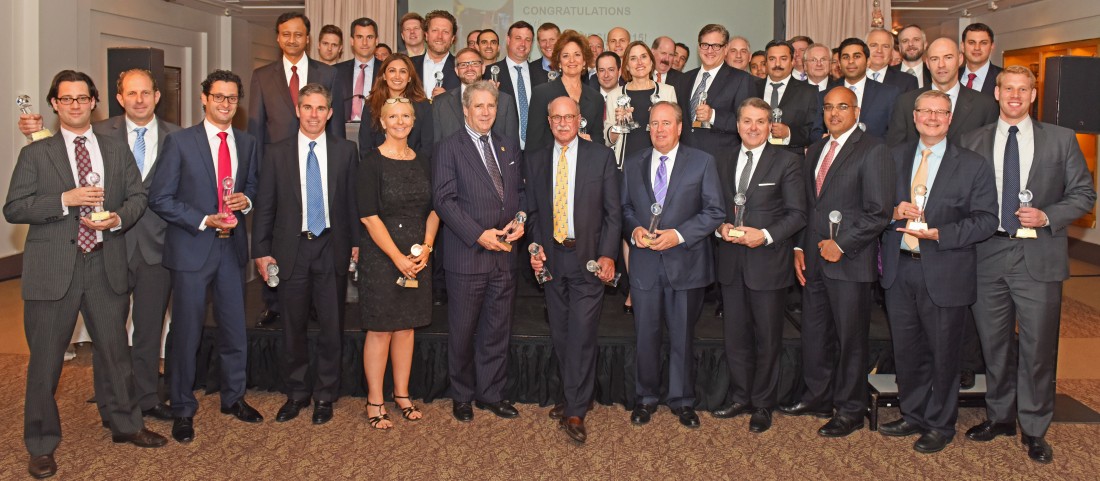 Miller Canfield CEO Michael McGee (4th from right, front row) and Darryl Davidson (2nd from right, front row) accepted the award. Photo credit: Global M&A Network