Miller Canfield Receives Law Firm of the Year Award from Michigan Community Resources
October 30, 2014
The law firm of Miller Canfield is pleased to announce that it has received the 2014 Law Firm of the Year Award given by Michigan Community Resources (MCR) for its leadership and commitment to pro bono work across Michigan and most notably, for its dedication to MCR's pro bono legal referral program.
"There was no other firm that stood out as much as Miller Canfield," said Jill Ferrari, chief executive officer of MCR. "They were eager to volunteer, did not shy away from complex or difficult matters, and are definitely playing an important role in strengthening low-income neighborhoods. It was an easy choice to make."
Miller Canfield CEO Michael McGee accepted the award on behalf of the firm. "We are pleased to be recognized for our help in assisting Michigan's nonprofits. Helping nonprofit leaders find legal counsel and giving them that peace of mind allows them to do more, work harder and create a bigger impact – that's the essence of our 'more than just the law' mantra. It's about giving back and investing in our communities," he said.
Miller Canfield lawyers handled about a dozen pro bono projects in the past year for MCR, including this example: Miller Canfield connected with Grandmont Rosedale Development Corp. (GRDC) through MCR to pursue legal action against the owners of a blighted home that had stood vacant for more than 30 years. Our lawyer team, led by Larry Dudek and Scott Lesser, negotiated a settlement that allowed the property on an otherwise stable and attractive block to be donated to the GRDC for nuisance abatement. The blighted property will be demolished as part of the City of Detroit's anti-blight initiatives.
About Michigan Community Resources
Michigan Community Resources supports and empowers Michigan nonprofit community organizations serving low-income communities by providing pro bono legal, educational, technical and community outreach services. The result is stronger organizations and revitalized low-income communities. Since 1998, it has served over 1,200 nonprofit community organizations, leveraged over $13 million in pro bono legal assistance, and provided vacant property related technical assistance on over 200 matters. Over 200 nonprofit executives, attorneys, funders and community leaders attended the awards event this year. To learn more, please visit www.mi-community.org.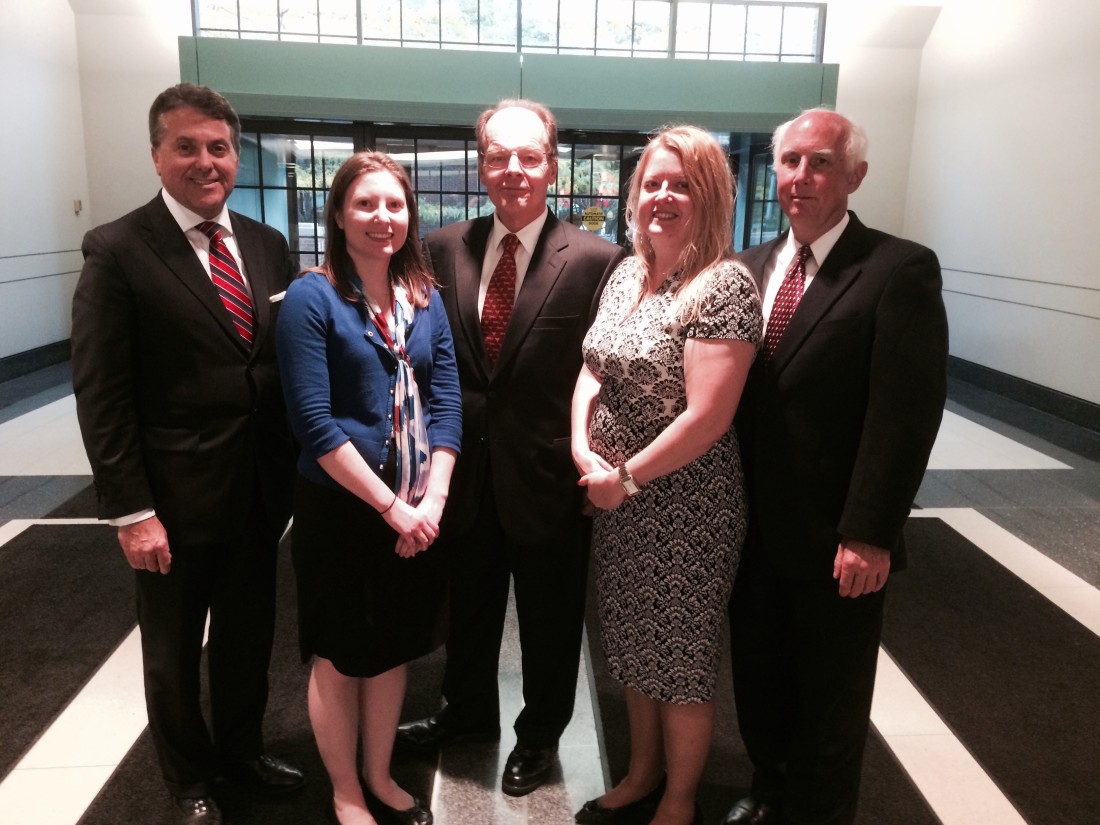 Members of Miller Canfield's Pro Bono Committee accepted the 2014 Law Firm of the Year Award given by Michigan Community Resources for the firm's commitment and leadership to pro bono legal services. Left to right: CEO Michael McGee, Karen Boore, Thomas Linn (chair of Miller Canfield's Pro Bono Committee and MCR board member), Lisa Berden and Leo Goddeyne at the October 2 awards event in Detroit.