Miller Canfield Celebrates 30th Anniversary in Kalamazoo with 30 Local Nonprofits
October 16, 2014
The law firm of Miller Canfield is celebrating 30 years in Kalamazoo by volunteering time and donating to 30 local nonprofit organizations.
The office officially kicked off its anniversary celebration on October 1, 2014. Dubbed "Celebrating 30 Years in 30 Ways," the celebration will continue for a year.
"Our 30th anniversary in Kalamazoo is a milestone bigger than a single-day celebration," said Danielle Mason Anderson, resident director of the Kalamazoo office. "We want to continue making a positive impact in our community and working with organizations on a more personal level. We have always supported local charitable and nonprofit organizations – by volunteering, serving on boards, and making financial contributions – but this is a more hands-on approach to giving back."
Miller Canfield's Kalamazoo office, which has about 40 lawyers and staff, began its 30th Anniversary Celebration by participating in the .1K Walk for Hospice Care of Southwest Michigan (see photo).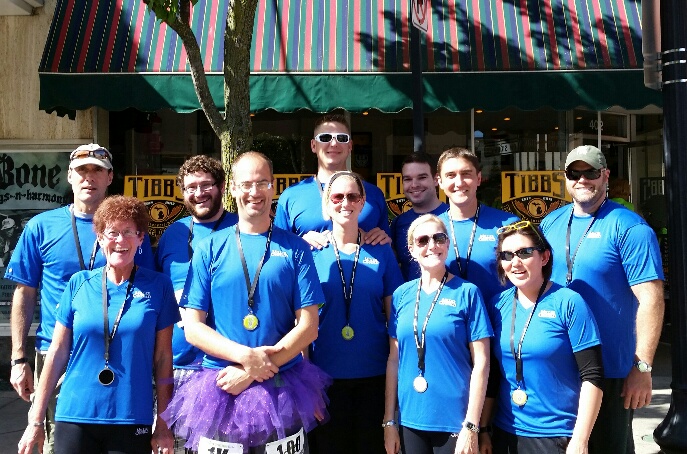 Other upcoming projects include:
• Korean Kids Orphanage & Outreach Mission - Donating unused Halloween candy. The Mission was founded by Miller Canfield lawyer, Aimee Jachym.
• Pretty Lake Vacation Camp 5k and 10k Trail Run and Walk – Sponsoring and walking/running
• Kalamazoo In Bloom – Sponsoring and maintaining a flowerbed in Bronson Park
• Gospel Mission - Donating personal hygiene items
• Mittens for Michigan - Donating mittens, hats and scarves
• Ministry With Community – Volunteering to serve meals and donating to Underwear Open House
• Big Brothers/Big Sisters Bowl For Kid's Sake – Participating with a team
• Eric Zapata Memorial Foundation EZ 5K Run/Walk – Donating and walking/running
• Kalamazoo Nature Center-Earth Day 5k Run/Walk – Donating and walking/running
• Kalamazoo Humane Society Dog Walk – Donating and walking
• March of Dimes – March for Babies – Donating and walking
• Girls On The Run 5k – Volunteering to work
• Kalamazoo Institute of Arts – Volunteering at KIA Art Fair
• Kalamazoo Marathon – Volunteering at water aid station along the course
• United Way Day of Caring – Volunteering to work
The lawyers in Miller Canfield's Kalamazoo office are known for their expertise in the areas of business law, securities, mergers and acquisitions, real estate, environmental law, intellectual property, litigation, employment and labor, tax, health law, estate and trust administration, and eDiscovery. The office is located in The Miller Canfield Building at 277 S. Rose Street, Suite 5000.