Second Annual International Climate Law and Policy Symposium
8:00 AM - 1:30 PM
PRINT FRIENDLY AGENDA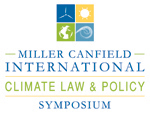 Join climate change opinion leaders and global corporate executives to discuss diverse views on cutting edge legal and public policy that is shaping this body of law - and impacting every business and organization.
Agenda:
7:30 AM
Registration - Continental Breakfast
8:30 AM
Welcome - Opening Remarks
Mark J. Bennett, Symposium Chairman; Climate Law Practice Leader, Miller Canfield
8:45 AM
Corporate Sustainability Self-Governance in the Absence of Coherent Public Policy
As Congress, the courts and President Obama struggle to form meaningful public policy, corporations have aggressively undertaken sustainability efforts. The focus of this discussion will be the challenges and opportunities associated with corporate sustainability programs.
Jon W. Allan, Executive Director of Environmental Policy and Intergovernmental Affairs, Consumers Energy
Richard J. Plewa, Senior Vice President & Director, Office of Corporate Sustainability, Comerica Bank
Andrew Mangan, Executive Director, U.S. Business Council for Sustainable Development
Alan Strachan, Vice President, Ygrene Energy
John Bradburn, Senior Environmental Project Engineer, General Motors
10:15 AM
Evolving U.S. Energy Policy in an Era of Political and Economic Uncertainty
While comprehensive energy policy has been sidelined for the near term, there is still considerable movement towards energy policy reform. The panel will discuss the status of current energy legislation and the broader challenges to enacting meaningful structural changes to U.S. energy policy at the Federal and State levels.
Trevor F. Lauer, Vice President, Retail Marketing, DTE Energy
Jim Presswood, Federal Energy Policy Director, Natural Resources Defense Council (NRDC)
Stanley "Skip" Pruss, Principal, 5 Lakes Energy; Former Director of Michigan Department of Energy, Labor and Economic Growth
Brandon Hofmeister, Assistant Professor of Law, Wayne State Law School; Former Energy and Climate Policy Advisor to Governor Granholm
Paul M. Collins, Associate, Energy, Environmental and Regulatory Group, Miller Canfield
11:45 AM
Lunch
12:15 PM
Keynote - Washington Update: Likely Course of Federal Policy
Joseph Dooley, Senior Associate, Clean Energy Program, the Pew Charitable Trusts
12:45 PM
Closing Remarks
Mark J. Bennett, Symposium Chairman; Climate Law Practice Leader, Miller Canfield
Location:
NextEnergy Center (Directions)
461 Burroughs
Detroit, MI 49202
Cost:
There is no cost to attend. Attendance by invitation only. Space is limited.
Questions: Sandy Bera 248.267.3345