Service Areas
Education
University of Michigan Law School, J.D., 1982
Richard Stockton State College, B.A.
Bar Admissions
Michael P. Coakley
Principal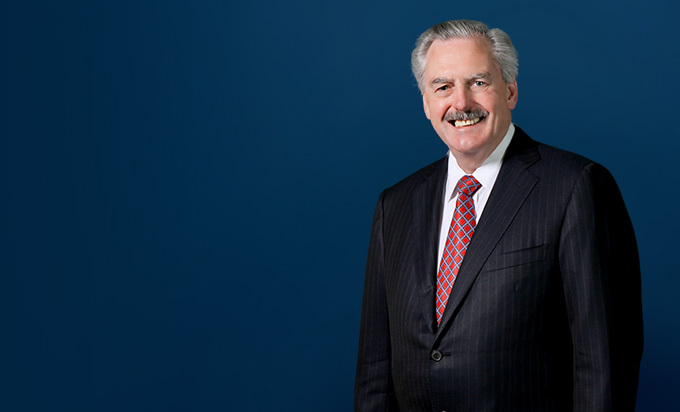 For most of his career, Michael P. Coakley, leader of the firm's Litigation & Dispute Resolution group, has represented and counseled businesses in complex litigation and securities broker/dealers and stockbrokers in court, in arbitrations and before regulatory authorities such as the Securities and Exchange Commission (SEC), National Association of Securities Dealers (NASD) and New York Stock Exchange (NYSE), now the Financial Industry Regulatory Authority (FINRA). He has served as an arbitrator for the NASD, NYSE and American Arbitration Association (AAA), and is qualified to serve as an injunction arbitrator (a special designation) for the NASD. In addition, he has been an arbitrator trainer for all three organizations and served on the Council for Complex Commercial Cases, an advisory board of the AAA for rules and procedures for the arbitration of complex commercial cases. As a result of his experience, he has developed a deep understanding of the financial services industry, its laws, regulations and standards of practice.
"My clients know me for finding innovative, creative and effective solutions to their problems, as well as for being a scrapper in protecting their interests."
Michael P. Coakley
Mike has handled just about every kind of case in the financial services industry, from numerous investment loss cases, to trade secrets, non-competes, unfair competition, raiding, age discrimination, pregnancy discrimination, wage and hour claims, class actions, trademark infringement, etc. For a number of years he was general counsel to a small broker/dealer subsidiary of a large international financial services company, which outsourced the entire general counsel function of the broker/dealer to him and Miller Canfield.
Over the years, Mike also has maintained a trademark litigation practice, primarily in the areas of enforcement/protection of trademark owners' rights. His clients have included major brand luxury goods, a Big Three auto manufacturer, a famous brand food manufacturer, a major league baseball team and a related licensing agency and regional and national league organizations, a major league hockey team, famous brand cleaning products companies, an international retail company, national banks, and a major brand grooming products company.
"These are fast-paced fun cases, for which we've developed a set of model pleadings that allows us to get a case worked up quickly to support immediate injunctive relief with which we've had considerable success."
Experience
One of Mike's clients faced a rash of limited partnership investment cases filed in a Michigan court. Although his team developed factual and legal defenses to the claims, the client initially sought to settle the few cases it had because the cost to litigate would outweigh the benefit of winning on the merits. The early settlements only fueled the fire though, resulting in lots more cases being filed. So he and his team sat down with the client and developed a strategy to vigorously defend the claims that started pouring in. This strategy yielded 15 summary judgments of dismissal, several of which were appealed and all successfully defended on appeal. The appeals resulted in a seminal opinion of the Michigan Court of Appeals, which stands today and is still relied on by securities lawyers, courts and arbitrators for the efficacy of disclosure documents in securities cases. Mike was the principal architect of the strategy and lead lawyer carrying it out.
"This immeasurably improved our and our client's standing with the judges, lawyers, litigants and mediators for these cases, leading not only to a gratifying series of wins, but also reasonable settlements for those few we still wished to resolve."
In a similar case as general counsel for a broker/dealer, Mike developed a strategy to extinguish approximately $110 million worth of liability and prevent liability from going up the corporate chain to parent companies. It took approximately five years to execute, but when all the dust settled, the entire liability was resolved for under $2 million (direct costs to the company). The company was so pleased, it had commemorative plaque made especially for the successful disposition of this matter. In a $2 million arbitration claim against the broker/dealer client, Mike and his team obtained a dismissal of the entire claim after a five-day hearing at the NASD offices in Chicago. This was particularly gratifying as the claimant was represented by one of the leading securities claimant attorneys in the country who at the time was serving as president of the Public Investors Arbitration Bar Association, the primary national organization for securities claimant lawyers.
Professional Activities
American Bar Association
State Bar of Michigan, ADR Section Council Member; Chairman, 1998-present; Chairman-elect, 1997-98; Secretary, 1996-97; Treasurer, 1995-96; Commercial Litigation Committee; Chairman, Commercial Litigation Subcommittee on programs; Uniform Commercial Code Committee
Federal Bar Association, Bicentennial Constitutional Celebration Committee, 1988-90; Contributor, Eastern District of Michigan Practice Manual, 1991; Programs Committee, 1991
Detroit Metropolitan Bar Association, Circuit Court Committee, 1990-present
Oakland County Bar Association, Young Lawyers' Committee, 1983-87; Chairman, 1986-87; Federal Court Committee, 1987-89; Speaker Committee, 1987-89; Membership Committee, 1987-89; Vice-chairman, 1988-89
Oakland County Circuit and District Courts, Case Evaluator
Arbitrator, American Arbitration Association
Arbitrator, New York Stock Exchange, Inc. (now FINRA)
Arbritrator, National Association of Securities Dealers (now FINRA)
American Arbitration Association, Member, AAA Securities Advisory Counsel, 1996; Member, Large Complex Case Program Council
National Association of Securities Dealers, Inc., Arbitrator Training Instructor
Securities Industry and Financial Markets Association
Wayne County Circuit Court, Case Evaluator
New York Stock Exchange, Inc., Arbitrator Training Instructor
Honors + Awards
Best Lawyers in America, Commercial Litigation 2011-present; Litigation-Intellectual Property, Litigation-Regulatory Enforcement (SEC, Telecom, Energy), and Litigation-Securities 2012-present; 2013 Detroit Litigation-Securities Lawyer of the Year
Michigan Super Lawyers, Securities Litigation 2007-present
City of Bloomfield Hills, Michigan, Recognized for 10 years
of volunteer service on Zoning Board of Appeals
DBusiness, Top Lawyers Securities Law 2011-present
Civic, Cultural + Social Activities
Detroit Athletic Club, Member
Detroit Economic Club, Member
City of Bloomfield Hills, Chairman, Zoning Board of Appeals, May 2007-present; Member, Zoning Board of Appeals
Old Newsboys' Goodfellows Fund of Detroit, Member since 1987; Purchasing Committee, 1989-present; Board of Directors, 1991-present; Second Vice-President, 2009; President, 2011
Rudgate Associates, Inc., President, 1995-96 (Homeowners' Association of Bloomfield Hills)
Teaching Experience
American Arbitration Association
A Full View of the Securities Industry
Commercial-Construction Arbitrators' Training Program
Arbitration Day-Securities Presentation
Securities Conference Orientation-Seminar
Large Complex Case Arbitrator Training
Securities Arbitrator Development Program
University of Michigan Law School, Moot Court Judge
Wayne State Law School
Detroit Metropolitan Bar Association
Fifth, Sixth, Eighth, and Ninth Annual Midwest Securities Law Institute
The Institute of Continuing Legal Education
Faculty Member, Trial Advocacy Workshop, 1999
Publications
"The New Form ADV Part 2 and the 'Plain English' Movement of the SEC, FINRA, and Michigan's OFIR," (Co-Author), Michigan Business Law Journal, State Bar of Michigan, Spring 2011
"Trend for trademark disputes is to go through ADR," (Co-author), Michigan Lawyers Weekly, February 8, 2011
"De-mystifying Securities ADR: Reform and Resurgence after McMahon," (Co-author Mary A. Bedikian), Michigan Bar Journal, February 1994, Vol. 76, No. 2
Michigan Pleading and Practice--ADR, Vol. 8A (Lawyers Cooperative Publishing, 2d Ed., 1994
Speeches
"Plain English requirements for Form ADV Part 2," Michigan Office of Financial and Insurance Regulation, Investment Adviser Seminar on Dodd-Frank and the new Form ADV, Lansing, Michigan, November 9, 2010
Seminars + Events
Articles + Newsletters
News
View full profile