Service Areas
Education
Wayne State University Law School, J.D., 1999
University of Michigan-Dearborn, B.A. 1995
Bar Admissions
Court Admissions
U.S. Court of Appeals
U.S. District Court
Eastern District of Michigan
Jennifer L. Sabourin
Principal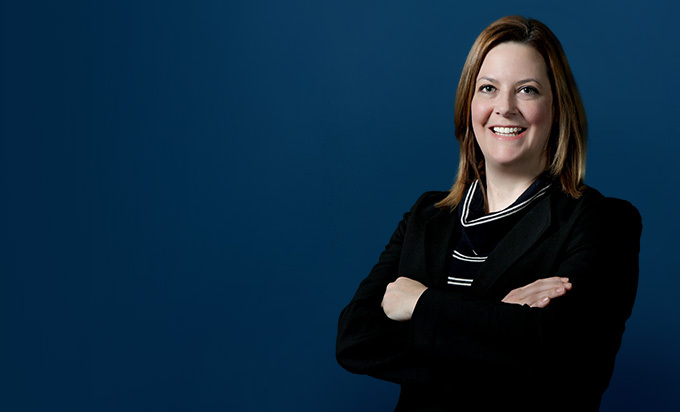 Jennifer Sabourin counsels employers in all facets of the employment relationship by providing advice on how to remain compliant with state and federal employment laws, as well as defending employers in agency charges and litigation.
She is experienced in providing national training for hourly, management and executive-level employees, drafting employee handbooks, policies and contracts, and investigating claims of workplace discrimination, harassment and violence. Jennifer further counsels her clients on best practices in maintaining proactive employee relationships, including hiring, evaluating, disciplining and terminating employees. She represents employers in discrimination, harassment, retaliation, and violations of wage and hour matters pending in state and federal courts, as well as the Equal Employment Opportunity Commission, and various state employment agencies.
Experience
Jennifer successfully defended a national retail client in a race discrimination and retaliation matter brought by a terminated director-level employee and a group of vendors and suppliers. The plaintiffs' claims in this matter could best be characterized as a moving target. Once defenses were lodged to one claim, the plaintiffs sought amendments to add additional claims. This meant that discovery depositions were critical. By anticipating what additional claims the plaintiffs might seek to add in the future, Jennifer and her team were able to obtain damaging admissions on those unasserted claims. Not only did they get a complete dismissal of the claims, but they also successfully defended the inevitable 11th-hour motion to amend to add the claims they had anticipated in the depositions. Although the plaintiffs demanded $4 million at a voluntary facilitation, they ended up with a complete dismissal of their claims.
Representative Matters
Professional Activities
American Bar Association, Labor and Employment Law Section, Fundamentals Track Coordinator, ABA 6th Annual Section of Labor & Employment Law Conference, Atlanta, GA 2011-2012; Litigation Track Coordinator, ABA 5th Annual Section of Labor & Employment Law Conference, Seattle, WA 2010-2011; Member, Leadership Development Program 2010
American Bar Association, Labor and Employment Law Section, Equal Employment Opportunity Committee, Planning Committee for National Conference on Equal Employment Opportunity Law, San Francisco, CA 2011-2012; Planning Committee for National Conference on Equal Employment Opportunity Law, New Orleans, LA 2010-2011; Employer Co-Chair of Outreach Sub-Committee, 2010; Employer Co-Chair of Mentoring Sub-Committee 2009
State Bar of Michigan, Labor and Employment Law Section
Detroit Metropolitan Bar Association, Labor and Employment Law Section
Dearborn Bar Association, President, 2003-2004; Vice-president, 2002-03; Treasurer, 2001-02; 2001 Law Day Chairperson
Leadership Detroit, Class XXVII, 2005-2006
Honors + Awards
DBusiness Magazine, Top Young Lawyers, 2013
Best Lawyers in America, Litigation-Labor & Employment 2012-present
Michigan Super Lawyers, Employment Litigation: Defense Rising Star 2008-present
Wayne State University Law School, Wayne Law Review, Production Editor, 1998-99; Assistant Editor, 1997-98
Civic, Cultural + Social Activities
Michigan Migrant Legal Assistance Project, Board of Directors 1999-2004
University of Michigan-Dearborn, Alumni Affiliate Board, College of Arts, Sciences, and Letters, 1999-present
Boll Family YMCA, Downtown Detroit, Board of Advisors 2004-09
Publications
"Emerging FLSA Trends," (Co-Author), Michigan Bar Journal, January 2005
"2003 Annual Survey of Michigan Law: Professional Responsibility," 50 Wayne Law Review 699 (2004)
"2002 Annual Survey of Michigan Law: Professional Responsibility," 49 Wayne Law Review 575 (2003)
"2001 Annual Survey of Michigan Law: Professional Responsibility," 48 Wayne Law Review 785 (2002)
"Parental Rights Amendments: Will a Statutory Right to Parent Force Children to 'Shed Their Constitutional Rights' at the Schoolhouse Door?" 44 Wayne Law Review 1899 (1999)
Speeches
"Objection! Demonstrations on When and How to Object," American Bar Association Section of Labor and Employment, 5th Annual Labor and Employment Law Conference, Seattle, Washington, November 9, 2011
"Wage and Hour Audit: Employer Best Practices and What to Do if Faced with Such an Audit," HR Spring Training: Miller Canfield's 2011 Labor & Employment Law Seminar, Troy, MI, May 12, 2011
"Labor & Employment Breakout Session," Crain's General and In-House Counsel Summitt, Novi, MI, May 3, 2011
"The Leaves Have Changed: The Growing Need for Time Off for Military-Related Needs and Family Responsibilities," American Bar Association National Conference on Equal Employment Opportunity Law, San Antonio, TX, March 26, 2010
"Employee Handbooks and Personnel Policies," Miller Canfield Labor & Employment Law Seminar, Troy, MI, October 29, 2009
"The Role of Witness Statements in Corporate Investigations," Miller Canfield Labor and Employment Law Seminar, Troy, MI October 23, 2008
"Sex-Based Harassment: Workplace Policies for the Legal Profession," American Bar Association Annual Meeting, San Francisco, CA, August 11, 2007
"Shielding your Organization from Liability in Failing to Make Reasonable Accommodations," Council on Education in Management, Dearborn, MI, December 8, 2006
"Harassment in the Workplace," Michigan Chamber of Commerce, Novi, MI, April 27, 2006
"How to Respond to Complaints of Workplace Harassment," Miller Canfield Labor & Employment Law Seminar, Troy, MI October 20, 2005
"From Hiring to Firing: Making Sound Legal Decisions," Michigan Chamber of Commerce, Novi, MI, October 13, 2005
"Employee Discipline & Termination," Michigan Chamber of Commerce, Novi, MI, April 28, 2005
"Interviewing and Hiring," Michigan Chamber of Commerce, Novi, MI, March 3, 2005
"Discrimination/Harassment/Retaliation: How to Prevent Religious, Ethnic, Racial, and Other Claims," Miller Canfield Labor & Employment Law Seminar, Troy, MI, October 29, 2003
Seminars + Events
Articles + Newsletters
News
View full profile