Local Lawyers and Judges Create Kalamazoo Area's First Minority Bar Association
Judge Charles A. Pratt Bar Association Formed in Honor of Area's First African American Judge
January 3, 2011
A group of Kalamazoo and Calhoun County area lawyers and judges formally voted on October 30, 2010 to establish the area's first minority bar association, The Judge Charles A. Pratt Bar Association, named after Kalamazoo County's first African American Judge. James L. Liggins, Jr., an attorney in the Kalamazoo office of Miller Canfield was voted to serve as its first president. Other officers include Assistant City Attorney Marcia Jones, president-elect; Attorney Marla Gilreath, secretary; and Attorney Linda Rawls, treasurer.
The Judge Charles A. Pratt Bar Association actively promotes legal education, diversification within the legal community and the professional legal development of the traditionally under-represented within the greater Kalamazoo and Calhoun County areas.
The current members include: Amber Beebe, attorney, Beebe Systems, Inc.; Honorable Curtis J. Bell, Chief Judge of Probate, Kalamazoo County; Marla Gilreath, Senior Claims Counsel, Nationwide Insurance; Marcia Jones, Kalamazoo Assistant City Attorney; James L. Liggins, Jr., attorney, Miller Canfield; Honorable Alexander C. Lipsey, 9th Circuit Court, Kalamazoo County; Alisa Parker, attorney, Legal Services of South Central Michigan; Dorphine Payne, attorney, Payne Law Office; Linda Rawls, attorney, Law Office of Linda J. Rawls; Geoffrey Upshaw, attorney, Geoffrey Upshaw Attorney at Law; Honorable Carolyn H. Williams (retired); and Sidney B. Williams, attorney, Flynn, Thiel, Boutell & Tanis, P.C.
Judge Pratt was an attorney in Kalamazoo for more than 30 years when he was appointed to the 8th District Court in 1968. He served in that position until 1980. He dedicated his time to various boards of directors including the Douglass Community Association, Kalamazoo YMCA, Kalamazoo Child Guidance Clinic, Family Service Center, Kalamazoo Visiting Nurses Association, Kalamazoo Goodwill Association and Community Services Counsel. He founded and was the former chairman of the Kalamazoo Legal Aid Bureau. Additionally, he was the director of the Michigan Children's Aid Society and a past president of the Kalamazoo County Bar Association.
The Judge Charles A. Pratt Bar Association meets every third Wednesday of each month. Those interested in joining should contact James L. Liggins at 269.381.7030 or liggins@millercanfield.com.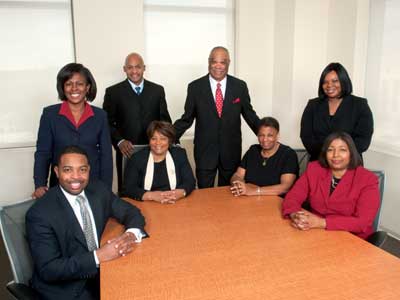 In the photo are some of the founding members: (left to right) James Liggins, Marla Gilreath, Geoffrey Upshaw, Dorphine Payne, Sidney Williams, (retired) Judge Carolyn Williams, Alisa Parker and Marcia Jones.