Contacts
Attorneys
Related Services
Seminars + Events
Articles + Newsletters
Korea
Helping Korean Businesses + Entrepreneurs Expand Globally
Miller Canfield provides efficient and strategic cross-border legal, business, and tax services to Korean businesses looking to expand into the United States, Canada, Mexico, and Eastern Europe. Established in 1852, we have a wealth of experience representing global manufacturers, automotive suppliers, producers of pharmaceutical and medical devices, and many other types of enterprises.
Our lawyers work collaboratively with colleagues worldwide to assist clients establish, maximize, and expand their operations. Clients count on Miller Canfield to structure deals with optimized benefits under applicable laws, treaties, and regulations.
Examples of our global business services include:
Immigration
Cross-border mergers and acquisitions, joint ventures and foreign direct investments
International finance and banking
Government incentives
Labor and employment
Tax structures and issues
International trade
Manufacturing, distribution, supply, sales, licensing, and technology transfer agreements
Intellectual property
Real estate acquisitions/dispositions
Renewable alternatives, green energy and technology projects
Public finance
Private equity and venture capital investments and transactions
International dispute resolution
Customs and import/export licensing
Compliance with Foreign Corrupt Practices Act
Looking to Establish Operations or Connections in Korea? or Outsource Manufacturing There?
Miller Canfield's experience in outsourcing, licensing agreements and greenfield development helps OEMs, Tier I and II automotive suppliers, consumer product manufacturers, pharmaceutical companies, I.T. and engineering firms expand business in Korea.
We have been assisting U.S., Canadian and European clients for years with their legal and business needs in Asia thanks to our extensive experience and business relationships with law firms we know and trust. With our assistance and guidance, clients can focus on new sources, growing markets and global opportunities while we handle their legal needs around the world.
From offices in the U.S., Canada, Mexico, China and Poland, we negotiate and draft international licensing, sales, and distributorship agreements for businesses expanding globally. We represent multinational companies as well as progressive, closely held small to mid-sized companies and provide global business services including:
Establishing operations in Korea
Joint ventures, mergers and foreign acquisitions
Supply agreements
Real estate acquisitions/dispositions
Domestic and foreign tax structures and issues
International arbitration
Customs and import/export licensing
International finance and banking
Immigration
Industry regulations and requirements
Intellectual property protection
With Miller Canfield's assistance and counsel, international clients can successfully establish and grow their global presence from the comfort of their home office, wherever that may be.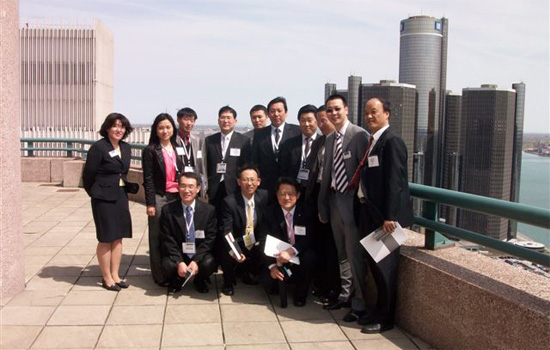 During SAE World Congress 2010 in Detroit, Miller Canfield hosted a KOTRA delegation for a lunch briefing at its world headquarters. We shared lessons learned from Toyota; growth opportunities for EVs and Next Generation Vehicles; the NAFTA advantage; and Immigration Issues in North America.