Contacts
Attorneys
Related Services
Business
Litigation + Trial
Global Reach
News
Seminars + Events
Alerts
Articles + Newsletters
India
Establishing a Business Presence in India
If you're looking to establish operations, invest in emerging enterprises, or outsource products and services in India, look to the lawyers at Miller Canfield.
Miller Canfield's experience in outsourcing, licensing agreements, finance and greenfield development helps OEMs, Tier I and II automotive suppliers, consumer product manufacturers, pharmaceutical companies, I.T., and engineering firms develop and expand their business in India.
Although non-resident lawyers can't practice in India yet, fortunately, Miller Canfield's India team has extensive experience and business relationships with law firms we know and trust in India. With our assistance and guidance, clients can focus on new sources, growing markets and global opportunities including those in the pharmaceutical, construction, high tech, health care, film and financial services industries.
From offices in the U.S., Canada, Mexico and China, we negotiate and draft international licensing, sales, and distributorship agreements for businesses expanding into India. We represent multinational companies as well as progressive, closely held small to mid-sized companies and provide global business services including:
Establishing operations in India
Joint ventures, mergers and foreign acquisitions
Supply agreements
Real estate acquisitions/dispositions
Domestic and foreign tax structures and issues
International arbitration
Customs and import/export licensing
International finance, investment and banking
Immigration
Industry regulations and requirements
Intellectual property protection
Assist foreign retailers enter Indian market through different routes including strategic license agreements, franchising, distribution, manufacturing, joint ventures and cash-and-carry wholesale trading
Conduct legal due diligence in international transactions
Negotiate and draft effective arbitration clauses in India-U.S. commercial transactions
Counsel companies doing business in India on implications of the Foreign Corrupt Practices Act and guide clients on how to avoid potential liability in mergers and acquisitions
It's more than just the law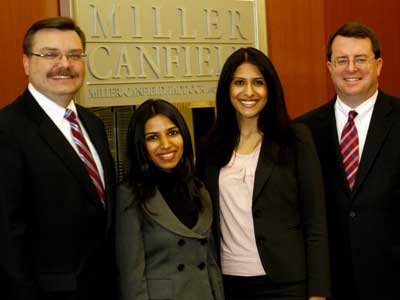 Our attorney team knows how to help your business in India. In photo are (left to right): Richard Walawender, Amita Gopinath, Gurinder Singh and Brad Arbuckle.