Service Areas
Education
George Washington University Law School, J.D., 1975
University of Notre Dame, B.A. 1972
Bar Admissions
Richard J. Seryak
Principal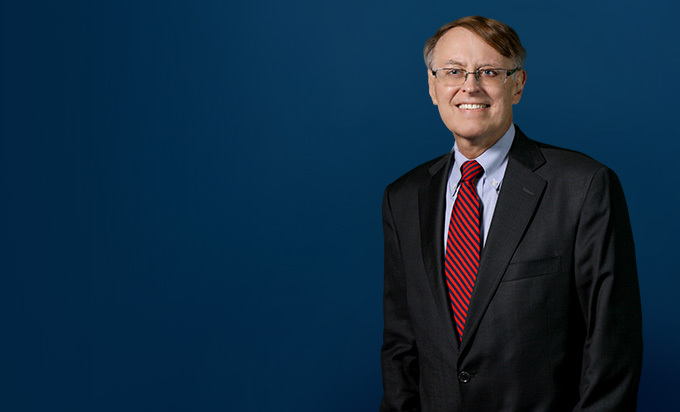 Detroit
T:
+1.313.496.7501
O:
+1.313.963.6420
F:
+1.313.496.8453
Cincinnati
T:
+1.313.496.7501
O:
+1.513.394.5252
F:
+1.513.394.5253
Richard Seryak represents private and public sector employers in all aspects of employment discrimination and wrongful discharge litigation in the state and federal courts in Michigan and Ohio and in the Sixth Circuit Court of Appeals. From employers with unionized and non-unionized employees to health-care systems, auto manufacturers, major public universities and school districts, his client roster is extensive and varied.
Over the past three decades, Richard has represented clients in matters involving race, sex, national origin and sexual preference claims by faculty candidates denied tenure, layoff and downsizing decisions in the auto industry, arbitration of union grievances in the public and private sectors, litigation of age and disability discrimination claims, and in one instance the successful defense of wage-hour claims asserted by the batboys of a major league baseball club.
Experience
With a strong background in all aspects of labor and employment law, Richard defends his clients against employment discrimination and wrongful discharge claims in state and federal court and represents them in unfair labor practice proceedings before the National Labor Relations Board (NLRB). He also defends charges filed with the federal Equal Employment Opportunity Commission, the Michigan Department of Civil Rights and the Ohio Civil Rights Commission.
In the academic arena, he represents colleges and universities in faculty tenure proceedings and works with school districts on employment relations, student discipline and due process issues as well as Open Meetings Act (OMA), Freedom of Information Act (FOIA), Family Educational Rights To Privacy Act (FERPA) and other law governing their operations.
Representative Matters
White v Detroit Edison Co., 472 F3d 420 (6th Cir. 2006)
Ngwenyama v Board of Regents, University of Michigan, 29 F.Supp.2d 402 (E.D.Mich.1998) (Summary judgment granted to the university dismissing plaintiff's claim that he was denied due process in the consideration of his tenure application to the University of Michigan Business School)
Hyde v University of Michigan, 226 Mich App 511 (1997) (where plaintiff asserts claims for noneconomic damages, such as pain and suffering, emotional distress, embarrassment and indignation but asserts the physician-patient privilege to prevent discovery on the particulars of any treatment he may sought for injuries claimed in the lawsuit, plaintiff cannot recover damages for noneconomic injury. Jury verdict of $20,000 for noneconomic damages was reversed and the case remanded for a recalculation of mediation sanctions against the plaintiff)
Adams v Detroit Tigers, Inc., 961 F.Supp. 176 (E.D.Mich. 1997) (the Federal Court granted summary judgement dismissing FLSA overtime claims filed by four former batboys where there was no genuine dispute that defendant satisfied one of the tests for exemption as an amusement or recreational establishment under state and federal law)
Donovan v Kmart Corporation, 95-4911458-CZ (Cir Ct Oakland County, MI) (age discrimination suit; reported as one of the major defense verdicts of 1995 in the March 4, 1996 issue of The National Law Journal)
Hayden v La-Z-Boy Chair Co., 9 F3d 617 (7th Cir 1993) (cert denied) __ US __ (March 28, 1994) (Court of Appeals upheld summary judgment in an ADEA action based upon determination that sales representative was independent contractor and not an employee)
Johnson v Honeywell Information Systems, Inc., 955 F2d 409 (6th Cir 1992) (after-acquired evidence of resume fraud required entry of summary judgment on plaintiff's breach of contract claim; jury verdict of $112,000 reversed)
Rush v Otis Elevator, 930 F2d 453 (6th Cir 1991) (upheld summary judgment of age, breach of contract, promissory estoppel and ERISA claims where plaintiff was terminated after 35 years of employment for expense account fraud)
McCluskey v Womack, 188 Mich App 465 (1991) (Court of Appeals upheld dismissal of legal malpractice claim based upon finding that employees' Section 301 claim was untimely as a matter of law by the time they retained defendant such that his delayed filing did not damage them). Handled portions of the discovery and argued the timeliness and causation issues in the trial court and Court of Appeals)
Lucas v Leaseway-Multi Transportation, 738 F Supp 314 (ED Mich 1990) (summary judgment of employee's S 301 claims in favor of employer and union; result affirmed on appeal without formal published opinion)
Adams v Harding Machine Co., 56 Ohio App 3d 150; 565 NE2d 858 (1989) (affirmed dismissal of employee's wrongful discharge claim where employee reported to work, left the plant before the start of his shift without punching out to pick up another employee who had car trouble and snuck back into the rear of the plant without informing supervision a few minutes after the start of the shift)
Zeffel v BDP Co., 716 F Supp 1147 (SD Ind 1989) (summary judgment of plaintiff's Section 301 claim following discharge for theft where plaintiff did not join union as a party defendant); similar result in Hiner v BDP Co., 716 F Supp 1152 (SD Ind 1989)
Nora v Carrier Corp, 861 F2d 457 (6th Cir 1988) (summary judgment of plaintiff's Toussaint-type breach of implied contract claim upheld)
Rosacrans v Kingon, 154 Mich App 381 (1986) (lv denied), 428 Mich 862 (school teacher sexually molested a 12-year-old boy; claims against board of education, school district, superintendent, and building principals for negligent supervision and negligent retention dismissed)
Kay v United Technologies Corp, 757 F2d 100 (6th Cir 1985) (summary plaintiff' Toussaint-type breach of implied contract claim based upon performance review system upheld)
Hrivnak v First of Michigan, 617 F Supp 990 (ED Mich 1985) (dismissal of pregnancy discrimination claim based upon failure to file EEOC charge prior to suit)
Romero v Paragon Steel Div. Portec Inc., 129 Mich App 566 (1983) (six-month statute of limitations bars plaintiff's Section 301 claim)
Morris v ChemLawn Corp., 541 F Supp 479 (ED Mich 1982) (dismissal of clerical manager's breach of contract claim based upon NLRA preemption where plaintiff claimed she was terminated for sympathizing with Teamsters' organizing drive involving drivers and lawn technicians)
Harper Woods Federation of Teachers v Harper Woods Board of Education, 103 Mich App 649 (1981) (Miller Canfield retained only at the damages portion of the trial) (Court held that laid-off school teachers were not obligated to accept steady substitute teaching to mitigate damages; laid-off teacher who returned to school full-time could not recover back pay for that period)
Professional Activities
State Bar of Michigan, 1975-present, Labor Relations Law Section; Section Council Member, 1983-1985
Ohio Bar Association, 1976-present
Federal Bar Association, Detroit Chapter, Member of Executive Board, 1988-1991; 1993-1995; Labor and Employment Law Section, Cochair, 1992-1998
College of Labor & Employment Lawyers, Fellow, 2005
Michigan Public Employer Labor Relations Association (MPELRA)
Editorial Review Board Member, The Michigan Labor Letter, (1996-2000)
Honors + Awards
Notre Dame University Law School, Uxbridge, England, 1994
Chambers USA: America's Leading Lawyers for Business, Labor & Employment Law 2005-present
Who's Who Legal, International Who's Who of Business Lawyers 2006
Best Lawyers in America, Labor and Employment Law 2007-2011; Employment Law-Management and Labor Law-Management 2012-present
Michigan Super Lawyers, Employment Litigation Defense 2006-present
DBusiness Magazine, Top Lawyers, Labor and Employment 2011
Religious Activities
St. Anselm's Parish, Dearborn Heights, Commission Member; Cochair, Stewards for Tomorrow Endowment Program, 1994
Publications
"Employment Law in Michigan: An Employer's Guide," Edited by Richard J. Seryak, Claudia Roberts Elmann, Daniel D. Kopka, Institute of Continuing Legal Education (ICLE), 2005
"Employment Law in Michigan: An Employer's Guide," Edited by Martha B. Goodloe, Richard J. Seryak, and Daniel D. Kopka, Institute of Continuing Legal Education (ICLE), 1997 (including 1998-02 supplements)
"Common Unfair Labor Practice Issues," Chapter 18, Michigan Public Employment and Labor Relations Law, 1994 ed.
"Front-pay Awards in Employment Litigation: An Issue for the Judge or Jury?" 17 Employee Relations Law Journal, Summer 1991
"Michigan Employment Relations Commission: An Update on Recent Decisions," 62 Michigan Bar Journal 750, 1983
"1978 Annual Survey of Michigan Law: Labor Law," 25 Wayne Law Review 577, 1979
"1977 Annual Survey of Michigan Law: Labor Law," 24 Wayne Law Review 575, 1978
Seminars + Events
View full profile