Service Areas
Education
Chicago-Kent College of Law, J.D., 2005
University of Michigan, B.A.
Bar Admissions
Court Admissions
U.S. Court of Appeals
U.S. District Courts
Eastern District of Michigan
Western District of Michigan
Northern District of Illinois
Southern District of Indiana
Northern District of Indiana
Leigh M. Schultz
Associate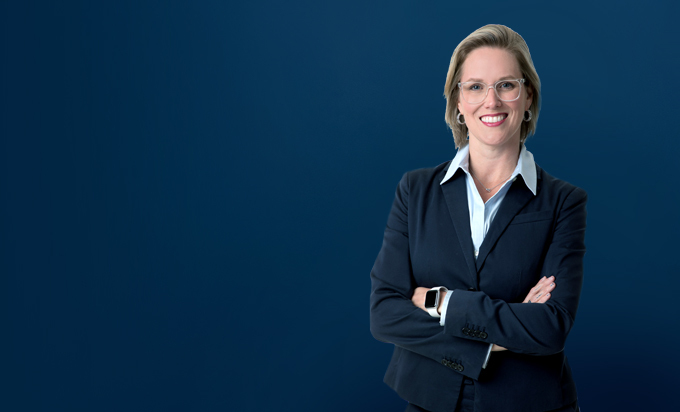 Leigh M. Schultz specializes in labor and employment consultation and civil litigation. In addition to providing both public and private employers with advice and counsel on day-to-day employment-related issues, she represents businesses of all types and sizes in defending lawsuits involving employment-related claims and commercial issues. Leigh has also participated in negotiations of several collective bargaining agreements and arbitrations of employee grievances.
"The key to being a successful litigator and trusted counselor is to be a good listener, a fierce and passionate advocate, an expert on the law, and fully prepared at all times. I use those four skills to give my clients the strength and confidence they need when involved in the roller-coaster of litigation."
Leigh M. Schultz
Experience
As a litigator, Leigh has defended administrative charges and lawsuits involving claims of discrimination, harassment, retaliation, the Michigan Elliott-Larsen Civil Rights Act, Title VII of the Civil Rights Act of 1964, the Whistleblower's Protection Act, the Family Medical Leave Act, the Fair Labor Standards Act, the Americans with Disabilities Act, the Michigan Persons with Disabilities Civil Rights Act, the Employee Retirement Income Security Act, the Age Discrimination in Employment Act, the Michigan Uniform Trade Secrets Act, breach of fiduciary duty, breach of a noncompete and confidentiality agreements, defamation, and intentional infliction of emotional distress. In addition, she has handled numerous cases involving liability claims for manufacturers of various products, including automobiles, boom lifts, scissors lifts, hand saws and guns. Leigh also has extensive experience defending commercial cases, including premises liability claims for owners of shopping centers, malls and retail stores.
"I have had the great honor of working with excellent attorneys who have provided me with superior training. From the outset of my legal career, these mentors trusted me to handle cases from start to finish and gave me considerable freedom to make decisions. As a result, I have succeeded in achieving positive results for my clients."
Professional Activities
American Bar Association
Michigan Bar Association
Illinois State Bar Association
Kalamazoo County Bar Association
Honors + Awards
Chicago-Kent College of Law, with honors, Dean's List, CALI Award for highest grade in Trial Advocacy II and Legal Writing I
Michigan Super Lawyers, Employment + Labor Rising Star 2011, 2012
Civic, Cultural + Social Activities
Volunteer Center of Greater Kalamazoo, Former President, Board of Directors
Kalamazoo Regional Chamber of Commerce, Diversity & Inclusion Committee, Member; Portage Advisory Board, Past Member
Publications
"You Need This Talent; Attracting the Millennial Generation to West Michigan Businesses," (quoted), MLive, Business Review West Michigan, September 18, 2008
Speeches
"What's Hot In Labor and Employment Law," Kalamazoo Human Resources Management Association Day Conference, May 8, 2012
"How to Avoid Papering Over the Cracks: Drafting Tailor-Made Employment and Severance Agreements the First Time," Miller Canfield Human Resources Spring Training Seminar, April 24, 2012
"Social Media & The Workplace," Branch County Human Resources Council, January 11, 2012
"Everything You Need to Know About Time Off," Employment Law Briefings, December 13, 2011
"Everything You Need to Know About Hiring and Firing," Employment Law Briefings, December 6, 2011
"Avoiding Discrimination, ADA, and Harassment Lawsuits," Human Resources Council of Southwest Michigan, May 18, 2011
"How Independent Are Your Contractors," Miller Canfield Human Resources Spring Training Seminar, April 26, 2011
"It's Time for a Human Resources Audit," Miller Canfield Human Resources Spring Training Seminar, April 27, 2010
"Managing Employment Reductions," Miller Canfield West Side Employment Law Seminar, April 28, 2009
"'Hot' Issues in Employment Law," National City Insurance Group, Employment Law Update, October 8, 2008
Seminars + Events
View full profile