Service Areas
Education
Wayne State University Law School, LL.M. Taxation, 1988
University of Detroit Mercy School of Law, J.D., 1979
Wayne State University, M.U.P.
Kalamazoo College, B.A. 1970
Bar Admissions
Court Admissions
U.S. District Court
Eastern District of Michigan

Languages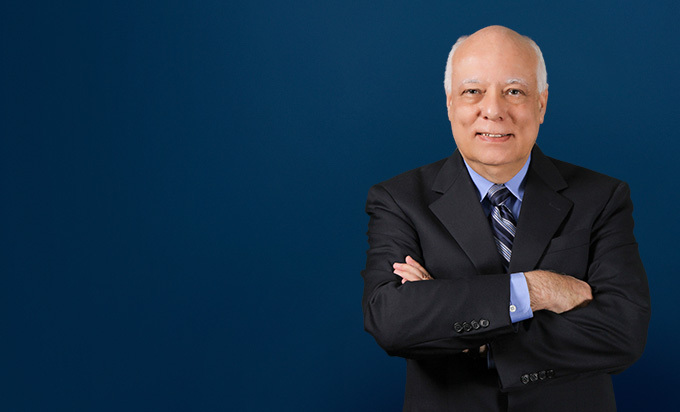 When it comes to business, estate and succession planning matters, David Thoms adheres to a "big picture" approach in order to obtain individualized optimum results. With his practice focused upon closely held business owners, he assists them with everything from tax issues, to corporate organizational matters, to real estate decisions, and succession planning issues.
His "big picture" approach applies to his representation of nonprofit and charitable organizations as well. In that arena, the inter-relationship of policy, tax, compliance, governance and fundraising must be considered as part of the whole picture in order to reach appropriate solutions on nearly all matters.
Representative Matters
Professional Activities
American Bar Association, Probate and Estate Planning Section; Past Chairman, Charitable Trust Committee, Tax and Corporate Sections
State Bar of Michigan, Probate and Estate Planning, Real Property, Tax, Corporate, and Environmental Law Sections
New York State Bar, Probate and Tax Sections
The Association of the Bar of the City of New York
Detroit Metropolitan Bar Association, Probate Committee
American Planning Association
Michigan Association of Planners
The Financial and Estate Planning Council of Metropolitan Detroit, Inc., 2011-present
Planned Giving Roundtable of Detroit
American Society of the French Academic Palms, Board of Directors
Greenleaf Trust, Board of Directors 2010-present; Audit Committee 2011-present
Estate Planning Council of New York City, Inc., Member
Honors + Awards
Who's Who in America, 1997-present
Who's Who in American Law, 1994-present
Who's Who in the Midwest, 22nd, 1990-1991, 26th, 1999-2000
Who's Who in the World, 1995, 17th, 2000-present
Who's Who of Emerging Leaders in America, 4th, 1993-1994
Best Lawyers in America, Non-Profit/Charities Law, Trusts and Estates 2005-present; Litigation-Trusts & Estates 2012-present; Tax Law 2013
Michigan Super Lawyers, Estate Planning & Probate, Closely Held Business, Non-Profit 2006-2008
2007 Website Listing, Best of United States, Trust and Estate and Taxation Lawyers, Michigan
Five Star Professional Wealth Manager, HOUR Detroit and DBusiness 2010-present
DBusiness Magazine, Top Lawyers, Banking, Nonprofit/Charities and Trusts and Estates, 2010-present
Officier dans l'Ordre des Palmes Academiques, French Government
The Salvation Army, Army of Stars Award, Shield of Service Award, 1988
Prix Charbonnier, Federation of Alliances Francaises-USA, Inc.
Knight of the Order of Salvador, Dali Museum, St. Petersburg, FL
The Salvation Army, Eastern Michigan Division, 2011 William Booth Award
Association of Fundraising Professionals, Greater Detroit Chapter, 2011 National Philanthrophy Day Volunteer of the Year
Civic, Cultural + Social Activities
Madonna University, Board of Trustees, 2013-present
Michigan Colleges Foundation, Corporate Secretary; Executive Committee Member; Trustee 2004-present
Detroit Regional Chamber, Graduate, Leadership Detroit XI
Henry M. Seldon Charitable Trust, Secretary, Trustee 2002-present
The Salvation Army of Metropolitan Detroit, Advisory Board; Past Chairman and Current Board Member, 1980-present; Creating Impact Gold Ribbon Committee
F
Federation of Alliances Francaises-USA Inc., Director, 2013-2016; Board Vice President, 2013-2014; Board Member 1986-2002, 2007-2009; Past Treasurer; Past President
Alliance Francaise de Grosse Pointe, Board 2010-present; President 2010-president; Board Member 1988-2004; Past President
French Festival of Detroit, Inc., Past President
Detroit Symphony Orchestra, Former Member, Board of Directors; Annual Fund Chairman; Founder, Planned Giving Advisory Committee
Kalamazoo College, Board of Trustees and Executive Committee, Former Member; Admissions Committee Chair
American Red Cross, Southeast Michigan Chapter Executive Committee, Former Board Member; Former Member and Co-chairman of the Van Dusen Challenge Committee; Planned Giving Advisory Committee
Visiting Nurse Association, Inc., Board of Directors, March 2003-present; Vice Chairman, 2010-present; Corporate Secretary, 2004-2010
Greenhills School, Planned Giving Technical Advisor
University of Michigan, Kellogg Eye Center, Planned Giving Advisory Committee, 2002-2005
University of Detroit-Mercy, Capital Campaign Advisory Committee, 2003-2009
Detroit Chamber Music Society, Planned Giving Advisory Network
American Society of the French Academic Palms, Board Member 2008-present
Detroit Institute of Arts, Tannahill Planned Giving Advisory Committee 2008-present; Trustee, Visiting Committee for European Sculpture and Decorative Arts, 1995-2000 and 2011-present
Ford Health System, Planned Giving Advisory Committee 2010-present
Gibralter-American Council, 2011-present
French-American Foundation, Board of Directors, 2013-present
Teaching Experience
Madonna University, former adjunct professor
New York University, Summer Tax Institute, 52nd Institute
Publications
"Nonprofits Take Note: New Form 990 Filing Requirements Are Coming," Hot Points, Spring 2008
Speeches
"Form 990: Making it Picture Perfect & Helping the Board of Directors and Other Users Understand the Story Behind the Numbers," (Moderator), Michigan Association of Certified Public Accountants, Lansing, Michigan, June 11, 2012
"What is old might be new again. BUT, What is Old? or Where Are we and Where are we Headed, GST, Estate and Gift Tax Update," ICLE After Hours Tax Series, Ann Arbor, Michigan, November 16, 2010
"Take Control of Your Legacy," (Panelist), Kalamazoo College, Kalamazoo, Michigan, October 16, 2010
"Trust Reformations, Modifications and Terminations Post Michigan's Trust Code (April 1, 2010), New Flexibility," Michigan Bankers Association, Ann Arbor, Michigan, October 14, 2010
"IRS Gets down to Business with Non-Profits," Michigan Association of Certified Public Accountants, Troy, Michigan, October 6, 2010
"Do and Dont's of Gift Receipts and Gift Agreements for Non-Profit Organizations," Federation of Alliances Francaises-USA Inc. Workshop, February 18, 2010
"When Do Financial Advisors Have Trustee-like Duties?," Merrill Lynch Advisors, March 31, 2009
"Basic Ideas, Techniques, and Rules for Organizing Planned Giving Programs," Federation of Alliances Francaises-USA Inc., October 2008
"Tax-Exempt Organizations in Michigan," Lorman Seminar, February 15, 2007
46th Annual Probate and Estate Planning Institute (ICLE): "Drafting Tips to Retain or to Remove Trustees," 2006
Lorman Education Services, Tax-Exempt Organizations in Michigan Seminar: "Overview: Forming a Nonprofit Corporation in Michigan and Gaining Tax-Exempt Status from the IRS" and "Planned Giving," 2006
ABA Lecture: "Charitable Remainder Trusts--The Last Tax Shelter?"
New York University Summer Tax Institute: Section on "Tax Aspects of Charitable Giving"
Financial and Estate Planning Council: "Getting the Client to the Table"
The Salvation Army: Training Sessions for Planned Giving Personnel
Detroit Athletic Club: Lunch Seminar Series "I did my documents. So what? Now what?"
Contributor: "Rights of the Elderly," an ACLU text authored by Robert N. Brown
University of Detroit Journal of Law: "Detroit Historic Preservation Ordinance: Almost Puts It All Together"
News
View full profile