Service Areas
Education
Northwestern University School of Law, J.D., 2009
University of Michigan, B.A.
Bar Admissions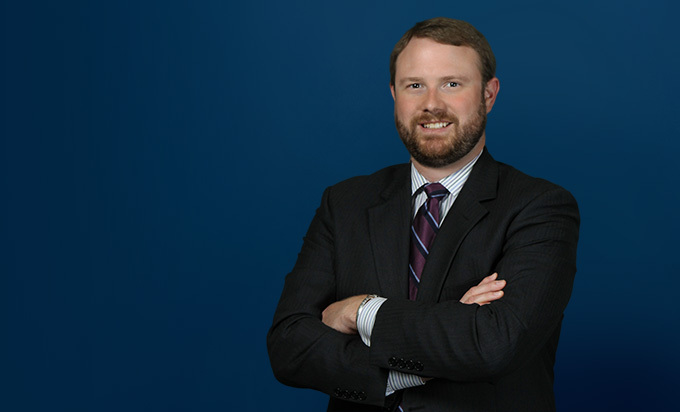 David G. King represents both private and public employers in all employment and labor related matters. He has complex litigation experience defending employers in reduction-in-force situations as well as in claims of discrimination, wage and hour violations, retaliation, and breach of employment contract. Building upon his prior teaching experience, David advises public school district clients on a variety of issues, including collective bargaining; teacher evaluation, tenure, and discharge; student discipline; and special education.
David also focuses on the impact of new technology and social media on employment and school law issues. He frequently consults with clients on developing proper procedures and policies, conducts workforce training on policy implementation, and lectures and writes on issues related to use of technology in the workplace.
Professional Activities
American Bar Association
State Bar of Michigan
Detroit Metropolitan Bar Association
Honors + Awards
Northwestern University School of Law, cum laude, Dean's List, Northwestern Journal of Law and Social Policy, Executive Editor, Symposium Editor
University of Michigan, B.A. with Distinction, University Honors
Civic, Cultural + Social Activities
American Legion, Department of Ohio, Buckeye Boys State Counselor 1999-present
AmeriCorps Volunteer, Urban Appalachian Council, Cincinnati, Ohio 2003-05
Teaching Experience
East End Adult Education Center, GED Instructor, Cincinnati, Ohio 2003-06
Publications
"Hey Employers! Employee Social Media Passwords Are (Mostly) None of Your Business (Not That You've Been Inquiring)," Bar News, Detroit Metropolitan Bar Association, April 2013
"Drafting a Social Media Policy? Here Are Five Important Considerations," The Young Lawyer, American Bar Association, April 2013
"Win-Win Michigan: Social Media Workplace Policies," Crain's Detroit Business (video), February 19, 2013"
NLRB Weighs in on Employee Use of Social Media and Employer Social Media Policies" (Co-Author), State Bar of Michigan, Labor and Employment Lawnotes, Winter 2013
"Social Media and Discovery: New Technology, but the Old Rules Still Apply (Co-Author), Laches (Aug. 2011); reprinted in State Bar of Michigan, Labor and Employment Lawnotes, Winter 2012
"Mitigating the Legal Risks of Social Media in the Workplace," (Co-Author), various publications
"Van Duyn v. Baker School District: A 'Material' Improvement in Evaluating a School District's Failure to Implement Individualized Education Programs," 4 NW J.L. & Soc. Pol'y. 457 (2009)
Speeches
"Michigan Special Education Law: Ensuring Successful Due Process Procedures," National Business Institute, Southfield, Michigan, May 2, 2013
"Social Media Law 101," Michigan School Business Officials Annual Conference, Grand Rapids, Michigan, April 25, 2013
"Collective Bargaining with Limited Funding," Michigan School Business Officials Annual Conference, Grand Rapids, Michigan, April 25, 2013
"School Law Legal Update," (co-presenter), Michigan School Business Officials Annual Conference, Grand Rapids, Michigan, April 24, 2013
"Social Media Policies for Your Employment Clients: Key Provisions, Common Pitfalls & the Latest Trends," Institute for Continuing Legal Education webcast, February 12, 2013
"Effective Strategies for Labor and Employment Relations," Michigan Leadership Institute, Bay City, Michigan, October 11, 2012
"School Law Legal Update," (co-presenter), Michigan School Business Officials Annual Conference, Detroit, Michigan, May 2, 2012
"Workplace Laws in the Social Media Age," Coalition of Personnel Administrators, Oak Park, Michigan, March 21, 2012
"Social Media in the Public Sector," Michigan Public Employer Labor Relations Association, Jackson, Michigan, March 9, 2012
"Employee #(mis)use of Social Media: Policy Considerations," Human Resources Management Association of Mid-Michigan Annual Employment Law Conference, Lansing, Michigan, March 8, 2012
"FLSA and the eWorkplace," Human Resources Management Association of Mid-Michigan Annual Employment Law Conference, Lansing, Michigan, March 8, 2012
"No Union? Policy Considerations to Keep it That Way," Human Resources Management Association of Mid-Michigan Annual Employment Law Conference, Lansing, Michigan, March 8, 2012
"Cyber Liability – Social Media and the Workplace," Middle Cities Education Association, Risk Managers' Fall Conference, Lansing, Michigan, December 2, 2011
"Bargaining Strategies and Pitfalls: Navigating the New Amendments to the Public Employment Relations Act," Michigan Association of School Boards 2011 Annual Fall Conference, Traverse City, Michigan, October 27, 2011
"Effective Strategies for Labor and Employment Relations," Michigan Leadership Institute, Bay City, Michigan, October 14, 2011
"Social Media, the Workplace, and the Law," American Marketing Association, Cleveland, Ohio, September 15, 2011
"Social Media in the Workplace: Can Posting on Facebook or YouTube Lead to Discharge?," Computer and Cyberspace Law Seminar, University of Dayton School of Law, Dayton, Ohio, June 10, 2011
Seminars + Events
Articles + Newsletters
View full profile