Service Areas
Education
Wake Forest University School of Law, J.D., 2000
Alma College, B.A. 1997
Bar Admissions
Court Admissions
U.S. Court of Appeals
U.S. District Courts
Eastern District of Michigan
Western District of Michigan
Northern District of Illinois
Christopher M. Trebilcock
Principal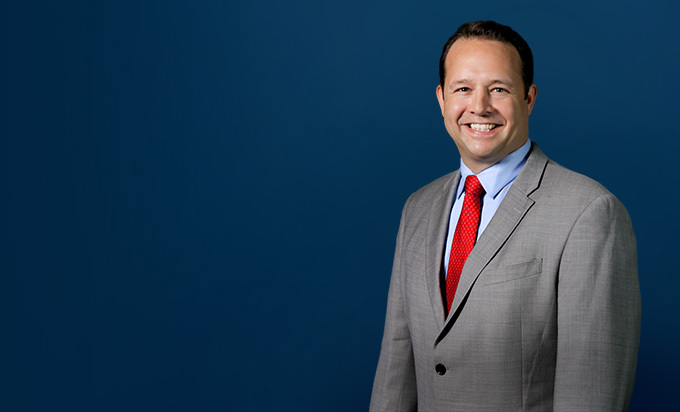 Christopher Trebilcock litigates labor and employment disputes in federal and state courts and in administrative agencies across the country. His appellate experience includes oral arguments before the U.S. Sixth Circuit Court of Appeals and the Michigan Court of Appeals. He also manages arbitrations and administrative proceedings; conducts collective bargaining negotiations; and advises clients on all types of labor and employment issues.
Chris also is deputy leader of the Employment + Labor Group.
Experience
Chris has expertise in wage and hour issues under the FLSA and in advising employers on reductions in force. Chris previously worked in the U.S. Department of Labor, National Office, and has assisted employers in proactive internal FLSA reviews to avoid litigation. He represents employers in overtime lawsuits, including collective actions, and Wage & Hour investigations.
His work with school districts and universities includes providing guidance on responding to Freedom of Information Act requests, compliance with the Open Meetings Act, student disciplinary matters and employee discipline and discharge. He has also provided extensive advice to public entities seeking to enter into intergovernmental cooperation agreements.
Chris also has significant general litigation experience involving state and federal election law. He routinely advises candidates, elected officials, political action committees, and ballot question committees on all matters involving campaign finance, ballot access, recount and other election law issues. In the past, Chris has organized state-wide Election Day voter access response teams and state-wide recount teams for state and federal candidates.
Representative Matters
Reported + Published Decisions
Moss v Bierl, 134 Fed. App. 806 (6th Cir. 2005) (unpublished) (affirming summary judgment of employee's claim that his termination violated his right to due process)
Mitchell v Highland Park Bd. of Ed., 2005 WL 857383 (Mich. App. 2005)(unpublished)(affirming trial court's decision dismissing former superintendent's public policy discharge tort and breach of contract claims)
Reynolds v Lear Corp., 2005 WL 1684127 (E.D. Mich. 2005)(unpublished)(granting motion to dismiss employee's age discrimination and breach of contract claims)
Professional Activities
American Bar Association, Labor and Employment Law Section
State Bar of Michigan, Labor and Employment Law Section
Oakland County Bar Association, New Lawyers' Council, Board of Directors, 2004-2008
Federal Bar Association for the Eastern District of Michigan
National School Board Association, Council of School Attorneys
Michigan Council of School Attorneys
Honors + Awards
Wake Forest University School of Law, Moot Court Board; Tulane Sports Law National Moot Court Team; Treasurer, Student Bar Association; President, Sports and Entertainment Law Association; Editor-in-Chief, WFU "Hearsay"
Alma College, cum laude
Best Lawyers in America, Employment Law-Management and Litigation-Labor & Employment 2013
Michigan Super Lawyers, Employment + Labor, Rising Star 2008-present
Crain's Detroit Business "40 Under 40," 2012
Civic, Cultural + Social Activities
Detroit Institute of Arts, Founders Junior Council, President 2011, Board of Directors, 2006-present
Michigan Great Lakes Wind Council, appointed by Governor Granholm 2009
Michigan's Children, Board of Directors, 2009-2012
The Church of the Messiah Housing Corporation, Detroit, Board of Directors, 2005-2008
Planned Parenthood of Mid and South Michigan, Board of Directors, 2007-2012
Michigan Political Leadership Program, Michigan State University, Fellow, 2004
Leadership Oakland XVI, 2005-2006 Cornerstone Program
Downtown Detroit Rotary, Board of Directors, 2006-2008; Speaker Program Chair, 2004-2005
Justice Michael F. Cavanagh, Michigan Supreme Court; Campaign Manager, December 2005-November 2006
Senator John Kerry, Democratic Presidential Candidate; Michigan Campaign Press Secretary, December 2003-February 2004
Publications
"Age Discrimination in Employment Law" Chapter Editor, ABA Labor and Employment Law Section and Bloomberg BNA (2012 Cumulative Supplement)
"Working Capital," (Interview) Detroit Legal News, October 28, 2011
"FLSA Amendments Provide Clarity But Stop Short of Changes," State Bar of Michigan, Labor and Employment Law Section, Lawnotes (Summer 2011)
"Wage-and-hour claims could stunt economic recovery for some companies," Michigan Lawyers Weekly, March 28, 2011
"How Independent Are Your Contractors," Michigan Council of School Attorneys, Council News, Spring 2011
"Careful with wellness plans: HIPAA might just getcha," Michigan Lawyers Weekly, April 26, 2010
"Employment Law Handbook," Chapter Editor, Michigan Chamber of Commerce
"Tread Carefully: Mass Layoff Landmines Ahead," Asian Pacific American Chamber of Commerce E-Newsletter, June 2009
"Legal Barriers to Intergovernmental Cooperation Agreements in Michigan," co-author, Intergovernmental Cooperation Conference, Michigan State University Land Policy Institute, May 17-18, 2007
"Employment Discrimination Litigation: Entertainment for Some, Sport for Others," co-author, ABA Sports & Entertainment Law Mid-Winter Meeting, April 2006
"Important Michigan Supreme Court Ruling Confirms 3-Year Limit on Discrimination Claims," Hot Points, Fall 2005
"Continuing Violations Doctrine Extinguished in Michigan," Midwest In-House, July 2005
"The Largest Pension Bailout in U.S. History Leads to Contract Concessions," State Bar of Michigan, Labor and Employment Lawnotes, Summer 2005
"Tired of Waiting? Practical Advice for Employers Anticipating Changes to the FLSA," Midwest In-House Counsel, October 2003
"The Developing Labor Law," Contributing Editor, 2009 and 2010 Supplements
Speeches
"Fair Labor Standards Act: A Local Look for Local Officials," Michigan Library Association Financial Fitness for Libraries, Novi, MI, April 29, 2011
"Navigating the Trickiest Issues Under the Fair Labor Standards Act," Institute for Continuing Legal Education, 36th Annual Labor & Employment Law Institute, Plymouth, Michigan, April 15, 2011
"Muslim, Arab, and Middle Eastern Discrimination in the Post-9/11 Era," American Bar Association, Live Webinar and Teleconference, February 2, 2011
"Effective Strategies for Labor and Employment Relations," Michigan Leadership Institute, Grand Rapids, MI, October 14, 2010
"Employee Relation Strategies You Can't Learn From Watching 'The Office,'" MSBO Conference, Detroit, Michigan, April 30, 2009
"Legal Barriers to Intergovernmental Cooperation Agreements in Michigan," Michigan State University, Land Policy Institute, Intergovernmental Cooperation Conference, 2007; Michigan Municipal League, 2007; Michigan Association of Township Supervisors, 2007
"The New "White-Collar" FLSA Regulations: A Lesson Plan for School Districts." Oakland County School Business Officials, November 17, 2004
"Arbitration Agreements: The Good, The Bad, The Ugly," Baker College, March 5, 2004
"Tired of Waiting? Practical Advice for Employers Anticipating Changes to the FLSA," Troy Chamber of Commerce, Employment Law Roundtable, February 10, 2004
Seminars + Events
Articles + Newsletters
News
View full profile